Previous
Next
Five Person Contents
Home
The Machine

Apparently this is an 'old skool' pattern, but I learned it in January 2010 at Pass Out in San Diego. F juggles a sweep feed on a two count. A and B walk around anticlockwise in one circle and C and D walk around anticlockwise in another circle. They all alternate six count and ten count. F's first pass is with A as shown below: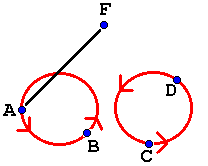 A, B, C and D then move in the direction of the red arrows. F's second pass is with B: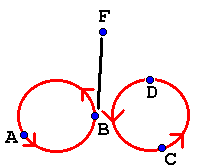 A, B, C and D continue walking in their circles. F's next pass is with C: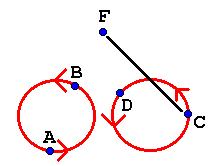 F's next pass is with D: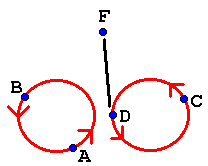 F's next pass is with B: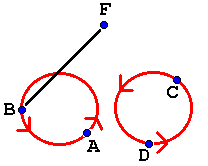 This diagram is just like the first one, except all the jugglers have moved around one place.
You can add another feeder facing F on the other side of the pattern. Then you get the extended machine.
Alternatively F could pass one count and everyone else alternates three count and five count.