Ruwais
Ruwais
Located some 240 kilometers west of Abu Dhabi city, the Ruwais•I-industrial and Housing Complex has been developed by ADNOC as
a major contributor to the national economy and represents a series of
multi-million-dollar investments by the Company.
The Ruwais story began in the 1970s, when plans were laid to
transform a remote desert site into a self-contained industrial town,
geared to fulfilling the downstream requirements of Abu Dhabi's
booming oil and gas industry.
Centered around ADNOC's Ruwais Refinery, the complex was officially
inaugurated in 1982 by His Highness Sheikh Zayed bin Sultan Al
Nahyan, President of the UAE, Ruler of Abu Dhabi and the visionary
behind Abu Dhabi's remarkable development and prosperity.
Once a small fishing headland from which a handful of people
scratched a seasonal living, Ruwais today is one of the most modern
industrial complexes in the Middle East.
In addition to the original 120,000 barrels-per-day refinery, which
was expanded in 1985 with the commissioning of a 27,000 b/d
hydro cracker complex, major facilities at Ruwais include a natural gas
liquids fractionation plant operated by Abu Dhabi Gas Industries Ltd
(GASCO), a fertilizer plant run by Ruwais Fertilizer Industries (FERTIL),
a marine terminal and a sulphur handling terminal.
Industry needs people and so Ruwais has also been developed into a
model 'new town' with a population of several thousand.
The Ruwais Housing Complex, covering an area of six square
kilometers, is located 10 kilometers away from the industrial plants.
In line with ADNOC'S policy of offering staff and their families all
modem amenities, comfortable air-conditioned housing units are set in
beautifully landscaped grounds.
The complex has its own shops, schools, banks, mosques, clinic and
hospital, and a wide range of sporting and leisure amenities including a
beach club and an 'in-house' TV and video station.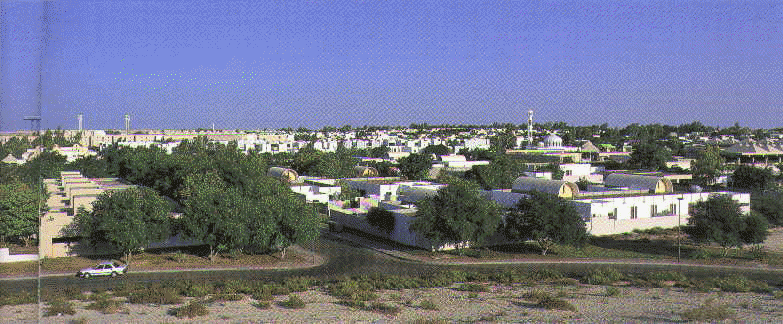 Ruwais Housing Complex

Marine Jetty
Ruwais
Ruwais
Ruwais Housing Complex (RHC) — which has its own shopping centers, schools, mosques, medical services, sports and recreation
centers, banking and postal services, and even a cable TV and video
station — covers an area of six square kilometers. It lies between
Ruwais Industrial Complex and Jehel Dharma, just off the main
highway running westwards into Qatar.
RHC was built in two phases between 1979 and 1984, and in line
with ADNOC's policy of ensuring that employees and their families
have the very best of social and welfare facilities, all efforts have been
made to make it a fully-integrated community.
The complex has 1,357 residential units, ranging from one-
bedroom apartments to four-bedroom, double-story 'executive' villas.
All have modern furnishing and fittings and are pleasantly set amidst
landscaped grounds.
A large area of RHC has been planted with a variety of trees, shrubs,
flower beds and lawns. It has a number of recreation parks and a
green belt around the perimeter covers 140 hectares and is planted
with more than 22,000 trees.
To ensure a regular supply of plants all year round, the complex has
its own nursery to propagate seeding. Tills is a veritable gardener's
paradise, with up to 250,000 plants in stock.
Although families who live in RHC are some 250 kilometers away
from Abu Dhabi, a wide range of consumer goods is available. The
complex has three commercial centers with more than 40 shops and
two supermarkets selling everything from foodstuffs to electrical
goods, household items and fashion-wear.
The educational needs of Ruwais children, from nursery through to
secondary level, are met by a total of 10 schools. Seven arc managed
by the Ministry of Education and three arc privately owned, offering
British or Indian systems.
The schools, private and government, are equipped with modern
classrooms and other facilities, such as science laboratories and
libraries.
RHC has two recreation centers, one exclusively for women. The
other is open to all and facilities include a swimming pool,
gymnasium, theatre, bowling alley, general activity halls, tennis
courts, library, restaurants and cafeterias.
Cultural events, often involving troupes and performers from
overseas, are staged regularly at the recreation centers
For days at the seaside, residents have access to a beach dub at Jebel Dhanna, which in addition to water sports facilities has a TV and Games hall.
RHC residents can always be sure of something interesting to watch
on their television sets, thanks to a local TV and video station which
operates on a cable network,
The complex has all the ancillary services required of a modem
town, including a well maintained road network, street lighting in all
areas and a sewage system which includes a treatment plant for
recycling sewage water for irrigation purposes. Electricity and
desalinated water supplies are provided directly from the Refinery.
RHC families receive the very best of medical care. thanks to a
purpose-built local clinic and a modern general hospital situated near
the industrial area, 10 kilometers away. The clinic and the hospital are
administered by the Medical Services Division of the Administration
Directorate.
Ruwais Hospital is a 36-bed acute-care facility providing the full
range of general and emergency medical services, including
cardiology, maternity, pediatrics, dentistry and ophthalmology, on
both an out-patient and in-patient basis.
The emergency department, staffed by highly-skilled medical
officers and well-trained nurses, is open 24 hours a day and operates
a round-the-clock ambulance service, not only for ADNOC
employees and their families but the whole of the immediate
neighborhood.
Ambulance crews are on hand, for example, to attend LO road
accidents along the highway between Tarif and Sila.
The RHC Clinic, which is open six days a week and is fully
integrated with Ruwais Hospital, provides a comprehensive health-
care programmed to all residents of the housing complex.
It offers a wide range of general practitioner and specialist services,
including nursing and child welfare, immunization and vaccination,
school health, dental and physiotherapy services.
Ruwais Housing Complex is managed by Ruwais Housing Division,
part of the ADNOC Administration Directorate.
These water tanks are symbols of RHC. As you enter the RHC from the Highway the tanks are a reminder that you have reached Ruwais

Recreation Park for children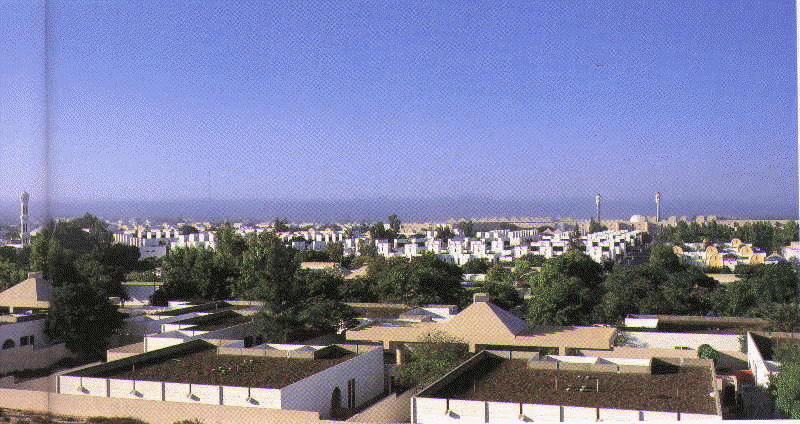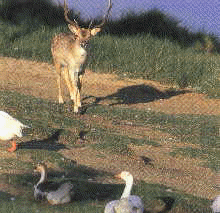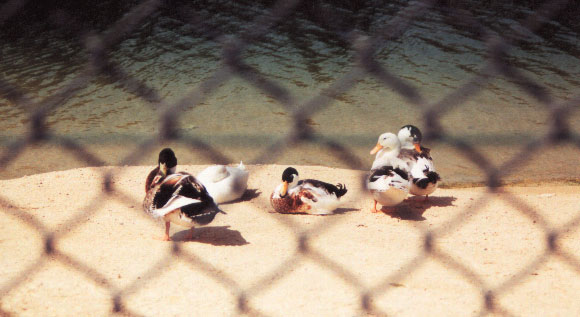 Duck Pond as it is called in the RHC. A Fish Restaurant is located close to it.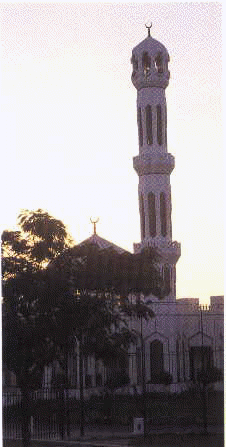 Mosque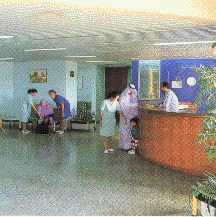 Clinic in RHC
RUWAIS SITE CONDITIONS
Temperature
The average daytime temperature within the area rarely exceeds 41 C, with extreme maximum ranging up to 50 C.
In the winter months the lowest daytime mean temperature will usually not be below 20 C
Humidity
Relative humidity is high throughout the year, averaging about 70% and reaching 95% or more in the early morning hours and late nights.
In winter the humidity may temporarily fall below 50% during a shamal (strong wind).
Rainfall
The rainfall at Ruwais is not accurately known but ranges approximately between 0 to 100 millimeters, averaging around 20 millimeters per year.
Most of the rainfalls occur during the period November to March in the form of showers or thunderstorms.
In an average year, measurable rain may fall on about 10 – 15 days.