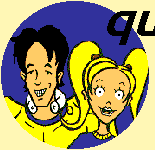 "Ooh, Kevvy, look! I just love quotes, don't you?"
"No way, babe. It's like, Mr. O'Neill's always writing some stupid quote on the board and asking me who said it. It makes my head hurt!"
"But, Kevvy, these quotes are from our show! Some of them are even by us!"
"Oh . . . cool! I might know some of these!"