<![if !vml]>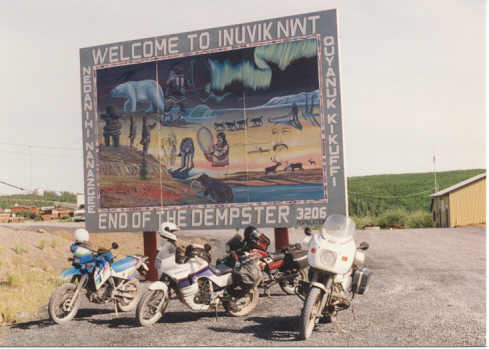 <![endif]>
The Dempster Highway.
John Feiereisen, Summer 1993 <![if !vml]>

<![endif]>
---
My three brothers and I live scattered across the country. We had ridden various places in groups of two or three, but the only time all four of us had all ridden together was one day while Bill, Tom, and I were living in the San Francisco Bay Area and Bob had come to visit. We took a short day trip to Alice's for breakfast and did some twisties along the ocean. For years we had wanted to take an extended motorcycle trip together. Finally, in the summer of 1993, we were all able to arrange the bikes and the time off from work to make it happen. The following is an account of the motorcycle trip we took up the Dempster Highway to Inuvik, Northwest Territories. I rode my '85 Honda CB700SC Nighthawk from Lafayette, IN, where I was living at the time, to Boulder, CO, where I picked up my brother Tom (Honda TransAlp). Tom and I rode to Seattle, WA, where our brother Bob (Kawasaki KLR 650) was living. Our brother Bill (BMW R100GS) rode up from Mountain View, CA, and met us in Seattle. The four of us headed up through British Columbia, Yukon Territory, up the Dempster Highway to Inuvik in Northwest Territories, and down into Alaska, where I split up with them at Tetlin Junction and rode solo back to Indiana.
---
Day 1 - June 15, 1993 – Lafayette, IN - Milford Lake, KS - 659.4 miles.
I packed up my bike, left Lafayette about 9:00 am and wound my way down highway 25 to I-74 and zoomed up the onramp. I pulled into a rest area a mile down the road to triple check the bike, take a few sips of the soda I had in my tank bag, and contemplate what I was doing. If everything worked out right, I wouldn't return to Lafayette for six weeks and I would rack up almost 9000 miles in the process. I was satisfied everything was alright, so I stuck the bottle of soda back into my tank bag, climbed back onto my bike, and accelerated down the onramp to begin a long, high-speed zoom westbound. After a couple hours I turned south on US 54 in western Illinois, crossed the Mississippi, and got onto I-70 to continue the high-speed zoom westward. As the sun was starting to get low in the west, I pulled off the interstate and found a secluded campsite on the south shore of Milford Lake near Junction City, KS.
---
Day 2 - Milford Lake, KS – Boulder, CO - 517.3 miles.
This was another uneventful, high-speed zoom on I-70 until I came out of warp speed into rush hour traffic in Denver. Traffic was stop and go, and my hydraulic clutch started failing to disengage completely. Finally, the lever came all the way to the bar without any disengagement. Luckily traffic never stopped again. I made it to Boulder and stopped at the first gas station off the freeway and called my brother Tom. He came and gave me an escort to his house with as few stops as possible. My clutch was working fine on the way, but I knew I had to at least change the fluid. Tom didn't want to chance brake fluid being spilled on his garage floor, so he talked me into taking it to the local Honda shop. They replaced the brake fluid in the clutch and everything was fine for the rest of the trip. My wife, Lisa, flew in later that evening with what backpacking equipment I didn't have on the bike.
---
Days 3-8 - Boulder Area
Lisa and I went out to dinner with Tom and his wife Harma a few times, drank a few beers, and did some shopping. Lisa and I went up to Rocky Mountain National Park to do some backpacking for a few days.
---
Day 9 - Boulder, CO - Diamondville, WY - 433 miles
Time to leave Boulder. We got up and did our coffee. I loaded up my Nighthawk and Tom loaded up his TransAlp. Lisa's flight left later that day so she and Harma saw us off. Tom and I headed out of Boulder, caught I-25 northbound to Fort Collins, and took US 287 up into Wyoming where we caught I-80 at Laramie. Westbound on I-80 we caught some pretty severe crosswinds off our front, right quarter and at times I was amazed how far Tom was leaning into the wind. We took US 30 northwest toward Diamondville and found a beautiful spot to camp high on a ridge overlooking the valley we had just come up.
---
Day 10 - Diamondville, WY – Boise, ID - 450.4 miles.
We continued on US 30, rode past Pocatello, caught US 26 and US 20 and rode to Craters of the Moon National Monument, an ancient lava flow. After riding through the monument and checking out the eerily black surroundings, we continued westbound on US 20 and caught I-84 at Mountain Home. After about 20 miles, we took an exit and wound our way up into the hills to find another spot to camp.
---
Day 11 - Boise, ID – Seattle, WA - 636.6 miles.
We were planning on relaxing for the weekend at our brother Bob's place in Seattle before striking out for the Arctic, so we made time today. This was essentially another uneventful high-speed zoom on the interstate all day. Both Tom and I wanted to see the Columbia River gorge, so we stayed on I-84 rather than turning north on I-82. Eastern Oregon appeared to be quite arid as did the area along the Columbia River. As we passed The Dales, OR, the river valley tightens up and becomes quite green and lush as it passes through the Cascades on its way to the ocean. We caught I-5 at Portland, turned north, and stopped in Longview, WA to track down a friend of Tom's. A couple of phone calls found that the friend was out of town, so we hit the interstate again and pulled into Bob's place in the early evening. Bill wasn't planning on arriving until Sunday evening, so we had the entire weekend to relax, check over our bikes, and see the sights.
---
Days 12 & 13 - Seattle, WA
We went to REI to pick up some stuff sacks and various other camping items and we stopped at a hardware store where I bought a plastic gas can. The tank on my Nighthawk is rather puny and we were headed toward some stretches of road beyond the range of my bike. Before I left Indiana, I had fashioned a rack out of sheet steel and bar stock, which attached to my grab rail and hung out over my tailpiece. The gas can strapped neatly to this homemade rack and remained empty except for the critical stretches of the trip. Tom bought some sheet metal and made a heat shield to protect his saddlebags from his hot exhaust pipes. Bill showed up on his BMW R100GS early Sunday evening.
---
Day 14 - Seattle, WA – Squamish, BC - 201.3 miles.
We packed our bikes and lined up for some pictures, and headed north on I-5. My trip up until this point had been mainly getting most of a continent out of the way. Now the real trip was beginning. After a couple hours we reached the border. The crossing at the north end of I-5 into Canada has got to be one of the worst between the US and Canada. There was a long line of cars, which were barely moving, so we shut off the bikes and put down the sidestands. Every couple minutes we pushed them forward a few dozen feet. This went on for at least an hour before we reached the crossing proper. After the typical questions from border guards, which took less than 30 seconds, we were off. We wound our way through downtown Vancouver on our way to Hwy 99, which is an absolutely beautiful road winding its way along the water before climbing away from the water toward Whistler. We camped that night near Squamish in what appeared to be an old quarry with sharp walls rising from a rather flat floor. It rained softly during the night, but we were warm and dry in our tents.
---
Day 15 - Squamish, BC - McClease Lake, BC - 308.9 miles.
We continued on Hwy 99 and stopped in Whistler, a ski resort town that appeared to be doing alright in the off season by catering to hikers, mountain bikers, and tourists. In a small grocery there we found cheese and hard rolls, soda, crackers, and all sorts of other snacks, which we bought and stuffed into our tank bags and saddlebags. When we reached Pavilion we turned north on a small gravel road, which wound its way up over a range of hills on the way to the Cariboo Highway (97). Turning north on the Cariboo, I was surprised at how much it looked like many roads in northern Wisconsin. After a couple hours, we turned east at McClease Lake, to look for a place to camp. The road took us higher and higher until it stopped at some sort of mine. We backtracked a ways until we found what looked like another abandoned quarry and set up camp. In the middle of the night, Bill came over to my tent and asked for some bug spray. It turned out his tent had rather coarse netting and didn't keep out the tiny bugs. It rained again that night and Bill found that he had pitched his tent in a low spot that puddled with water and soaked his down sleeping bag.
---
Day 16 - McClease Lake, BC - Burns Lake, BC - 307.5 miles.
We continued north on the Cariboo and reached Prince George, where Bill stopped in a landromat to dry out his sleeping bag. He also bought some Handi-Wipes to tape over the screening on his tent in an effort to keep out the little bugs. I hit a hardware store to find some strapping material to make some convenient hold-down points for my bungees. We left Prince George westbound on the Yellowhead Highway (16). We stopped near Burns Lake and found a nice campsite in the middle of a huge clearcut. The trees had been harvested for at least a mile in every direction and all that was left was the new undergrowth and scrap timber that apparently wasn't good enough to load on the trucks. It did make a nice campfire, though, and we built a big one. Later that night we noticed that the sky never got completely dark. We were getting pretty far north.
---
Day 17 - Burns Lake, BC – Hyder, AK - 296.5 miles.
We continued west on the Yellowhead and stopped for gas in Hazleton. While we were at the gas station a car pulled up with a smashed right front quarter panel, and a smashed top left corner of the windshield. They had just hit a moose minutes earlier. We turned north on the Cassiar Highway (37), turned left at the Meziadin Cutoff, rode past the Bear Glacier and on into Stewart, BC and Hyder, AK. Hyder is the only town in the southern Alaska panhandle accessible by road. We found a great campsite right on the shore of the Salmon River.
---
Day 18 - Hyder, AK - Bell 1, BC - 146.5 miles.
We packed up the bikes and rode up the valley to the Salmon Glacier, absolutely the largest glacier I've ever seen. At one point high above the glacier I could look up and down the valley and see at least 10 miles of the glacier's length. The road continued even higher and we went on farther to explore. I was running low on fuel and was getting tired of wrestling my Nighthawk over the rough spots, so I turned around and rode back to Stewart, filled up with gas, and sat in a little bakery eating donuts and reading a book. Bob, Tom, and Bill went farther and Bob ran out of gas. After several hours they came back and it was late afternoon before we left Stewart to continue north on the Cassiar. A few dozen miles north took us to another clearcut area near the Bell 1 rest area in which to camp.
---
Day 19 - Bell 1, BC - Dease Lake, BC - 203.7 miles.
We continued north on the Cassiar, crossing beautiful rivers and passing majestic mountains. Traffic was almost non-existent. Most of the Cassiar is paved, with less than 100 miles still gravel. Even this gravel was nicely maintained. I would highly recommend that anyone planning to ride a bike to Alaska seriously consider riding the Cassiar one way, rather than the Alaska Highway both ways. The scenery along the Cassiar is spectacular and the motorhomes are few and far between. We stopped in Dease Lake and ate dinner at the Boulder Café, where we had excellent hamburgers. Just north of town we found a campsite high above the lake and set up camp for the night.
---
Day 20 - Dease Lake, BC - Watson Lake, YT - 250.0 miles.
We continued farther north on the Cassiar and entered Yukon Territory. The road wound its way up and down over low hills on the way to the Alaska Highway, where we turned east and rode into Watson Lake. Watson Lake is the home of the Signpost Forest, a collection of telephone poles with city population and elevation signs from all over the world. Tradition has been that you'd rip off the sign at the outskirts of your city as you leave home, then nail it to one of the poles in Watson Lake as you pass through. The tradition has been spoiled in recent years by people nailing up home-made 'The Joneses, Anywhere, USA' signs. There are even places in Watson Lake where you can pay someone to carve a sign with your name to nail up on one of the poles. So much for tradition.
We left Watson Lake via the Campbell Highway (4). This is an unpaved road heading into the most remote region I had ever seen. On our way out of town we passed a sign saying 'No Gas For 383 km'. This is considerably beyond the normal range of my Nighthawk, so it was a good thing I filled my spare gas can before leaving town. A few dozen miles up the road we stopped along the Liard River to camp for the night.
---
Day 21 - Watson Lake, YT - Ross River, YT - 153.9 miles.
We continued on the Campbell, droning along at 30-35 mph in top gear. The spectacular scenery was endless. Just east of Ross River we hit a stretch of road covered with extremely slick mud. It was by sheer luck that I kept my bike upright as I slid to a stop almost completely out of control. Even with my feet down it was extremely difficult to keep the bike upright and get moving again. Luckily the mud didn't last long.
I intentionally let my bike run out of gas to see just how far I could go. Normally, doing a high-speed zoom on the highway I go on reserve at about 110 miles and I'm dry by 140. Droning at 30-35 on the Campbell allowed my Nighthawk to go 190 miles before reserve and 237 miles before I was dry. I dumped the gas in my spare can into the tank and rode the last 10 miles into Ross River.
It was rainy and gloomy when we pulled into town. We wandered around a little, and checked out the ferry and pedestrian bridge across the Pelly River. Across the river is the North Canol Road, which follows the route of a World War II oil pipeline from Whitehorse, YT, to Norman Wells, NWT. The road is driveable some distance into NWT, after which it becomes the Canol Heritage Trail and is hikeable (with a few river crossings) all the way to Norman Wells on the Mackenzie River. (I smell a future adventure.) We tracked down somebody at the local hotel to turn on the gas pump so we could fill up, after which we went inside to get a bite to eat. After filling our stomachs we climbed back onto our bikes and rode out of town. Just a couple miles out of town we stopped at the Lapie Canyon campground and bedded down for the night.
---
Day 22 - Ross River, YT - Dawson, YT - 386.9 miles.
Farther down the Campbell is Faro, a lead/zinc mining town a couple miles off the highway. The mine shut down a couple years ago and this has had a profound impact on the economy in the area. Faro is virtually a ghost town and most of those who remain are unemployed. We rode the rest of the Campbell and reached the Klondike Highway (2) at Carmacks. A little north of Carmacks we came upon the Five Finger Rapids on the Yukon River. This was a major obstacle for boats on the river during the Klondike gold rush, and there are pictures in local museums of paddlewheel steamers trying to negotiate them.
We got a little spread out during the high-speed zoom on this paved road. Bill and Tom were far ahead and I was following Bob. For the longest time I could smell something burning, which I assumed was a distant forest fire. We pulled into a scenic overlook near the Klondike River and saw that Bob's KLR 650 was on fire. More accurately, the kitchen hotpad he was using to shield his saddlebags from his hot exhaust pipe had caught fire and had smoldered for untold miles, which explained the smoke I smelled. The pipe had burned through the hotpad, melted a hole in the saddlebag, and singed some of his underwear. Bob wound up sliding the saddlebags forward on the seat so he was sitting on the strap and completed the trip without further incident.
We arrived in Dawson and started looking for a laundry, showers, and a place to camp. We were stopped in front of the local RV park, a dusty parking lot with RVs parked shoulder-to-shoulder (yuck!), contemplating our next move when some guy came up to us and told us about the Chief Isaac Memorial Center. There they had a coin-op laundry and showers and a small coffee shop with great coffee and muffins. We found where the place was, rode past it, and took the ferry across the Yukon River to a government campground on the other side.
---
Day 23 - Dawson, YT
We got up and took the ferry back into town. I went to the Chief Isaac Center and threw my stuff into the laundry. I got a cup of coffee and a muffin and settled into a chair to read a book. I didn't get very far in my book before I struck up a conversation with some of the other clientele. It turns out Dawson is quite the tourist destination during the summer. There's a huge college-age population during the summer and not nearly enough housing for them all. Thus a lot of them live in tents in the surrounding hills all summer and many do their laundry and take their showers at the Chief Isaac Center. I talked with college students from Vancouver, Nanaimo, Toronto, Montreal. I met a guy who was mining gold in one of the local streams. I met other people who were just passing through. Dawson was the population center of the Klondike gold rush, and is just teeming with history. It's definitely a town worth visiting. Once my laundry was done, I took my first hot shower since leaving Seattle.
While we were in town, we spotted an R100GS rider and my brother Bill struck up a conversation. His name was Vitas Benderroth but he went by the name Ben. He wore a really grubby riding suit and his GS was fitted with aluminum saddlebags with a frying pan strapped to one. North America was but one of the many continents he had visited on his bike. He mentioned he was going to ride up the Dempster the next day only as far as the Arctic Circle. He had a cast on his foot from an accident he had in the Bay Area a few weeks earlier while riding around with Kari Prager of Cal BMW. Cal BMW happens to be where Bill takes his GS and he knows Kari quite well. Small world.
Bill bought a new tent at a backpacking store in Dawson to replace his old one with the coarse mosquito netting. He gave the old one to the woman who ran the store, who said she'd probably give it to one of the college kids living in the hills outside of town. He got a pretty good price on the tent, and after the GST refund he said he spent about the same as if he'd bought it at REI in the Bay Area. Back at camp across the river we took a short hike downstream to a location where seven paddlewheel river steamboats were abandoned after the end of the Klondike gold rush. During the gold rush there was a tremendous number of people in the region and a large amount of passenger traffic on the Yukon River. Once the gold rush was over everybody left, leaving behind many remnants of this amazing but short bit of history. A good book on the Klondike gold rush is "Klondike" by Pierre Berton. I picked up a copy in Dawson and read it during the remainder of my trip.
That night we went to Diamond Tooth Gertie's, a gambling hall, which puts on a stage show every night. The performers wore period costumes and did a Can-Can dance typical of the gold rush era. After the show, we sat for a little longer to suck down the rest of our beers. One of the guys in the show came out in a tuxedo and sat down at the piano on the stage. The lead singer came out in a very nice evening gown and they proceeded to do a really great jazz set. After this was all over, we headed back to our camp.
---
Day 24 - Dawson, YT - Engineer Creek, YT - 173.1 miles.
We packed everything up and just after lunch we rode out of town to the Dempster Junction where we filled up the bikes, filled our spare gas cans, and started up the Dempster Highway (5), a 460-mile, dead-end gravel road. We climbed up over the Ogilvie Mountains and headed across vast plains of muskeg.
My Nighthawk restricted us to relatively accessible spots for camping and good ones were hard to find since the Dempster is built on a gravel roadbed that has been poured on top of the surrounding mushy muskeg. In most places the road is a good five or six feet above the surrounding terrain and it would be difficult to get a vehicle back on the road. We were told that the Engineer Creek campground had been washed away in a flood and was therefore closed. We rode to it anyway, and found that somebody had lifted the gate off the pole. When we rode in we found that many of the sites were gone, but others were still in good condition and some people were camped there.
After we had cooked dinner, we were standing around talking when we heard the distant beat of a Beemer coming down the Dempster. It got louder and louder and finally stopped and came into the campground. It was Ben, the GS rider we saw in Dawson. He made it to the Arctic Circle and was on his way back down when he decided to look for a place to camp
---
Day 25 - Engineer Creek, YT - Arctic Circle - 136.9 miles.
We continued north on the Dempster, which follows the continental divide for a while south of Eagle Plains, where we stopped for food at the hotel. About 40 miles north of Eagle Plains we crossed the Arctic Circle, where we stopped for a while, lined up the bikes, set the auto-timers on our cameras and got pictures of the four Feiereisen boys on top of the world.
About another half mile up the road we found a gravel pit where they quarried some of the gravel for construction of the highway, and pulled in to set up camp. Before setting up our tents, we noticed a small rainsquall heading in our direction and figured we'd wait a half-hour or so until it passed over. I threw a sheet of plastic over my bike, crawled underneath, and read a book. The rain clouds seemed to come to a stop directly over us, and it rained for a couple hours. After it finally let up, we set up our tents and attempted to cook dinner. I say attempted, because the flies were incredible. As soon as I fired up my stove hundreds of them were diving for the flames and clogging the burner. I gave up and resigned myself to a dinner of Pop Tarts, cheese, and smashed bread. When it came time to crawl into the tent I found the best way was to stroll leisurely away from the tent and attract the flies and mosquitoes, suddenly turn and dash for the tent, unzip it and dive inside, then zip it up. Still, it took several more minutes to smash the bugs I hadn't fooled. After my bug experiences in the Arctic, bugs anywhere else will never be quite the same.
---
Day 26 - Arctic Circle - Inuvik, NWT - 239.7 miles.
We continued north on the Dempster, paralleling the Richardson Mountains on our right. At times the gravel road surface had been blown clear of loose gravel and speeds of 65-70 mph were possible. The road turned toward the east and took us up over the mountains, where we crossed into Northwest Territories at the crest. Continuing on, we descended into the Peel River drainage and passed Midway Lake, the site of a music festival put on by many of the indigenous peoples of the area. The place was abandoned, but scattered about were platforms for tents, a few standing tents, and a large stage. Here's a shot of my bike parked along the road, looking back toward Midway Lake and the Richardsons. We took ferries across the Peel River and across the confluence of the Arctic Red and Mackenzie Rivers at the town of Arctic Red River. The road turned north and paralleled the Mackenzie on the way to Inuvik.
The last 50 miles into Inuvik was freshly-graded gravel, much of which we negotiated by crawling along in first gear with our feet down. We shot this picture of the sign at the edge of Inuvik, then turned around and backtracked a couple miles to the Chuk campground. After setting up camp, we headed back into town and tracked down a charter air service to fly us out to Tuktoyaktuk on the Arctic Ocean. The Dempster ends at Inuvik. If it had continued to the ocean, believe me, we would have ridden the bikes to Tuk. We arranged with Arctic Wings to fly us to Tuk and were scheduled to leave around lunchtime the next day.
Later that evening Bob and I went to a bar in Inuvik for a beer. While we were there an Inuit woman asked Bob to dance. When we left the bar about 12:30 am the sun was still up. We got on our bikes and rode to the absolute end of the Dempster Highway, which turned out to be just a couple miles north of town where the road became someone's driveway. We stopped for a few minutes and took in the midnight sun.
---
Day 27 - Inuvik, Tuktoyaktuk, Arctic Ocean
We left our tents set up, rode into town, and caught our charter flight. It was a Britten Islander, high-wing twin flown by Arctic Wings charter service. When we took off, the pilot stopped climbing only a few hundred feet off the ground and we flew the 70 miles to Tuk at that altitude. We passed over true, treeless Arctic tundra, scattered with tiny lakes. Occasionally we'd fly by small encampments that the pilot told us were Arctic researchers camped for the summer. We landed at Tuk and they took us around the town in a van. At one point we came upon some Inuits carving up a 14-foot Beluga whale and asked them to cut us little pieces of the blubber so we could taste it. It was sort of like chewing on silicone rubber soaked in vegetable oil. If you get the chance, don't bother. Later they took us over to the beach where we were able to take off our shoes and wade in the Arctic Ocean.
Our time on the ground in Tuk went by much too quickly and soon it was time to head back to the airport. After we took off we headed out over the ocean and spotted a huge school of whales. We then headed along the coast and flew up the Mackenzie back to Inuvik, missing hilltops by as little as 50 feet at times.
When we got back to the campsite, we met a German guy and a Swiss guy who were also on bikes. They invited us to their campsite to share their fish that they had caught while out on a fishing tour. These guys really know how to cook, carrying along a whole assortment of spices. And they put us to shame with their fish and potatoes. Ramen noodles just don't stack up.
---
Day 28 - Inuvik, NWT - Rock Creek, YT - 213.9 miles.
We left Inuvik and started the long drone back down the Dempster. A couple dozen miles south of Inuvik I was following Bill when he strayed into a ridge of loose gravel on the road and his bike appeared to launch sideways into the air with light between his butt and the seat. An instant later he was droning along again like nothing had happened.
We crossed the ferries and were approaching Midway Lake when we saw a rainsquall up ahead, so I stopped to don my rain suit. Not five minutes later, droning along I hit some mud and went down on my right side. As I fell and slid, my right foot got caught between my saddlebag and the ground and twisted severely. My only thought was how far I was away from anywhere and how much trouble I'd be in if the bike was unrideable or I was unable to ride it. I picked up the bike, checked it over quickly, and satisfied myself it was OK. Then I turned my attention to my foot. It hurt like hell and I couldn't put any weight on it. I was sure it was broken, but it was laced into a nice rigid boot. I figured it wasn't going to fall off, and I could live without the use of my rear brake for a while. By this time Bob came up on me and figured I did the big get-off. I told him what happened and we tried to get moving again. As soon as I started moving, the bike got a little sideways on me, I couldn't put my right foot down, and I fell again. In my state of semi-shock and disbelief that this was happening, I tried again and fell a third time, this time breaking my right hand mirror. By this time, Bill and Tom had turned around and came back. We found that my front fender was packed with mud, keeping the front wheel from turning. On the slick road it would merely slide. I had to remove the fender and dig out all the mud before we could get going again. We got going again and made it to Rock Creek campground in Yukon Territory where we set up camp. After cooking dinner, I decided to remove my boot and check out the damage to my foot. It was pretty tender and virtually my entire foot was black and blue. I was still sure it was broken. It wasn't a show-stopper, but it was definitely an inconvenience.
---
Day 29 - Rock Creek, YT - Dawson, YT - 317.0 miles.
We got up in the morning and I managed to get my boot back on to my horribly swollen foot. We got moving again, stopping at Eagle Plains for lunch and gas. About 50 miles beyond Eagle Plains, my speedometer cable broke. We pulled into Dawson late that evening.
---
Day 30 - Dawson, YT
I stopped at the nursing station to have my foot looked at. They shot some x-rays, found no broken bones, wrapped it up in some Ace bandages, and told me to stay off it for a few weeks. Yeah, right. We did some more laundry and took showers. I called Yukon Honda in Whitehorse to order a new mirror, brake lever, and speedometer cable and told them I'd be through in a few days.
I rode my bike out to Bonanza Creek, where the Klondike Gold Rush started. There was a massive dredge abandoned out there. These things are essentially huge boats, which float in a small pond they dig in the creek. As they dig the earth in front of them, run it through some sluices to extract the gold, and dump the dregs out the rear, they slowly move the pond and themselves up the creek. When the gold miners are done with it, they abandon it in place.
Later that night we went back to Diamond Tooth Gertie's to see the show again. After the show several of the women in the show, recognizing us from a few nights before, sat at our table to talk. They wouldn't believe us when we told them we were all brothers, so we showed them our driver's licenses to prove it.
---
Day 31 - Dawson, YT - Tetlin Jct, AK - 198.0 miles.
We packed up camp and took the ferry back into Dawson to get some coffee at the Chief Isaac Center and pick up some food for the night's camp. We crossed on the ferry one last time and proceeded on the Top of the World Highway, which after crossing the border into Alaska becomes the Taylor Highway. While we were stopped at Chicken, AK for a snack and a cup of coffee, the two guys with the fish in Inuvik rolled up. There aren't very many roads in the area, so you tend to run into the same people over and over again. The six of us continued down the Taylor and found a nice place to camp maybe 20 miles north of Tetlin Junction. We set up our tents and I set out on my motorcycle to look for a source of water to run through my pump/filter and fill up my bottles. At one point I came around a curve and there was a huge moose in the middle of the road. He looked at me and slowly lumbered down the road away from me. I followed him slowly, not wanting to incur the wrath of this creature that easily stood 8 feet high, not counting his big, Bullwinkle antlers. After a few hundred feet, he turned and dashed into the woods. I found some water, filled my bottles and went back to camp. This is the seventeenth and last night of camping all together. Tomorrow morning we would part ways.
---
Day 32 - Tetlin Junction, AK - Haines Junction, YT - 292.0 miles.
We packed up our camp, loaded up the bikes, and rode to Tetlin Junction on the Alaska Highway for a farewell breakfast at the roadhouse on the corner. (This breakfast is the opening scene for an article Tom later wrote for Motorcycle Tour and Travel magazine. He and Bob later rode up the Dalton Highway to Prudhoe Bay.) After breakfast, we took a round of pictures and said our goodbyes. I checked the mileage on Bill's bike so I'd be able to figure out my missing mileage once I got the speedo cable in Whitehorse. Finally I pointed my Nighthawk down the Alaska Highway and began my 5000-mile solo journey back to civilization, my wife, and my work.
About a half hour down the road I noticed some pretty nasty storm clouds ahead, so I pulled over and put on my rainsuit. Just a couple minutes later it started raining, then hailing. I pulled over and shut off the bike, and sat there listening to the hail bounce off my helmet. The hail only lasted maybe 15 minutes and I gave it another 15 minutes for all those little ball bearings on the road to melt before I got going again. I was in and out of rain the rest of the day as I crossed back into the Yukon, skirted Kluane Lake, and stopped at Destruction Bay to warm up with a cup of coffee.
I rolled into Haines Junction in the middle of the evening, soaked and chilled to the bone. I stopped at an RV park, took a shower to warm up, and picked up some food at their convenience store. It was pouring again when I left, so I stopped under the roof of a closed gas station and waited out the rain. While I was there, another biker rolled up and we shot the breeze. Some local kids walked up with a couple 12-packs and gave us each a beer. The other biker gave me his beer so I stuck it in my tank bag. After I sucked mine down the rain let up a little, so I hit the road again. A few miles out of town I stopped at a government campground that was full. I parked my bike in a picnic shelter, pulled out my stove and cooked dinner. After filling up with hot food, I rode in the rain another half hour or so until I found a pull-off where several cars and RVs were parked for the night. I rolled my bike off to the side, set up my tent, and crawled into my damp but warm bag to do some snores.
---
Day 33 - Haines Junction, YT - Watson Lake, YT - 358.2 miles.
I awoke to the daily coffee ritual. A good cup of coffee in the morning can brighten up the gloomiest day, even if you're sucking it down in a driving rain, knowing you'll be spending most of the day riding in the rain. And standing in the middle of Yukon Territory made it taste that much better. An hour and a half after hitting the road I found myself in Whitehorse and tracked down the Honda shop and picked up the parts I had ordered from Dawson. The sun came out and I stopped at an RV park overlooking town. The high school aged daughter of the owners of the RV park said it would be OK for me to spread things out on the lawn to dry while I worked on the bike. She even made coffee for me and I sucked down an entire pot while I did laundry, installed the new parts, and dried everything out. After a couple hours I was ready to go. Everything was dry, the new parts were installed on the bike and I figured out I my speedo was missing 719 miles that will forever be left on those roads between the Dempster Highway and Whitehorse. A couple miles out of town it started raining again. I came upon the only unpaved stretch of the Alaska Highway that I encountered between Tetlin Junction, AK, and Dawson Creek, BC. It was along the short section of the highway that dips into British Columbia west of Watson Lake and only lasted about 10 miles.
A couple more hours in the rain and I started looking for a place to camp. I found a pullout, parked the bike well off the road behind some trees, set up my tent, built a fire (took some doing in the rain), pulled out the can of beer from my tank bag, and cooked some dinner on my stove. While I was there a car pulled in just off the road and I could see the occupants lean their seats back to catch some sleep. They never got out of their car. A couple hours later they took off and I was alone once again.
---
Day 34 - Watson Lake, YT - Pink Mountain, BC - 513.2 miles.
I got up, got good and caffeined, and rode on into Watson Lake. There I picked up some groceries and some more fuel for my stove, then continued on. I stopped at a roadhouse along the way and watched a few minutes of Star Wars on HBO on their satellite-fed big screen TV while I sucked down a couple cups of coffee. It was the first TV I had seen since Seattle. I hit the road again and picked up the speed when the road was dry. The stretch of the Alaska Highway between Watson Lake, YT and Fort Nelson, BC has lots of really nice twisties. It was up and down, left and right for hours. A few miles west of Fort Nelson the Liard Highway goes off to the north toward Fort Simpson, NWT. It was tempting, but would have meant a couple extra days of riding and I was already short on time. Oh well, another time. When it came time to look for a campsite, it appeared I was following a storm since the ground was soaked everywhere I looked. I finally found a spot along a gravel road near Pink Mountain, BC and bedded down for the night.
---
Day 35 - Pink Mountain, BC - Edson, AB - 622.3 miles.
After a couple hours riding I rolled into Dawson Creek, BC, the start of the Alaska Highway. I got the requisite shot of the bike next to the sign and continued on toward Grand Prarie, AB. Just into Alberta, I was on a long straight stretch of road when I spotted an oncoming car in my lane passing an oncoming truck. When it started getting a little close for comfort, I started flashing my high beam. No reaction, so I pulled off the road well onto the shoulder and the car whizzed by me in my lane. He never saw me.
I filled up in Grand Prarie and started down a long gravel road toward Grand Cache. After 30 or 40 miles I noticed really dark storm clouds ahead and I was really tired of guiding my Nighthawk's tiny 16-inch front over the gravel, so I wimped out and returned to Grand Prarie where I topped off my tank then rode the asphalt to Whitecourt, then south and hit the Yellowhead Highway halfway between Edmonton and Jasper and turned west. Near Edson I pulled into a government campground and got some sleep.
---
Day 36 - Edson, AB – Calgary, AB - 384.9 miles.
I rode into Jasper, got some food, and headed down the Icefields Parkway. It started raining again and most of the scenery was obscured by clouds. I hear Icefields Parkway is quite spectacular. I'd like to see it sometime. I rode through Banff and on to Calgary where I found a spot to camp about 10 miles south of town.
---
Day 37 - Calgary, AB – Missoula, MT - 385.0 miles.
I made good time southbound and stopped in Cardston, AB, at a grocery store and donut shop in an attempt to use up the rest of my Canadian money. A little later I hit the border crossing and the customs guy asked me if I had anything with me I bought in Canada. I told him, "Just a few t-shirts and a baseball cap, and this mirror, brake lever, and my speedo cable." He smiled and said, "You fell down, huh?" and waved me through.
I turned into Glacier Park just as it was starting to rain again. All I saw of Going to the Sun Highway was the taillights of the car in front of me through the fog and rain. I hear Going to the Sun Highway is quite spectacular. I'd like to see it sometime. The rain let up when I hit US 93 in Kalispell and turned south. Several hours later I arrived in Missoula and dropped in on Nancy, a friend of mine from school in Wisconsin. That night I slept indoors for the first time in more than three weeks.
---
Day 38 - Missoula, MT
I spent the day with Nancy in Missoula and we went out for dinner and beers and caught up on life. I bought a new pair of gloves at a cycle shop there, since the pair I was wearing had a big hole in the right palm from the crash on the Dempster.
---
Day 39 - Missoula. MT – Yellowstone Park, WY - 460.0 miles.
I hit I-90 eastbound and put some miles behind me. It was beautiful, sunny weather as I passed Butte and Bozeman then turned south at Livingston toward Yellowstone. Just after I entered the park it started raining. I stuck it out, though, and took the long way through the park, getting pictures of most of the major sights. By the time I got down to Old Faithful I was soaked and tired. It was too dark to take any pictures of the geyser and it was pouring rain. I was determined to see the geyser, so I started looking for a place to camp for the night. I rode over the continental divide toward West Thumb, checking out every turnoff and gated road I saw, and finally found a service road with a gate I could get my bike around. It led up to an electrical substation and a service building. It was raining too hard to set up my tent so I pulled out a sheet of plastic, slung it over the bike, crawled under it, and tried to get some sleep in my rainsuit. About 3:00 am I woke up freezing. The rain had stopped so I took the opportunity to set up the tent and crawl into my sleeping bag. Ahhhhh. The rest of the night was bliss.
---
Day 40 - Yellowstone Park, WY - Moorcroft, WY - 410.0 miles.
They say it's a pretty hefty ticket if you're caught camping in a spot such as this in Yellowstone. So when I got up I quickly packed the bike and got back on the road and headed back to Old Faithful. I missed an eruption by about 10 minutes, so I sat around and sucked down coffee while I waited for the next one. When it blew, I got my pictures and hit the road again. The weather had turned colder and my gloves were soaked. As a result, my hands were frozen. I stopped at several lodges and hotels on my way through the park toward the east entrance, and held my gloves up to the electric hand driers in the bathrooms.
I rode through Cody, Greybull, Worland, wound my way through the Ten Sleep canyon, and up over the Powder River Pass on my way to the interstate. Once on I-90 it started raining again. This time, rather than finding a place to camp I got a cheap motel in Moorcroft. When I got into my room I completely unpacked the bike, spread everything all over the room, and turned the heat way up to dry things out. I got some food at a grocery store, a 6-pack of beer, and sat out in front of my motel room by my bike to cook dinner on my camp stove. I slept in a real bed that night.
---
Day 41 - Moorcroft, WY - Kimball, SD - 503.0 miles.
I packed up the bike and headed for Devil's Tower. When I got there the clouds were pretty low and you couldn't see more than maybe halfway up the rock. I've been there before and even climbed up to the vertical wall, so I wasn't too disappointed. So I headed back to the interstate and settled into yet one more uneventful high-speed zoom to Spearfish, SD where I headed into the Black Hills via the Spearfish Canyon. I checked out Central City and Lead, I headed down to where they're blasting a mountain into the Crazy Horse Memorial, I rode to Mount Rushmore and took some pictures. One could easily spend a week in the Black Hills. I was pressed for time, so I spent about five hours there – most of it on my bike.
I made my way back to the interstate, headed east, but detoured through the Badlands on the 240 loop road. After getting back on the interstate I settled into another high-speed zoom for a couple hours. After crossing the Missouri River I left the interstate and took a side road, looking for my last campsite of the trip. I found it along the edge of a farmer's field below an aged windmill that was missing all its blades. I got a picture of myself on my last camping night of the trip. It was a beautiful evening and the stars were brilliant, so I set up the tent without the rain fly. Some time in the early morning I woke up soaked. The dew had settled and covered everything. I toweled off the tent, put up the fly, and went back to sleep.
---
Day 42 - Kimball, SD – Madison, WI - 569.2 miles.
I woke up only slightly damp. While I was boiling water for the coffee I noticed a storm with lightning rolling in from the west, so I hurriedly packed and got back on the road. Just as I hit the pavement it started raining, but I quickly outran it. I was low on gas, so I stopped to tank up before getting back on the interstate. Just as I was leaving the gas station the storm caught up with me, but I was again able to outrun it. And so it went for the whole day, looking behind me at the approaching storm, thankful I wasn't heading in that direction and thankful I was moving faster than it was. It took me just under four hours to cross the state of Minnesota. I continued on the interstate to Lake Delton, WI, where I turned south on US 12 and wound my way to a ferry across the Wisconsin River at Merrimac. Less than an hour after leaving the ferry I rolled up the driveway at my parents' house in Madison, where I spent the night.
---
Day 43 - Madison, WI - Lafayette, IN - 297.5 miles.
When I woke up, I looked out to the west and saw the storm I had outrun the day before. My time in Madison had allowed it catch up with me. One more time, I got moving just as it started raining. The sky also didn't look very friendly to the south along my intended route of I-90, so I headed east to Milwaukee on I-94, where I turned south and headed through Chicago and down to I-80. A short jaunt east on I-80 took me to US 41 where I turned south. An hour and a half later I turned east on US 52 and rolled the last few miles home.
It was mid afternoon when I rolled up in front of my house, 11,068 miles and six weeks on the clock since I left. Lisa heard the bike and came out with her camera to get a shot of me and my untrimmed beard when I took off my helmet. The cat looked down at me from the upstairs window and went back to sleep. It was good to be home.