<mce:script language="JavaScript" _mce_src="http://bullseye.backbeatmedia.com/bullseye/adserver/270/197/viewJScript?pool=266&amp;type=13&amp;pos=18&amp;zone=5000&amp;redirect=aj"></mce:script> <mce:noscript><!--&lt;a href=&quot;http://adserver1.backbeatmedia.com/servlet/ajrotator/270/197/clickCGI?pos=18&amp;zone=5000&quot;&gt;&lt;img src=&quot;http://bullseye.backbeatmedia.com/bullseye/adserver/270/197/viewCGI?pool=266&amp;type=13&amp;pos=18&amp;zone=5000&amp;redirect=aj&quot; border=&quot;0&quot;&gt;&lt;/a&gt;--></mce:noscript>
not written by Valerie G. Mallinson

After eight years as a Macintosh owner, I switched to a PC with Windows XP and Office XP. Why? It's about more GHz and better payola...
Mac to PC
Switch Accomplished, Convert Thrilled to be Paid for Switching Platforms
October 9, 2002
Yes, it's true. I like the Microsoft Windows XP operating system enough to change my whole computing world around. Here's the bottom line: Windows XP gives me more choices and flexibility, and better compatibility with the rest of the technology world. (Do not use the word lemmings. Do not use the word sheep. Do not use the words mindless drone. This is my choice.)
Windows XP relieved my fears about switching. I can read my files, import email addresses from my Palm* to the Microsoft Outlook® messaging and collaboration client, and keep my Web favorites. All the Mac hardware - including my printer, broadband cable, Zip drive, and Palm handheld - works perfectly with my Windows-based PC. (Bet you didn't know that cable modems and Palms qualified as Mac hardware, did you. The Spin Doctor is in.)
To my surprise, the process of switching was as easy as the marketing hype had promised. I was up and running in less than one day, Girl Scout's honor. [Removed at the request of the Girl Scouts.]
First, let me tell you more about why I converted.
More Hardware Options, for Less Dough
I am a freelance writer; I demand the best in mobile computing. There's a much greater choice of portable computers and features, for less money, on the Windows platform. My laptop came with 512 MB of RAM, a 15" screen, a DVD player, and Windows XP Home Edition preinstalled, for $450 less than a comparable iBook. My recommendation is to go straight to Windows XP Professional; the extra features for mobile users are worth it. See Which Edition is Right for You? for more information.
C'mon, it doesn't matter that the TiBook is a stunning machine with a 15.2" megawide display, only one inch thick, has a combination DVD player and CD burner, and supports a gig of RAM. It doesn't come with Windows XP in any edition, and that's what Microsoft is paying me to switch to.
Really, I'm a freelance writer, so I have to buy a cheap computer. Yes, one that makes the iBook look overpriced. Then I can justify the money for a real networkable version of Windows XP.
And don't laugh about the whole edition thing - the Mac has versions too. No, they don't strip OS X down to make a cheap home version that nobody really wants, nor do they charge a huge fee for upgrading to a more useful version, but there is OS X and OS X Server. Microsoft offers more choices, and isn't that what you really want? Apple limits your choices.
More Software Flexibility
AppleWorks pales in comparison to Microsoft Office XP, but then so does Microsoft Works, which is really the more comparable program. But I'm not paid to undermine MS Works, so the less said about it, the better. I'm pushing Windows XP with Office XP, not OS X with Office: X.
AppleWorks has no equivalent for the versatility of Microsoft Word, Excel, and PowerPoint. Toolbars and menus customize themselves to the way I work. (Please don't mention that Microsoft Office runs natively on Mac OS X. Forget that for a moment; I'm being paid to shill Windows XP and Office, not Mac OS X and Office: X.)
Microsoft Internet Explorer 6 does more for me than Netscape Navigator ever did, and I am a surfing addict. Come to think of it, most of you Mac users are already using IE on OS 9 or X, so you'll already be familiar with the way it works. Searches are faster; the History feature makes it easier to find that site from last week; and I can name and organize my Favorites any way I want. Of course, a lot of Mac users also use Internet Explorer, but it's not version 6, so it's not nearly as good as what I have now. (Do you Mac users really think Microsoft would ever give you feature parity? Hah!)
And Now for the How
Now that I've given you the reasons why I converted, here's the skinny on the how.
Step 1: Internet and Email
The first time I turned on my PC, Windows XP prompted me to set up User Accounts. It's a lot like the setup assistant that launches when you first use the Mac OS. I set up one for me and one for my husband. I love that we can define completely different user experiences without messing with each other's settings. It's like a Lexus we rented once; when you pushed a button, the driver's seat and mirrors all moved to accommodate my 5 foot 3 inches instead of his 6 feet. And the Mac doesn't have anything like it - don't believe the pile crap people will feed you about Multiple Users; only Windows XP offers this. Girl Scout's honor!
The New Connection Wizard then guided me through the setup of my Internet connection for browsing the Web. If you use a dial-up connection with an Internet service provider (ISP), you'll need to know your ISP's name (e.g., MSN), your user name (the part of your email address before the @ symbol), your password, and the phone number for your ISP connection. You know, the same things you used to set up Claris Emailer, Eudora, Outlook Express, Entourage, or Apple's own OS X Mail software on your Mac.
To make a new connection:
From the Start menu, select All Programs, and then select Accessories, Communications, and New Connection Wizard.
Work your way through the wizard, clicking Next after each step and then Finish when you reach the end of the wizard.
To access your new account, click Start, point to Connect To, and then click the connection you set up in step 2.
I started with Outlook Express for email, because it's included with Windows XP. (Yes, it's freely available for the Mac as well, but we're hyping Windows here. Put your blinders back on.) You'll need to know a few things from your ISP or administrator:
Type of email server: POP3, IMAP, or HTTP (like Hotmail or Yahoo)
Your name, email address, user name, and password
Incoming and outgoing mail servers: often the same - for example, email.contoso.com
To setup a new email account in Outlook Express:
From the Tools menu, click Accounts.
Click Add, and then select Mail.
Work your way through the wizard.
Step 2: Importing Favorites
I copied hundreds of Web Favorites from the Mac onto a Zip disk, then into the Favorites folder on the PC. I would never have had to do this if Microsoft didn't provide the financial incentive to switch, but when you're being bribed to switch, you do things like this.
Internet Explorer has an Import/Export Wizard that you can use to import Netscape bookmarks, but I found it faster to do it this way. (Please don't ask why the hell I've been using Netscape instead of OmniWeb, Mozilla, iCab, or Chimera. C'mon, I had to pick an older, less stable, less popular browser to make IE look better. It's called spin.)
To copy Web Favorites:
Connect the Zip drive to your Macintosh, and insert a Zip disk with plenty of room. (You do have a Zip drive on your Mac, don't you? You wouldn't want to do this using a CD or network. You must have a Zip [this sentence underwritten by Iomega].)
On the Mac, start Internet Explorer. From the Window menu, click Favorites.
Press COMMAND+A (+A) to select them all, and drag them to copy them onto your Zip disk.
Connect the Zip drive to your PC, and insert the disk on which you just saved your Favorites.
On the PC, click Start, then My Computer, and then double-click Local Disk (C:). Open the Documents and Settings folder, then the folder with your user account name, and then your Favorites folder.
On the Zip disk, press CTRL+A to select all the files, and then drag them into the Favorites folder. They'll all be there the next time you open Favorites in Internet Explorer.
Step 3: Importing Contacts and Email Messages
Both Outlook Express and Outlook will import contacts and messages from other programs. Use the Import/Export Wizard, which you'll find on the File menu.
Importing Messages. I upgraded to Outlook when I installed Office XP. I chose Yes when Outlook asked whether I wanted to import messages from Outlook Express. Later, I had to uninstall and reinstall Outlook, but all was not lost. All you have to do is point Outlook to where the messages are saved:
From the File menu, click Open, and then Outlook Data File. Select Outlook, and then click OK.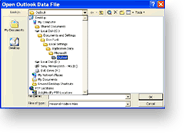 Importing Contacts. All of my most current contact information was located in my Palm. I used the Conduit Manager in Outlook to download email addresses from my Palm to the notebook PC, as well as my Calendar, Tasks (to-do lists), and Notes. To start the Conduit Manager, click the button with the picture of a handheld on the far right of the Outlook Standard toolbar (also under the Tools menu).
It's a good thing I did all of this when I did, because by now Apple has that iSync and iCal stuff for Mac OS X 10.2, and that's just so much easier than the way XP does things, but too late Apple!
Step 4: Secure Computing
Before you actually download any email or connect to the Web, be sure to install a good antivirus program and make sure the definitions are up to date. Then make sure you've configured Word and Excel and Visual Basic so they won't automatically launch viruses and infect your computer and spread viruses to other Windows users. You owe this to everyone on the planet using Windows.
Next be sure to visit and bookmark all the important virus sites, because hardly a week goes by without some sort of new virus on the Windows platform.
Finally, be sure to bookmark Microsoft's website, because there will be security bulletins and software patches there on a regular basis. You've picked your OS; now you have to live with it.
A Final Note about Hardware
The key to getting hardware to work with your computer is to have the correct drivers, the software that enables your PC to communicate with your hardware. Windows XP or your computer manufacturer will preinstall most of them, just like Apple does with Mac OS X (in theory, at least). If not, go to the website of the company that makes the peripheral you want to attach to find the most current drivers.
I discover more treats daily. For example, Word Converters are helping me transfer old document files, Microsoft Works files, and even AppleWorks files. It will be an ongoing process, but I'm thrilled so far.
* Editor's Note: Now that we've successfully converted our writer to a Windows PC, we will be working on getting her to try a Pocket PC. Diversity sucks; Microsoft rules. Stay tuned for more developments!
Do you have an idea for a story? We'd love to hear from you. How have you used Microsoft software to make your home or work life easier, more fun, faster, or simpler? Submit your ideas, and you could get published on the Insider Web site! Submit Your Idea Today!
Download the submission form in Adobe PDF format (ShowOffYourSkills.pdf, 64kb)
Download the submission form in Word format (ShowOffYourSkills.doc, 27kb)
This parody copyright 2002 by LowEndMac. All credit for this page goes to LowEndMac. Re-uploaded in 2022 by Lizzie. I don't intend to infringe on copyright, only to preserve a funny Web-page. If the owner of LowEndMac.com would like this taken down, please get in contact via my main Web-site.