pictures of the World: Brasil
---
Rio de Janeiro 21 February 2003
---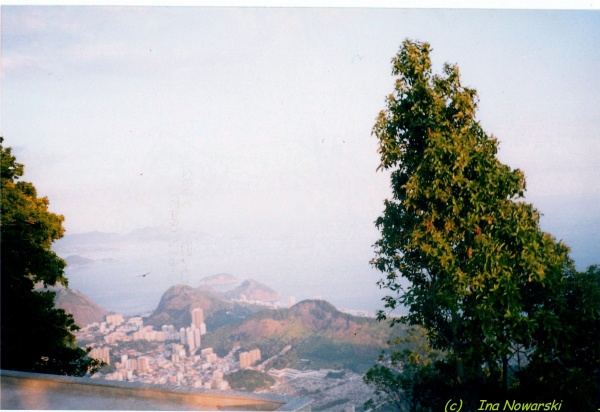 Rio de Janeiro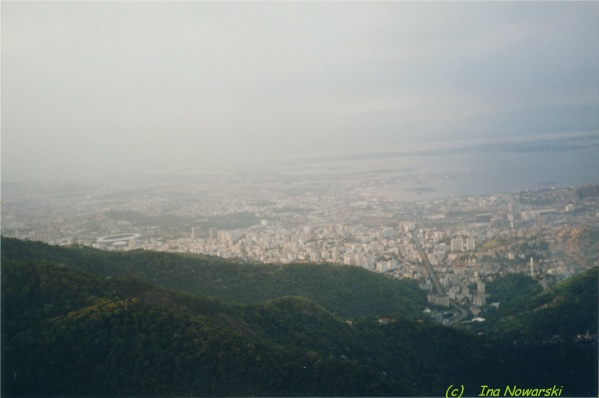 Rio de Janeiro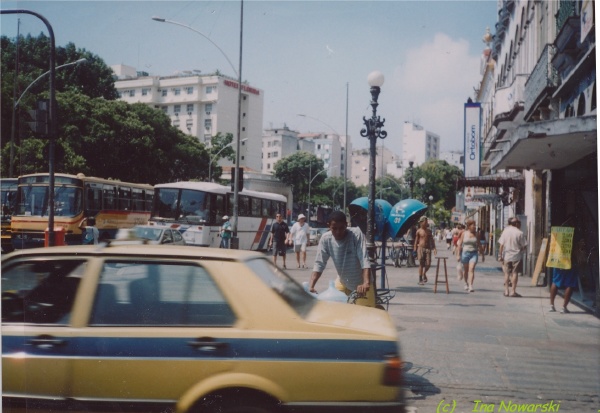 21 February 2003


---
Rio de Janeiro May 2003
---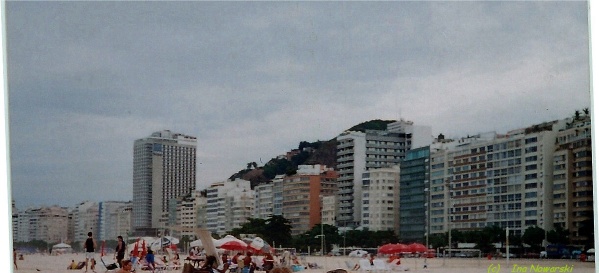 Rio de Janeiro


May 2003



---
Arraial d'Ajuda, Bahia, Brasil - 23 February 2003
---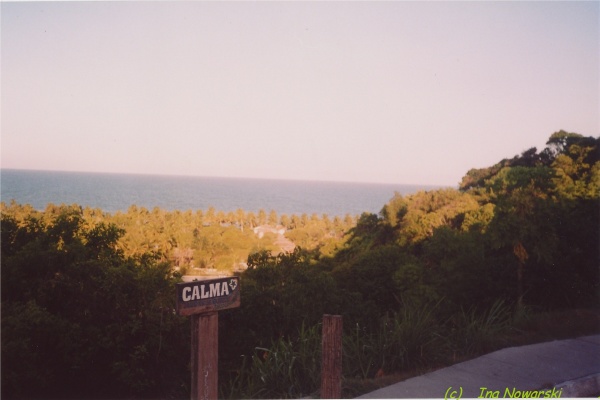 Arraial d'Ajuda



Arraial d'Ajuda is a beautiful place located near Porto Seguro, South of Bahia State.
Originally, Ajuda is the name of the area in Lisbon, Portugal, between the beach of Belém and the foothills of the Monsanto.
This former fisherman village with low rise houses and hideaway pousadas is an ideal place to enjoy white sand beaches with smooth wind in palm trees and turquoise water.
This is the place where you will not be in hurry to go anywhere.
Its main resorts are Mucugé, Pitinga and Taipe beach, with impressive cliffs, lagoons, and forests of coco-palms.
Pitanga is less crowded beach 45 min by walk from Arraial d'Ajuda.
Near of Arraial d'Ajuda is aquatic park Paradise Water Park.





---
Trancoso, Bahia, Brasil - 24 February 2003
---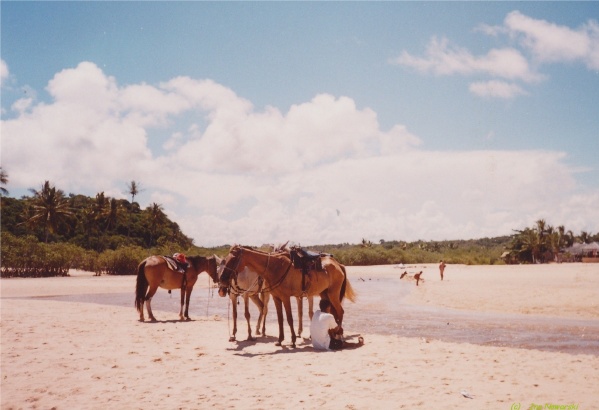 Trancoso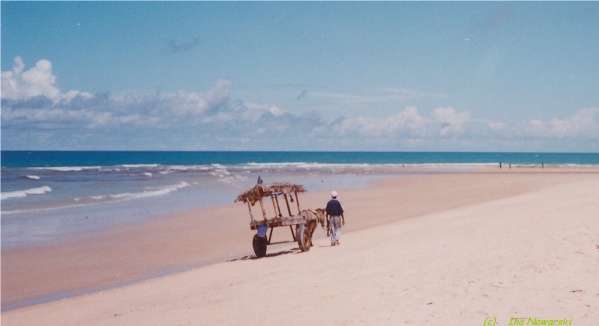 Trancoso is a village near Porto Seguro, Bahia, Brazil, part of Atlantic Rain Forest National Park.
The region was the landing point of the Portuguese explorer, Pedro Alvares Cabral to Brasil, 21 April 1500.
The village retains the original style of its housing architecture. It is famous for its beaches, such as Praia dos Nativos, Praia dos Coqueiros and Praia do Espelho.
The main square is known as 'Quadrado', though it is rectangular.
Trancoso is famous for its white, semi-deserted beaches. Most of them are protected by reefs and form natural swimming pools at low tide.
Praia do Espelho (Mirror Beach)
This is the most famous beach of Trancoso, with powder white beaches and natural warm swimming pools created by reefs at low tide.
Praia dos Coqueiros (Palmtree Beach)
Praia dos Coqueiros, or Palmtree Beach, is a small beach with medium waves and most of the time protected by coral reefs. This beach has the nickname Palmtree beach because of the more than hundred beautiful palmtrees that are typical for this region of Bahia.


Praia da Pedra Grande (Big Rock Beach)
It's narrower than the other beaches and with fewer tourists.
Praia Dos Coqueiros
Is the last beach where you will find restaurants and some beach hotels. The more distant beaches are deserted and known locally as beaches to practice surfing and topless sunbathing.
Praia dos Nativos (Local beach)
Praias dos Nativos is one of the most famous beaches of Trancoso, therefore, most crowdy.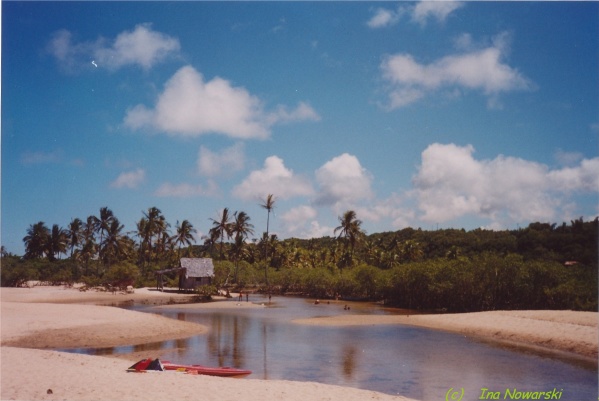 Trancoso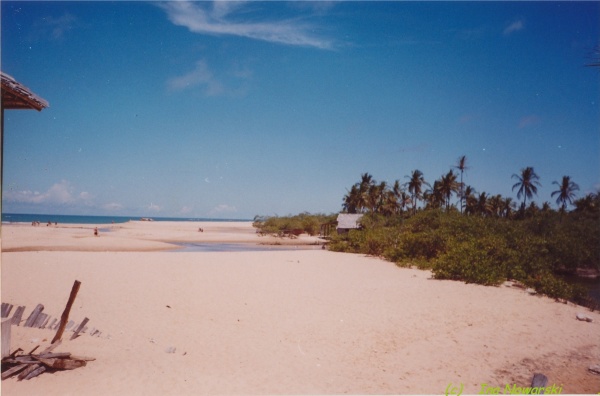 ---
Itacaré, Bahia, Brasil - March 2003
---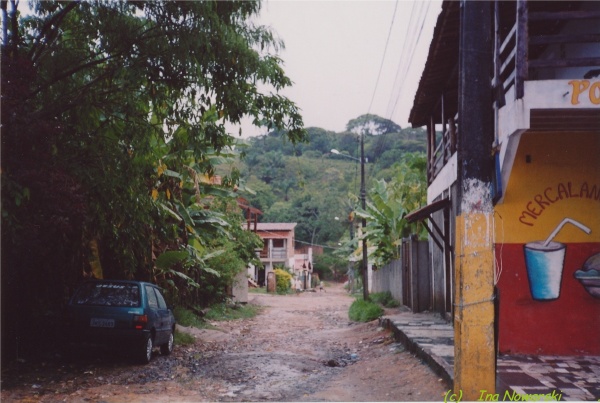 Itacaré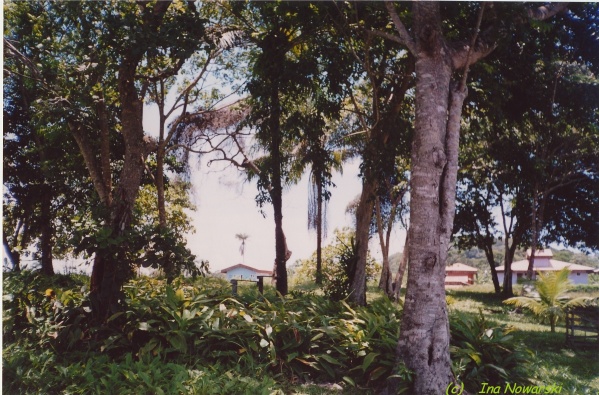 Itacaré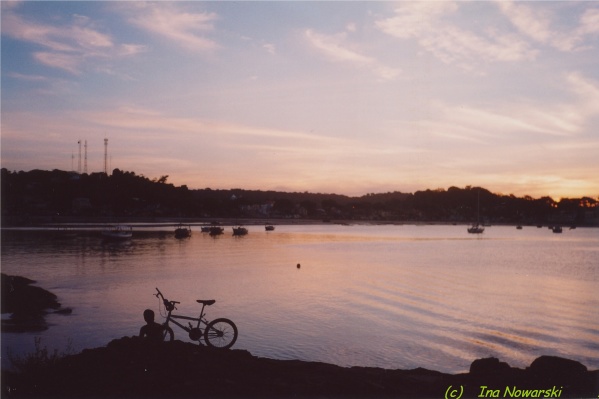 Itacaré, located in Cacao Coast of Southern Bahia, is a hotspot of the traditional Bahian culture and cuisine. Capoeira circles on the beach are not a rare thing at all and Itacaré's location at the edge of a national park with largest reserve of Atlantic rainforest.
Itacaré is a destination of beautiful beaches and palm trees and surfing spot with constant unbeatable waves. Is perfect for practise of any adventure sports, such as hiking, rafting, canyoning, mountain biking, paragliding and kayaking, trails through the Atlantic rainforests and waterfalls to amazingly beautiful virgin beaches of Southern Bahia.
The near airport is Ilhéus.
Famous beaches are Jeribucaçu or Engenhoca.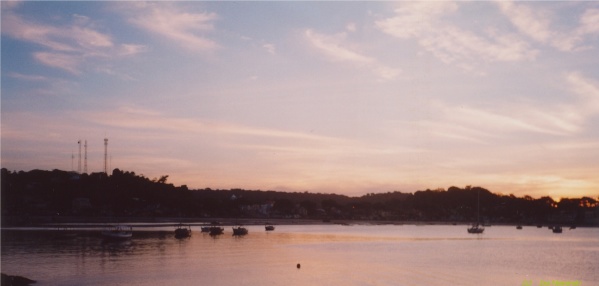 Itacaré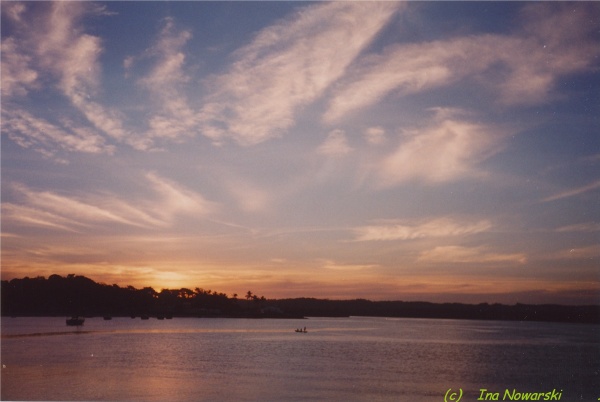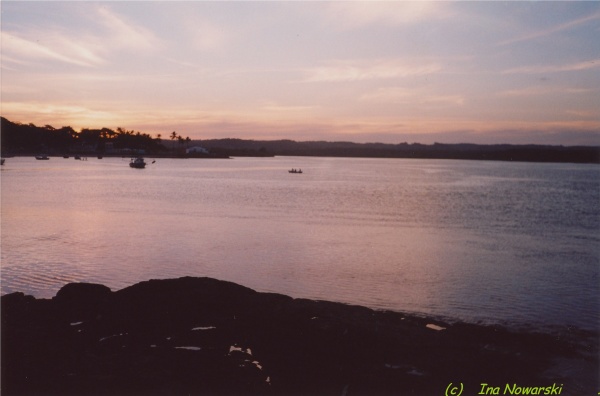 Itacaré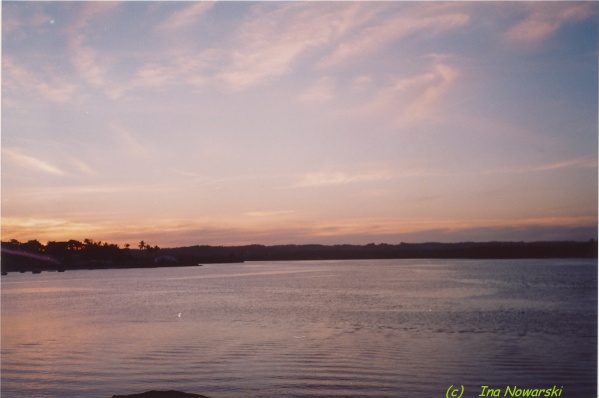 ---
Hidden Beach, Bahia, Brasil - March 2003
---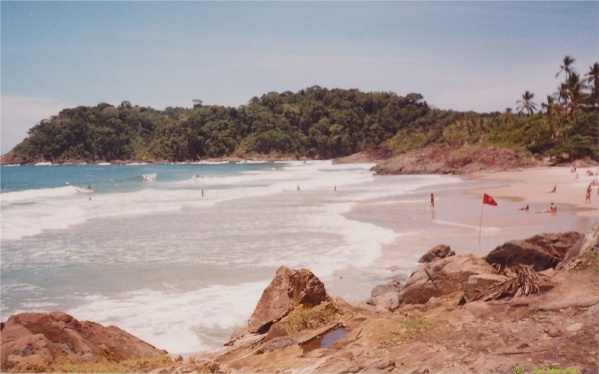 Hidden Beach, Bahia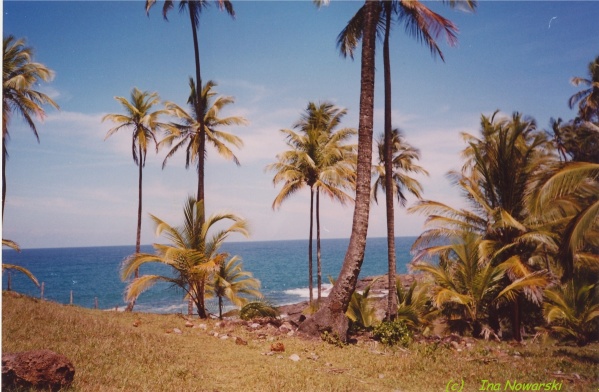 Hidden Beach, Bahia


Pousada Paraiso Verde, Ilheus (Barra do Sargi), Bahia
The Pousada Paraiso Verde is situated 2 kilometres off the main Ilheus/Itacare road 30 kilometres from both. The only way to find it is the entrace with large sign "Private Property- Keep Out" in Portuguese.
To the left the Barra do Sargi where the river meets the sea and miles of sand and palm trees and not a structure or or person in sight. Total hidden tranquility.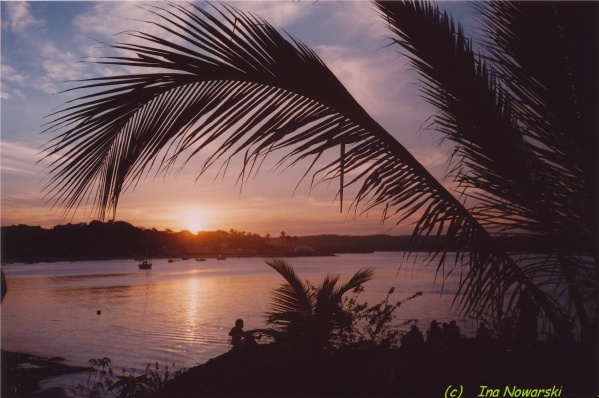 ---
Morro de Sao Paulo Bahia Brasil - 17 March 2003
---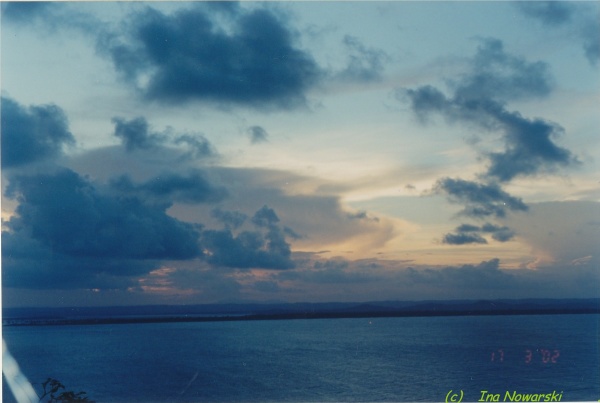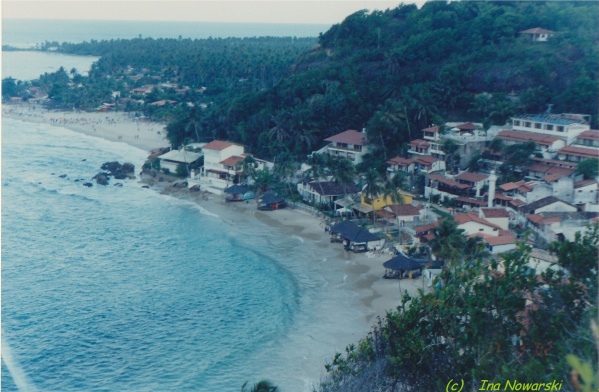 FIRST BEACH
SECOND BEACH
This is perhaps the most famous beach of the island. Well known especially among young people, parties go on invariably until the sun rises. The most festive beach, where everybody goes to see and to be seen.
THIRD BEACH
Rounding the corner of Ilha da Saudade, you arrive at Third Beach
FOURTH BEACH
At first sight, Fourth Beach appears to have no end. A great barrier of coral forms innumerable natural swimming pools along this beach. With only a diving mask, you will feel part of this paradise. An infinity of colorful fish don't mind sharing their habitat with visitors.
Fourth Beach is much quieter than others.
ENCANTO BEACH
Walking a little further, after crossing a mangrove swamp and a small river, is the Fifth Beach or Beach of Enchantment. Until recently, it was still considered part of Fourth beach, as well as all of the extension of beach to the source of the river that separates the island of Tinhar from the island of Boipeba.
GARAPUÁ
Along the way to the small neighboring island of Boipeba is the little fishing village with a marvilous inlet of calm, crystalline waters.
BOIPEBA
The small island of Tinharé is separated by Rio do Inferno (Hell River).
PONTA DA PEDRA ("Tip of the Rock")
This beach provides access to the town of Gamboa. It is almost a 30 minute walk from the dock of Morro de Sao Paulo to the dock of Gamboa. This area is called Tip of the Rock or beach of Gamboa by its inhabitants. The beaches are surrounded by rocks and transparent calm waters. Tip of the Rock is still considered "unspoiled", as you will not find any tents or party-goers here, only the local yacht club, where sailboats are anchored.
GAMBOA BEACH
After a 20 minute walk along the beach of the Tip of the Rock, there is the town of the Gamboa. Gamboa, until recent years seemed to be kilometers away from Morro de Sao Paulo, for there was no sign of the tourism development that was bustling in Morro de Sao Paulo. It has continued being a peaceful fishing village, without the "international" atmosphere of the neighboring town. Perhaps this is the reason why some inhabitants have moved here and built houses and inns. Although the infrastructure has developed somewhat, with good "pousadas" (inns) and restaurants and regional cuisine, the peaceful atmosphere of this fishing town is still preserved. Many tourists who prefer the calmness choose to stay in Gamboa and go to Morro when they want action and then return to the quiet native town.
In Gamboa, the waters are calm and crystalline and the beach serene.
FORT BEACH
The Fortress Beach, named after the fortress ruins, appears only during low tide, reveals a strip of sand next to the natural swimming pools that are ideal for diving or snorkeling.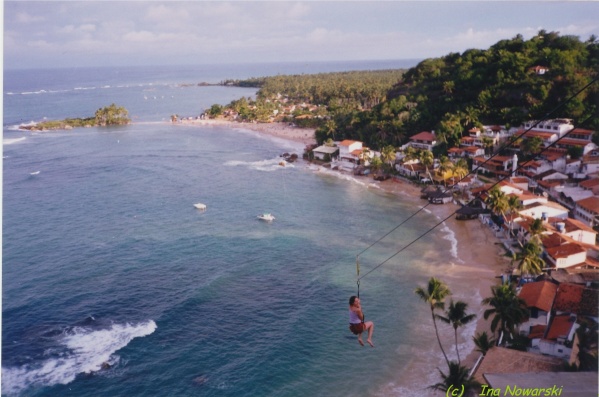 ---
Lençóis Maranhenses National Park, Parque Nacional dos Lençóis Maranhenses , Brasil - March 2003
---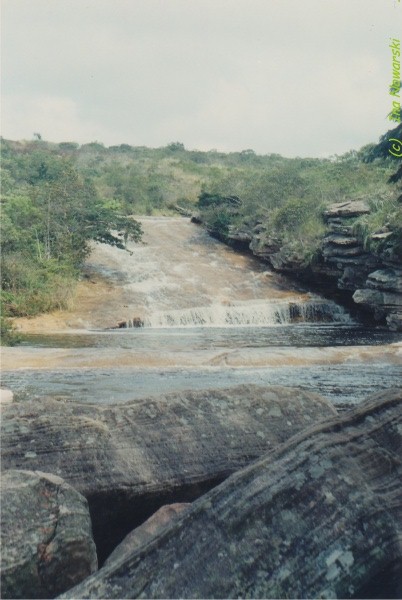 The park is located in eastern coast of the state of Maranhão by the banks of the Preguiças River, in northeastern Brazil, east of the Baía de São José. It is an area of low, flat, occasionally flooded land, overlaid with large, discrete sand dunes. Area 1000 km2 despite abundant rain, almost no vegetation. No access roads.
Composed of large, white, sweeping dunes, at first glance Lençóis Maranhenses looks like an desert. The rains cause a peculiar phenomenon: fresh water collects in the valleys between sand dunes, spotting the desert with blue and green lagoons fullest between July and September.
The area is also surprisingly home to a variety of fish which, despite the almost complete disappearance of the lagoons during the dry season, have their eggs brought from the sea by birds.
Nicknamed as the Brazilian Sahara. Endless ocean of high white dunes, among thousands of cristal lakes.
Tour departing from Barrerinhas is along Preguicas river to the Atlantic Ocean beaches and Atins village. On both banks of the river many types of tropical palms, like Babassus and the Buritis.
From the top of Mandacaru lighthouse near the ocean, beautiful view of the park and the dunes bordering the sea.
The most popular beaches are Ponta do Mangue Moitas, Vassouras, Morro do Boi and Barra do Tatu.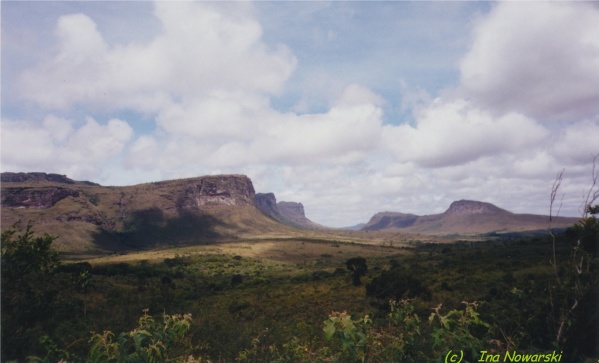 ---
all pictures on this page (c) Ina Nowarski
21 February - 21 May 2003


---
---

created: 27 May 2011
updated: 27 May 2011

Free Web Hosting