[ Español ]
Inverse engineering
Introduction
In this section I present two modem schematics:
SoftV92 Data Fax Modem
This diagram shows how an internal SoftV92 Data Fax Modem interacts with phone line. The modem is from Zoltrix but a Conexant utility says it is a "Churchill Data Modem". This schematic may be useful to fix a similar modem.
Schematic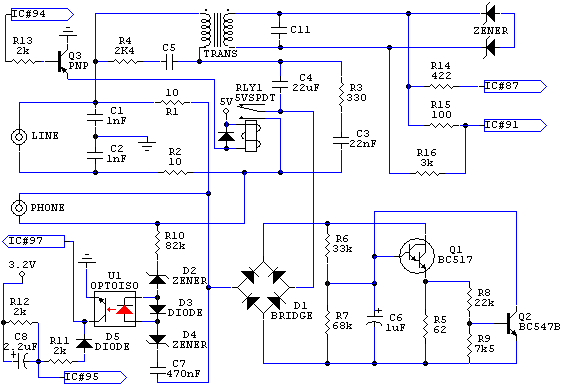 Integrated circuit
IC# signals run to the indicated IC pin number, a 100 pin SMD chip with the following inscriptions:

CONEXANT
HSFi
CX11252-11
E151518.1
0136	MEXICO

SoftV90 Data Fax Modem Speakerphone
The following schematic belongs to another PCI internal modem:
Schematic
First part shows phone line interface and second part microphone/heads jacks.
Phone line interface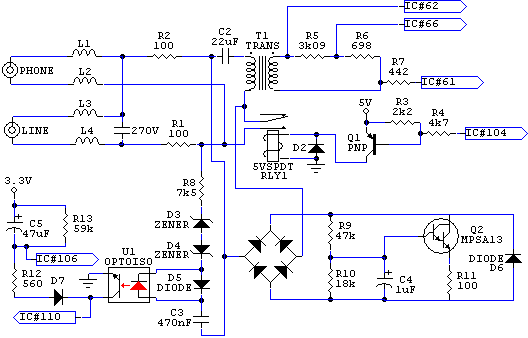 3.3V supply is from a 3 leg SMD regulador running from 5V. The capacitor labeled "270V" parallel to the "LINE" input is a varistor of that value.
Audio interface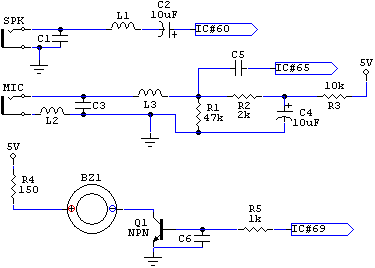 Integrated circuit
The IC in this modem has the following inscriptions:

RS56/SP-PCI
R6793-11
(C) ROCKWELL 98
9919  879026.4
KOREA

Notes
I cannot measure SMD capacitors and inductors so they are unmarked on the schematics.
These schematics have been drawn tracing the circuits and may contain errors. I am not responsible for their use.
Document completed on July 2006 by Jeroni Paul.
Copyright © 2006 Jeroni Paul.
---
Back to main page