ASSOCIATED MOUNTAIN BIKE PRESS
Revolutionary Independent Magnetic Suspension Announced
Bicycle manufacturer Klein has announced the development of an Independent Magnetic Suspension (I.M.S.) for its new line of cross country bikes. The revolutionary frame comes in two pieces, and features innovative Independent Magnetic Suspension technology developed in Germany. Apparently the frame is magnetic, and the power of magnetic attraction and repulsion ensures that the front and rear of the bicycle remain upright, yet allowing sufficient flex to soak up bumps. The photograph below shows a protype of the frame being used in race conditions for the first time. Production is expected to begin in 2005. You need to look very closely to appreciate the mystery and marvel of this technology.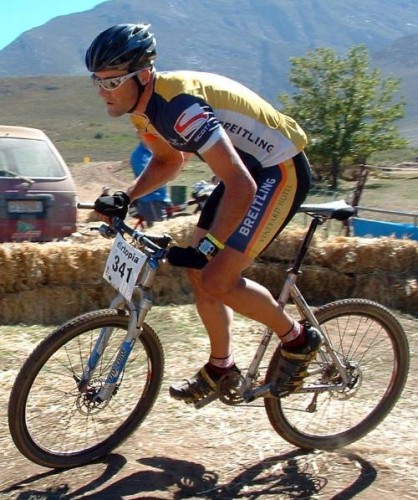 A Klein team rider using the I.M.S. under race conditions
Cannondale Set to Release Winter Bike
Here's a sneak preview of Cannondale's newest entry into the Cross Country (XC) bike market: the 2005 SnoGo 1000, scheduled for public release in mid-December 2004. The SnoGo is geared towards riders who do not want their riding to be restricted by winter conditions and snow. It features a light-weight two-stroke 20HP engine with a snow-mobile style track on the back, and a twin-ski on the front, while retaining the classic bicycle feel and control with traditional XC geometry. With the right conditions, the SnoGo 1000 can reach speeds of up to 60kmh. Supplies are limited, and the SnoGo 1000 will only be available in a matte black finish, in one size. If the prototype proves successful with consumers, a full line-up is expected to be released in 2006, with the Cannondale SnoGo 1000 being the base model of the new line-up. Engineers are still working on a prototype for the higher end SnoGo 2000, which is more stable at higher speeds, and is expected to be able to travel safely at speeds over 100kmh. The SnoGos will only be available directly from Cannondale, and are expected to enter the market priced around US$1700.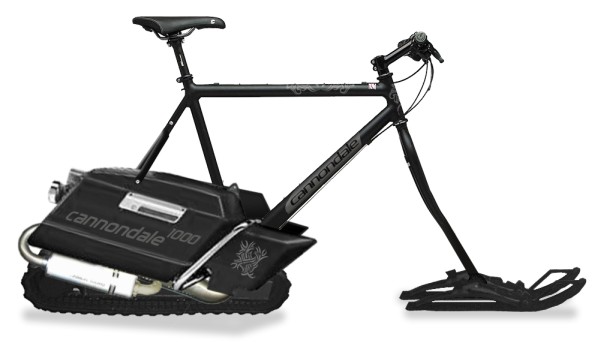 The 2005 Cannondale SnoGo
eBay Used Bike Scam Exposed!
Revelations are finally becoming public about the used mountain bike scam. This is the bicycle you saw for sale on eBay or in the classifieds. You know, the one you've all heard about:
- only ridden twice (naturally only on paveed roads, and never in the rain or mud!)
- untouched in the garage for the last yearr
- perfectly maintained weekly by a professiional bike mechanic
- just completely overhauled
- top level components
- the best bike the owner has ever had, andd he doesn't really want to sell it
- he's only parting with it because he needds money for rent in university, or to pay for his ex-wife's dog food
All this at a bargain basement price $2000 less than what he paid for it! Media sources have been able to obtain a picture of the real used bike you'll get if you believe all this nonsense.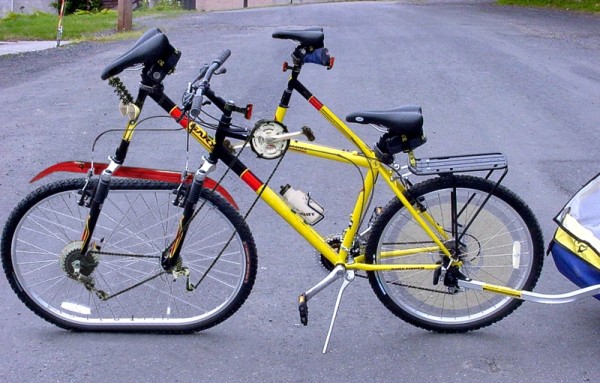 The Ultimate eBay Used Bike
Sunset Funeral Homes to Offer Bicycle Retirement Packages
The New York division of Sunset Funeral Homes has announced an innovative program for the retirement of bicycles. The company's spokesman, Mr. Kees Kit, said that the program is designed to allow riders to part with their old bikes in an honorable way. "Your bicycle can become your best friend," he said gravely, "and for some people it can be hard to say goodbye."
Sunset Funeral Homes offers two basic retirement packages. The Golden Package involves having your bike spray-painted bright yellow, and placed in a floral garden. The Rustic Package is slightly more costly, and involves paint-stripping, followed by the implementation of a special chemical procedure designed to rapidly oxidize the frame by treating it with a fine spray of chemicals in a special kiln over a period of one week. After the bike has been completely covered with rust, it is artistically arranged in the owner's garden or a nearby trail.
Mr. Kit believes that by offering the mountain bike community these retirement packages for their old bikes, he is filling a much needed void in the cycling industry. "In essence we're offering people a funeral service for their bike," he said. "It helps cyclists move on when riding a new bike. They don't have to deal with the guilt of thinking about their beloved bicycle at a garbage dump. They need to know that their old bike is in a better place."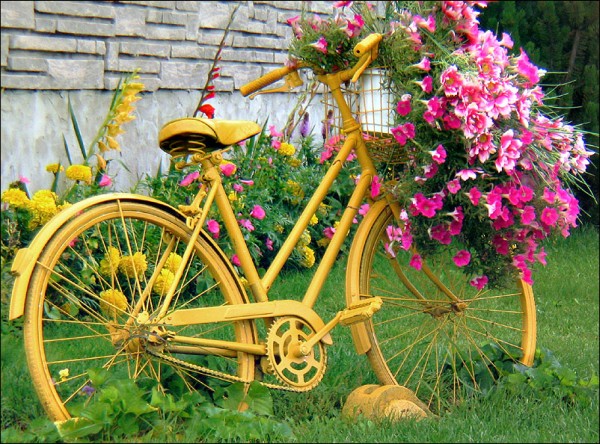 The Golden Retirement Package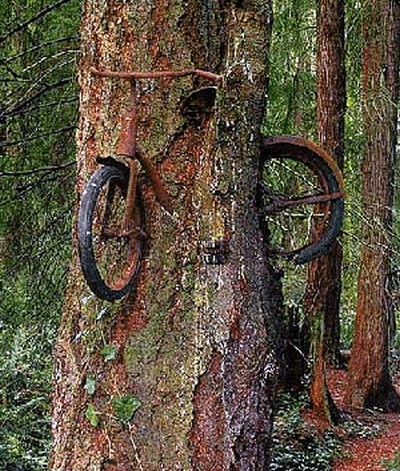 The Rustic Retirement Package
Complete Bike Suspension (C.B.S.)
This is the bike you heard about on the grapevine. What a squishy ride! Using natural suspension technology, the advanced C.B.S. (Complete Bike Suspension) offers the ultimate freeride bike for fruitcakes. The 2006 Norco Grape features some great new stem technology that is guaranteed to lead to very fruitful riding, and great downhill runs! There are only a bunch available because retailers are pressed for supplies, so be quick and don't whine if you miss out. Warning: the suspension may let you down if ever there's a case of sour grapes on the trail. Norco does not offer a lifetime warranty on this frame.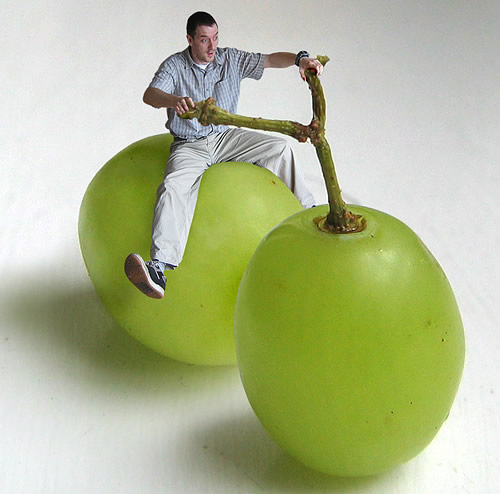 2006 Norco Grape
Posted Thursday - 2004-11-19 - 12:01:57 EST
by Staff Reporter Verdra H. Ciretop in Toronto
All Rights Unreserved - Loof Lirpa Publishing
Text may be freely copied & redistributed