ASSOCIATED HOCKEY PRESS
Reward Offered in Lobster Murder Investigation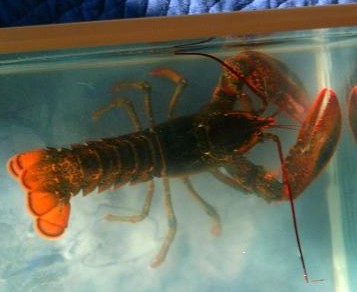 Larry enjoying a quiet moment
Authorities have announced that they are looking for more leads in their investigation over the mysterious death of the pet lobster owned by Orangeville Flames goal-tender David Kamphuis and Orangeville Northstars winger Kenneth DeGroot. Operation Lobster Lobotomy became public last week, following suspicions about the presence of weapons of mass destruction in the dressing room of a visiting hockey team from the Middle East. Experts are speculating that the lobster's death may have been the result of a chemical warfare attack.
In addition to earlier photos of two suspects, police have now released several pictures of Larry the lobster, taken shortly before its death. Anyone with information on the lobster's death or on the whereabouts of the two chief suspects, Osama Bin Laden and Saddam Hussein, is requested to contact their local law enforcement officials immediately. A reward (*) has been offered by the Kamphuis family for any information leading to a conviction.
Media sources have not been able to determine whether the lobster was buried or eaten after its unfortunate death.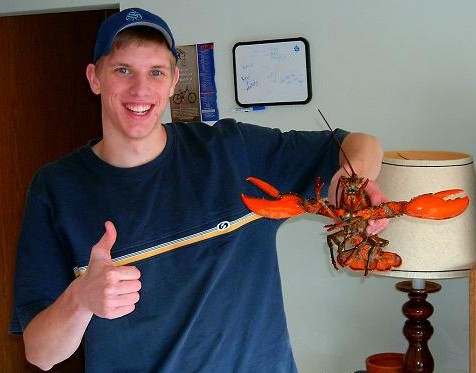 Memories of happier days with hockey stars
Above: Larry with Flames goal-tender David Kamphuis
Below: Larry with Northstars winger Kenneth DeGroot
* Official Rules and Legal Information About Reward
1. Sponsor
Reward is being underwritten by JK Electric.
2. Reward
a. Reward consists of one free installation of an electrical household kitchen appliance, not exceeding 150W.
b. Appliance must be provided by reward winner.
c. Appliance may be substituted by standard government-certified light-bulb, not exceeding 120W.
d. Reward sponsor reserves the right to refuse to install any such appliance purchased at Walmart.
e. Value of reward may vary, depending on location of reward winner's residence, and intelligence of reward winner.
f. Reward sponsor must be served coffee upon issuing of reward.
3. Eligibility
a. Employees of JK Electric, their subsidiaries and affiliates, and relatives of the Kamphuis family, whether actual, impending, imagined, or wished for, are not eligible for reward.
b. Offer is open only to illegal residents of Canada and the US, and is void for all residents of Mexico, France, Fiji, and planet earth.
c. Applicants from Quebec must demonstrate sound knowledge of English and Swedish before applying for reward, must apply in person, and provide their own lawyer and interpreter.
d. Lobsters, whether real or artificial, actual or imagined, wild or domestic, alive or dead, shelled or unshelled, boiled or raw, are not eligible for this reward.
e. Offer void where permitted by law, and prohibited in all other cases.
4. Application for Reward
a. Applicants must be caller number nine, and answer 255 skill-testing mathematical questions by telephone to be eligible for reward.
b. Questions will be provided by the Dr. Wie Sing Hi, Professor of Mathematics at the University of Toronto.
c. Reward applicants will be allowed up to a total maximum of 90 seconds to answer all 255 skill-testing questions.
d. Incorrect answers will be subject to immediate disqualification.
e. Disputes over answers to skill-testing questions should be submitted in writing to the Reward Sponsor, with supporting documents from at least twenty mathematics professors from accredited tertiary institutions, along with a certified check for US$10,000 to cover the costs of reading and evaluating this data.
5. Restrictions & Limitations
a. Persons 18 years of age or older are required to watch twenty-two episodes of Barney and must complete a five hour university level physics exam before being declared eligible for reward.
b. Persons 21 years of age or older must obtain the written consent of their mother before applying for reward.
c. All applicants with a valid driver's licence must surrender the same before applying for reward.
6. Additional Terms & Conditions
a. May not be combined with any other offer from JK Electric.
b. Reward applicants must enclose a stamped self-addressed envelope, a doctor's certificate, and a photograph of their favorite light-bulb. Photograph must include an autographed self-portrait on reverse side.
c. No purchase is necessary, except on weekdays beginning with M, T, W, F or S.
d. Offer may not be combined with alcohol.
e. Limit of one reward winner per household, family or address, except in households with only one occupant.
f. All winners will be automatically disqualified within eighteen hours of determination of eligibility.
7. Notification
a. All reward winners will be notified twenty hours after determination of eligibility.
b. Reward winner will receive a written notification letter along with an Affidavit of Eligibility and Release by mail courier. Notification letter and affidavit will be delivered in person by a VIP in a stretch limousine, along with a bottle of Montrachet 1978 wine from Domaine de la Romanée-Conti, three boxes of Belgian chocolate truffles, and two dozen roses.
c. All costs incurred for this notification must be paid by reward winner at the time of delivery.
8. Liability & Litigation
a. The reward sponsor is not responsible for failure to issue the reward as a result of power outage, defective appliance or outlet, or stupidity by reward winner or sponsor.
b. The reward sponsor is not liable for the death of any pets that occur while issuing the reward, particularly lobsters.
c. Reward winner agrees to release the reward sponsor of any liability resulting from the misuse of the installed appliance, including, but not limited to, the accidental placement of electric toasters in dishwashers by reward winner. Reward sponsor is not liable for burnt toast under any circumstances.
c. Any litigation regarding this reward must first be submitted for approval to the United Nations in 72 languages (including ancient Hebrew and Greek). Litigants must agree to receive all legal correspondence from the reward sponsor in invisible ink.
d. The judge's decision is final, except upon unanimous agreement of the President of the United States, the Queen, Wayne Gretzky, and Elvis Presley. Such a unanimous agreement must be received in writing, and signed by all the above-mentioned parties.
e. For a copy of the official rules, print out this document, have it signed by a court-approved legal advocate, and mail it to yourself in a stamped self-addressed envelope. Reward sponsor is not responsible for incorrect delivery of rules as a result of errors in mailing address. Include a cheque for US$5 to cover postage and handling.
9. Use of Winner for Promotions
By applying for reward, reward winner agrees to the use of his or her name, address, photograph and video appearance for advertising/publicity purposes without compensation, and to underwrite the cost of a TV commercial for JK Electric.

Posted Monday - 2004-05-03 - 09:12:55 EST
by Staff Reporter Verdra H. Ciretop in Toronto
All Rights Unreserved - Loof Lirpa Publishing
Text may be freely copied & redistributed