ASSOCIATED HOCKEY PRESS
Mobster Arrested over Murder of London Lobster
Police have made a surprising arrest yesterday in the much publicized London lobster murder investigation. In a press release issued to the media this morning, authorities said that a man was taken into custody at 11am yesterday, and charged with first degree pet murder. According to the release, armed officers arrested the suspect without incident. The alleged murderer has apparently refused to talk to police interrogators since being taken into custody. Although the media release did refer to the man as Mr. R.M., authorities have not yet released the full name of the man under arrest. The man's first name is believed to be Ronald. Previously dubbed by the press as the London Lobster Mobster, early indications suggest that the suspected murderer may in fact be a respected public figure in the community.
Although details of the arrest are sketchy, it appears that the arrest took place in a London city park, located alongside a major fast food outlet. The timing of the arrest was apparently chosen to coincide with the end of the official breakfast hour. Workers at the nearby fast food outlet witnessed the arrest, but were not allowed to discuss it with the press as a result of a media gag-order. They appeared distraught and upset over what they had seen. There is speculation that the man in custody was one of their co-workers at McDonalds. "He was such a nice man," said an employee who did not wish to be named in a secret media interview. "He never said a bad word to anybody. In fact, I don't remember him ever saying a word to anybody."
Reports are circulating, however, that the man in custody had an extensive criminal record as a serial killer of cows. "We have known for a long time that Mr. R.M. was a dangerous man," said the London Chief of police, Mr. Zambo Knee, who was very pleased by news of the arrest. "He was a known threat to domestic cattle, suspected of multiple killings. But we never imagined he would progress from brutalizing bovines to targeting pet lobsters."
Meanwhile the owners of the murdered lobster, Mr. David Kamphuis and Mr. Kenneth DeGroot, were in shock after yesterday's arrest. "I would have never thought it possible," said Kamphuis yesterday. "I knew him since childhood. I trusted him. But I suppose it's only a small step to go from killing cows to killing lobsters." DeGroot was equally stunned by the revelation of the man's identity by police detectives. "I still can't get over it," he said, overcome with emotion. "I have often been to the place where he worked, and never realized that my own life was at stake while I was playing in the ball pit. And given his criminal record as a mass cow murderer, it's a good thing that after Larry's murder we didn't get a pet cow in our apartment."
Initial suspects Saddam Hussein and Osama Bin Laden have remained in hiding despite the arrest. It is expected that the two men will hold a press conference shortly. A spokesman for Hussein and Bin Laden, Mr. Al(bert) Kaidah, said that the pair had been cooperating with police, and had in fact played a key role in assisting police apprehend the lobster mobster. An earlier released photograph of the two men at a McDonalds location may have been taken while they were already working as undercover agents for the London police. It is expected that during the press conference, Hussein and Bin Laden will announce their intentions to apply for the reward offered by JK Electric.
It is uncertain whether the man in custody did use chemical warfare to murder the pet lobster, as was first suspected. Weapons and Food Inspectors from the CRHL Ministry of Healthy Hockey have been commissioned to inspect his place of work for evidence of weapons of mass destruction. According to a local police official, the man had a reputation for adding dangerous chemicals to food at his workplace. Health authorities fear that fast food from his employer may already have proven harmful to the health of millions of Americans.
Mr. R.M.'s lawyers refused to return telephone calls from the media today. An automated answering service had a recorded message which said: "Welcome to McDonalds. Unfortunately, for legal reasons, we are unable to take your order right now. Please leave a message and drive forward."
In other news, executives at Red Lobster remained tight lipped over speculation that the company was the subject of a takeover bid from McDonalds. Rumours are circulating that if the takeover bid fails, McDonalds are planning to introduce a McLobster sandwich to their lunch menu.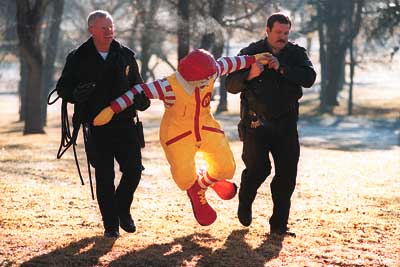 London Lobster Mobster Arrested
Above: The suspected Lobster Mobster being taken into custody
Below: An earlier photo of the two undercover agents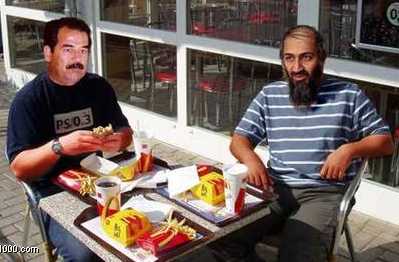 Posted Monday - 2004-06-10 - 9:55:35 EST
by Staff Reporter Verdra H. Ciretop in Toronto
All Rights Unreserved - Loof Lirpa Publishing
Text may be freely copied & redistributed