ASSOCIATED HOCKEY PRESS
Primalov Replaces Domi As Leafs Boost Play-Off Toughness
The General Manager of the Toronto Maple Leafs, John Ferguson, announced this morning that he had called up talented young forward Rhesus (Bab) Primalov from the Leaf's AHL farm team at St Johns, NF. Primalov joins the team at a critical time, with the best-of-seven series against Ottawa tied at 2-2. Coach Pat Quinn said that Primalov can be expected to make his NHL debut tomorrow evening in Game 5, as a late replacement for Tie Domi, who suffered an undisclosed internal ego injury during practice.
Primalov was drafted by the Leafs from the African Natural League in late 2003, where he gained a solid reputation for his primitive aggression. In his six games with St. Johns, Primalov has not scored any goals but has logged a massive 37 penalty minutes. Quinn was full of praise for the up and coming youngster. "He's the kind of beastly tough guy this team needs right now. He plays like an animal around the net."
Many analysts have praised Ferguson's choice, pointing out that Primalov adds a much needed physical element and toughness to the Maple Leaf line-up, an important asset for play-off hockey. But the move has drawn sharp criticism from others, who claim that a player with Primalov's talents is more suited to be an on-ice bull-fighter than a hockey player.
In a radio interview arranged by his agent late this morning, Primalov was unable to answer any questions, apparently because of the absence of a suitable translator. But there's no question that his fighting abilities on the ice will be understood in any language. Game 5 goes at the Air Canada Center tomorrow night, at 7pm EDT.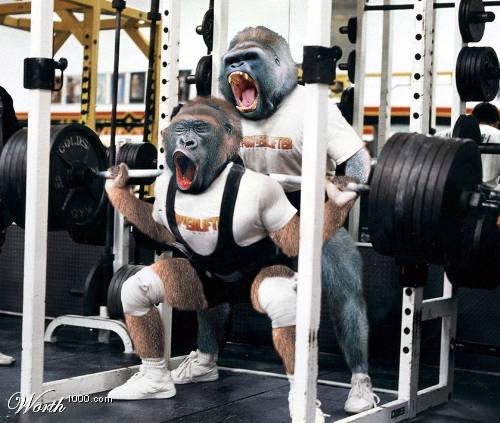 #72 Rhesus (Bab) Primalov
Above: Primalov lifting weights with his personal trainer
Below: Primalov practicing on-ice skating drills
Posted Thursday - 2004-04-15 - 12:46:35 EST
by Staff Reporter Verdra H. Ciretop in Toronto
All Rights Unreserved - Loof Lirpa Publishing
Text may be freely copied & redistributed