WELCOME TO WEB SITE OF THE
GIANTS OF CENEPA
PATRIOTIC WEB SITE OF THE TRUE WINNERS OF CENEPA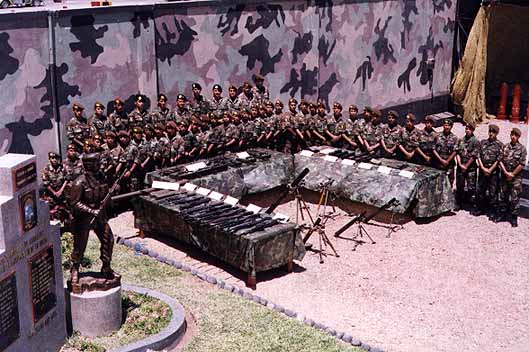 TROPHIES CAPTURED THE ENEMY - TEST OF THE FIERCENESS OF THE SOLDIERS OF THE PERU ARMY AND UNDENIABLE MATERIAL TESTIMONY OF THE PERUVIAN VICTORY IN THE UPPER CENEPA
The victorious Soldiers of Commando Infantry pertaining to the Battalion of Commando Infantry "Commander Ladislao Espinar" Nº 19 of the Division of Special Forces of the glorious Army of Peru show proud their war trophies (mortars and guns) captured the invading enemy the 22 of February of 1995 (black Wednesday) in the Detachment of False Tiwinza (level 1061) that was the last redoubt of the defeated invading enemy in the zone, these trophies are the undeniable test that the defeated Ecuator army never recovered Tiwinza. Ecuador deceived crudely the MOMEP and the world. In false Tiwinza (Level 1061). Ecuador dishonourably lost the Conflict of the Cenepa!.
This web site is a tribute dedicated to the always victorious in the north border armed forces of Perú who in January and February 1995 maintained a conflict with Equator in the upper Cenepa (peruvian territory invaded by Equator) where the peruvian army and air force proved superiority leaving the enemy with a big defeat. Out of the 60 peruvian soldiers who gave their lives protecting their country of the cowardly equatorian attack the majority of them died because of mines put in peruvian territory without no technical criterion by the cowardly equatorian enemy.
After both countries signed a fire cease on February 17, 1995, several equatorian soldiers died as a result of a cowardly equatorian attack on February 22, 1995 (great equatorian defeat named "The Black Wednesday" by the General of Division of the Equator Army Paco Rosendo Moncayo Gallegos) in the sector named "False Tiwinza" (level 1061) in trying to gain strategic territory on the Cenepa. The equatorian attack was a failure because it was a result of a strategy that proved to be impossible to achieve.
"The Peruvian soldiers are among the best fighters in all of the world"
Words pronounced by the General of Brigade of the Brazilian Army Ariel Pereyra Da Fonseca, coordinator of the First Mission of Military observers Ecuador-Peru.
Please to press mouse on the door

Main