Bowser in the Dark World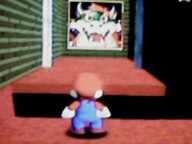 Entrance
The entrance to this course is the star door on the first floor. Mario can open the door when he had collected 8 stars or more.
Aim
The aim of this course is to get the 1st key, which opens the door to the basement of the castle. However, the key is kept by Bowser. There are also 8 red coins in this stage. When Mario collect all of them, one of the 15 secret stars will appear.
The 8 red coins
Press the ! switch and a block will appear so Mario can step on it to get a red coin.
Press the ! switch and return to the beginning. Use the blocks appeared to get the red coin in the sky.
When Mario goes through the path with crystals and electrocuting orbs.
On the other side of the yellow moving platform.
Near to a pair of moving squares after the yellow moving platform.
At the island after Mario passed a narrow plank.
One is above the first seesaw.
The other one is behind the second seesaw.
The star is behind the pipe which is the entrance to the arena to defeat Bowser.
Bowser
To defeat Bowser, Mario has to grab its tail, swing it round and round to gain speed, and release it so it will hit one of the bombs surrounding the arena. For the Bowser in this stage, one hit to a bomb will finish him.


PREVIOUS

MAIN PAGE

NEXT