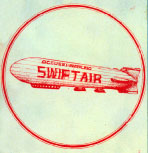 SWIFTAIR - Occussi-Ambeno's Airship Express Service.
PHOTOS

Swiftair Corporation uses modern, safe, and fast high-tech airships filled with helium, an inert gas that will not ignite. It is 100% safe for airship flight. Swiftair's fleet of five zeppelins operates regularly within Occussi-Ambeno and also runs less frequent international links. Airships are ideally suited to delivering mail, passengers, and supplies to isolated outposts, where the ships can hover to transfer cargo.

Need more information? e-mail Swiftair at [email protected]
Some modern and historical airship photos.
Hold your mouse over the image to see a brief description of the picture.
Click on any picture to see a larger and clearer view.
Like to see more photos? Click here. Visit our beautiful homeland. See the Occussi-Ambeno Stamp Catalog on-line.