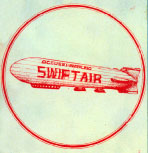 SWIFTAIR - Occussi-Ambeno's Airship Express Service.
SOUVENIR MAIL

Swiftair Corporation uses modern, safe, and fast high-tech airships filled with helium, an inert gas that will not ignite. It is 100% safe for airship flight. Swiftair's fleet of five zeppelins operates regularly within Occussi-Ambeno and also runs less frequent international links. Airships are ideally suited to delivering mail, passengers, and supplies to isolated outposts, where the ships can hover to transfer cargo.

Need more information? e-mail Swiftair at [email protected]
SOUVENIR PHILATELIC MAIL:
From the earliest days of letter post and stamp collecting, people have delighted in creating tangible souvenirs of their epic experiences, and among experiences, surely there are few that can beat a flight in an airship!
The earliest known balloon mail are letters from citizens of Paris in 1870, when the city was under seige by the Prussian army. Letters for the distant provinces and foreign lands were stamped or inscribed Par ballon monté (via mounted balloon) and launched upwards in hot air balloons to hopefully drift with the wind and land in non-enemy territory. Although some balloons were captured, quite a lot of mail got through safely, and today, these are highly prized by airmail collectors and philatelists. They are known as ballon montés after the cachet applied. Recognising the important historical antecedent, Swiftair Corporation included this text when we designed our first airmail label. This label is on self-adhesive yellow vinyl.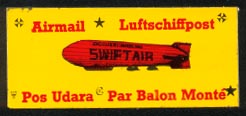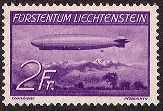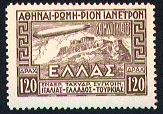 The intention was that the label should read Air Mail in four languages, and for the French and German versions, the appropriate text was chosen. Two later editions of this sticker were done in red and turquoise on invisibly-gummed paper. The German text reads Airship Mail, which leads us to the next important phase of which souvenir mail is found: the era of the giant zeppelins, run as a commercial fleet by the German firm Luftschiffbau Zeppelin GmBH in the early 1900s. Many countries issued stamps depicting zeppelins,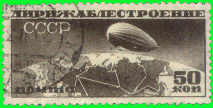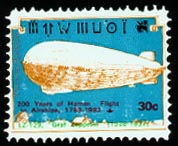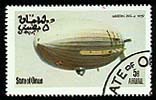 and much mail was carried from country to country, always with rubber-stamped cachets applied on board to indicate this transit. Although not scarce, zeppelin flight envelopes are very sought-after, and represent an important part of the history of aerophilately.
Today, Swiftair continues the tradition by having on-board Post Offices on flights, and all mail carried is datestamped on receipt. As Occussi-Ambeno vessels, the Swiftair in-flight Post Offices operate as part of the Occussi-Ambeno Postal Ministry, and so they sell regular and commemorative Occussi-Ambeno stamps and also provide registration facilities.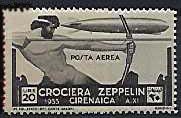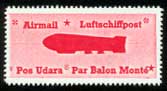 Should you wish to have some letters carried on a flight, suitably cacheted and bearing Occussi-Ambeno stamps, and then carefully delivered to you where ever in the world you are, we can offer a special service for obtaining such mail. Contact the Swiftair Customer Inquiry Office for service, or mail can also be arranged thru any Occussi-Ambeno Embassy or Consulate worldwide. Or you can arrange service with the Post Office of a country our airships call at.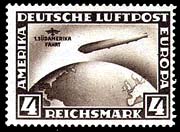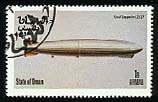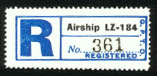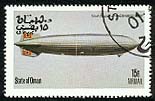 Cost for such a letter is $10 for airmail, or $15 for registered airmail. We always use several attractive current stamps on the envelope. We recommend you supply your own envelopes, already addressed.