Favorites
Here's a list of some of my favorite artist:
John Singer Sargent, Maxfield Parrish, Winslow Homer, Alice Schille, Eyvind Earle and Monet.
Here's a list of some of my favorite music. I grew up at the beginning of rock & roll but grew tired of it's predictability:

Bert Kaempfert Orchestra, New age music, enviromental, indie, such as Jeff Pearce, David Helpling, Patrick O'Hearn, Joey Fehrenbach, The Boinaut, William Orbit, Ulrich Schnauss, Jonn Serrie, Chemical Brothers; Celtic music, such as Enya, Maire Brennon, Clannad, and Loreena McKennitt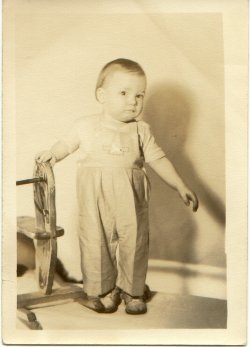 1945/1946

I was born in Lancaster, Ohio, Feb. 1945, the only child to a brief wartime marriage. Have 5 half sisters, 1 half brother. I lived most of my early years in Fairfield County, OH, first attended school at Rushville, which had all 12 grades. I have vivid memories of watching the older students practicing, playing their instruments and marching on the field next to the playground. Spent most of my early childhood residing on farms with my grandparents and great grandparents. My parents moved to Columbus in 1953, and attended several schools in Columbus area, including Courtright Elem., Oakland Park Elem., Northridge Elem., Clinton Jr. High & graduated at Linden McKinley HS. I think my interest as a cemetery historian was first sparked by accompanying my grand mother to cemeteries to plant flowers each spring, around the memorials of family members that had passed long before I was born. This yearly event brought an early realization to the importance of honoring the burial place & memory of our ancestoral loved ones. This is already probably more than you wanted to know about me. I've lived in Ohio all my life. Worked domestic appliance, heating & cooling repair service for a major retailer for many years. Resided in Licking Co., Ohio, for many years. Just closed the doors on a retail business in Newark, Ohio that I managed for 32 years. After residing in Licking County, Ohio for over 35 years, we since have moved our residence to Mount Vernon, Knox Co., Ohio in 2011. I have self-published several books on cemetery research, one called Cemeteries of Salt Creek Twp., Hocking Co., OH & Cemeteries of Licking Co., OH. Also retired retailer online, at Bananza, Webidz, eBay & iOffer, enjoy restoration work of old houses & woodworking. Links are located over on left side of this page. Preparing for maple syrup season, usually start collecting in early February. Also electrician for Columbus horizontal drilling Co. Have recently compiled family genealogy reports on both Schupp/Shupe & Zeislof/Sizelove ancestors.

Will try to add more to this page as time permits. The real important data is genealogy and cemetery reseach, so they will be the true focus of these pages.
My grandmother Edna & myself at 1 yr., 1946

Lancaster, Ohio

I have wonderful remembrances of living with my dear grandmother on the west side of Lancaster, Ohio, and later on several farms. I had the honor of having my grandmother living with me for a brief period just before she passed. It has been 42 years since she died and I still miss her terribly. I do much of this cemetery research to especially honor the memory of her & all my ancestral loved ones. I visit her grave site and that of many other loved ones and plant flowers each spring.


2009
Married, seven children, thirteen grandchildren & six great-grandchildren.


2010 photo of my children.