Sachs Nelly 10.12.1891 - 12.5.1970
(pravo ime Leone Sachs) je pred nacisti 1940 zbežala na Švedsko, kjer je živela in delal do svoje smrti. Bila je usodno čustveno prizadeta zaradi nacističnega preganjanja Judov in vsa njena poezija je s tem povezana. Pomembnejša dela: pesniške zbirke: V bivališčih smrti (1947), In nihče ne ve naprej (1957), Beg in preobrazba (1959), Razdeli se, noč (1971), zbirka povesti Legende in pripovedke (1929), ter drama Eli: Misterij o Izraelovem trpljenju (1951). Leta 1966 je skupaj z J. Agnonom prejela Nobelovo nagrado.

The poetic voice of Leonie Nelly Sachs, developed when the rise of Nazism and the Holocaust forced her to find a means of expression that would "make the unspeakable bearable." In 1940 she escaped to Sweden from her native Germany with the help of the writer Selma Lagerlof. Awarded the Peace Prize of German Publishers in 1965, she accepted it in the spirit of loving forgiveness that underlies her poetry. In 1966 she shared the Nobel Prize for literature with S. Y. Agnon. The basic theme of her unrhymed poetry is the annihilation of European Jewry during World War II. Her often quoted poem, O the Chimneys, in which the smoke from the chimneys of Nazi extermination camps symbolizes Israel's body, provided the title for the first selection of her poems in English (1967). A second volume, A Seeker and Other Poems, was published in 1970.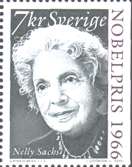 S - 2201 D - 1575 D - 2159
---
SAINT PHALLE Niki de 29.10.1930 - 22.5.2002

She was French sculptor, painter and film maker. She lived in USA. During her teens, she was a fashion model. She married author Harry Mathews. They studied music at Harvard University. De Saint Phalle began to paint, experimenting with different media and style. She was influenced by Spanich painter Gaudi. Her first art exhibition was held in 1956 in Switzerland where she displayed naďve style oil paintings. In 1961, she became known around the world for her Shooting paintings. A shooting painting consisted of a wooden base board on which containers of paint were laid, then covered with plaster. The painting was then raised and de Saint Phalle would shoot at it with a .22 caliber rifle. She exhibited in Paris, Stocholm, USA, South America countries....

P - 3201
---
SALAZAR Ana 1941 -
portugalska modna oblikovalka.

She is women's clothes designer from Portugal. She lives in Lisbon. During 70`s, she started to work om the fashion scene, developing a new concept of clothing in Portugal, changing completely the way of presenting fashions shows in Portugal creating the first Fashion events, exhibits and expositions. Both national and international press considerer her "The pioneer of fashion in Portugal".




P - 2869
---
Salin Riitta 16.10.1950 -
finska atletinja tekačica na kratke proge, ki je v teku na 400 m na evropskem prvenstvu leta 1974 v Rimu zmagala.
Na znamki FI-1251 je tudi Häggman Pirjo.

Finish athlete, she won gold medal in 400 m in the European championships in Rome in 1974. She also finished 7th in the Montreal 1976 Olympic Games.
On stamp FI-1251 is also Häggman Pirjo.




FI - 1251
---
Salins Guigone de 1403 - 1470
je skupaj z Nicolas Rolin leta 1443 ustanovila Hotel-God of Beaune za oskrbo revnih in bolnih.

Nicolas Rolin and Guigone the Saline founded Hotel-God of Beaune intended to the poor and for the patients, and whose construction starts in 1443.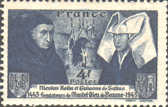 F - 596
---
SalminEn Sally 25.4.1906 - 18.7.1976
pisateljica

She was born in Vardo, Aland and was the eighth child of twelve. Already as a child she entertained notions of becoming an author. She worked in the village grocery store, until she moved to Stockholm to work as a maid. During her tenure in Sweden she took correspondent courses and read books on her spare time. In 1930 Sally and her sister Aili moved to New York City in USA. There she wrote during her spare time, and it was here she started writing the manuscript for her first (and most famous) novel, Katrina. She sent her manuscript for writing contest, where she won, and her Katrina was published in the 1936. The novel depicts the life of an Ostrobothnian woman, Katrina, who moves to Ĺland following her marriage. Katrina became an international success, eventually being translated into more than twenty languages. She married Danish painter Johannes Dürhkopf in 1940, and relocated to Denmark. Salminen remained a prolific writer, but she was never able to replicate the success of her debut novel. Besides Katrina, Prins Efflam (1953) and Vid Havet (1963) are considered her most notable works.




Aland - 113
---
Salomon Alice 9.4.1872 - 30.8.1948
je ena od začetnic poklicnega socialnega dela v Nemčiji. Kot mlada socialna reformatorka in feministična aktivistka je leta 1893 pomagala ustanoviti Dekliške in ženske skupine za socialno pomoč. Je soustanoviteljica prvih enoletnih poklicnih socialnih izobraževanj, ki so se leta 1908 podaljšali na dve leti. Med drugo svetovno vojno je emigrirala pred nacisti.

One of the principal founders of professional social work in Germany and the creator of German social work education. As a young social reformer and feminist leader in 1893, she helped establish the Girls' and Women's Groups for Social Aid Work, and in 1899 she cofounded the first one-year course in vocational welfare training, which in 1908 became a two-year training program. She was a leader in the development of social work as a profession for women and for men before, during and after World War I. She led the efforts to restore the nation after the war and fought the Nazi movement until being forced to emigrate in 1937. A leading German school of social work in Berlin bears her name.




D - 1397
---
Sand George 1.7.1804 - 8.7.1876
(pravo ime Amandine-Lucie-Aurore Dupin). Imela je več razmerij: s pisateljem J. Sandeaujem, A. de Mussetom, od 1838-46 pa z F. Chopinom.

George Sand, pseudonym of Aurore Dudevant, was the most famous woman writer in 19th-century France. A prolific writer of novels, stories, plays, essays, and memoirs, she represented the epitome of French romantic idealism and unconventional iconoclasm to the whole of Europe, including Russia. She was married at 18 to Baron Casimir Dudevant and had two children. Profoundly unhappy in the marriage, she left her husband, established herself in Paris with another man in 1831, and out of financial necessity began writing. Her first independent novel, Indiana (1832), the story of an unhappy wife who struggles to free herself from the imprisonment of marriage, explicitly called a form of slavery, made her an overnight celebrity. Subsequent novels, such as Valentine (1832) and, most notably, Lelia (1833), astounded her readers with their frank exploration of women's sexual feelings and their passionate call for women's freedom to find emotional satisfaction. Sand never advocated "free love" but remained an idealist, exalting the idea of marriage between equals and condemning the social system of male dominance that made such marriages impossible. Legally separated from her husband in 1836, she kept up a furious pace of literary composition throughout her life to support herself and her children. Her reputation for iconoclasm grew not only from the themes of her novels but from exaggerated reports of her unconventional behavior: her occasionally masculine clothing, her habitual smoking, and her series of love affairs with such well-known artists as Alfred de Musset and Frederic Chopin.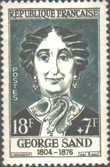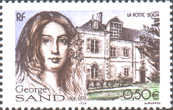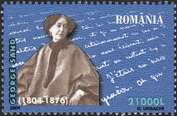 F - 1140 F - 3789 RO - 5832
---
Sandy Isabelle 15.6.1884 - 7.7.1975
Andorska pisateljica in pesnica (pravo ime Dieudonnée Marie Isabelle Fourcade).

Andorian author and poet. She published her first volume of poetry in 1914.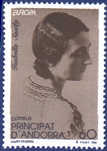 Andorra - sp. 248
---
Sanz de Franck Agnes Ovando 1920 -
bolivijska slikarka

Bolivian painter studied at School of Plastic Arts in Santiago de Chile. She is professor in University of La Paz. Exhibited in Soputh America and Europa.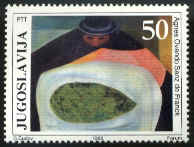 YU - 2134
---
The most famous woman poet of all time, known for her lyrics, Sappho was born at Eressos on the Greek island of Lesbos. About her life there is much anecdote, little fact. She was married and had a daughter and sometime between 604 and 595 suffered exile in Sicily. Of her nine books of poems only fragments remain, some recently discovered on Egyptian papyri. Celebrated for her marriage songs (epithalamia), she also wrote hymns, mythological poems, and personal poems of love. Of the last, most are addressed to women, possibly members of a literary circle with strong emotional attachments. Several poems invoking Aphrodite suggest that they may have shared some cult or ceremonial practices. Famous in ancient times for her depiction of passion, Sappho delights in sensuous images of flowers, the moon, the sea, and the night. Her style is straightforward, delicate, melodious, graceful, and witty. The Roman poet Catullus imitated her, and Ovid depicted her legendary love for Phaon in his Heroides.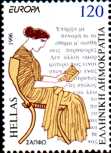 GR - 1908
---
Sarabaras

---
Sari Ada 29.6.1886 - 12.7.1968
(pravo ime Jadwiga Szayer), poljska pevka in glasbena pedagoginja.

She was one of the greatest artists in the history of Polish vocal art. Her real name was Jadwiga Szayer, but she assumed the artistic pseudonym Ada Sari when she started her vocal career in Italy. She mede her debut in 1909 as Margarita in Faust at Rome's Teatro Nazionale. In 1923 Ada Sari was engaged by Milan's La Scala and began performing at what was Europe's prime opera house of the time. Ada Sara triumphed practically all over Europe, and overseas as well. She sang in Italy, Spain and Portugal, in France, England, Austria and Sweden, went on tour in Russia and Germany, performed in the theatres of South America, gave concerts in the United States, and quite often appeared in Poland as well. The late period of Ada Sari's life was filled with extremely intensive teaching work; she trained a whole pleiad of talented female singers.




PL - 3254
---
Sartorius Auguste von 1831 -

She was German humanitarian. She helped to establish in 1846 the German institution for children`s missionary The Society of Holy Childhood. One of the institution`s activites is organising epiphany carol singers.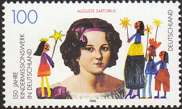 D - 1834
---
Sasse Marie 26. 1. 1834 - 8. 11.1907
Sasse Marie belgijska operna pevka. Študirala je v Gentu, Parizu in Milanu. Debitirala je v Benetkah leta 1852 in v pariški operi leta 1860. Ko je leta 1877 izgubila glas, je postala učiteljica.

Sasse Marie was Belgian singer. She studied at Ghent, Paris and Milan. She made her debut at Venice in 1852 and in Paris Opera in 1860. She singing to 1877 when she lost her voice and became a teacher.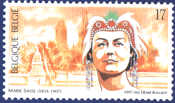 B - 2740
---
SASVARINE Paulik Ilona 1954 - 1999
Madžarska invalidka, igralka namiznega tenisa. Na para OI leta 1992 v Barceloni je osvojila bronasto medaljo v ženskah posamezno.

She won silver and bronze medal on Barcelona 1992 Paralympic Games and gold on Atlanta 1996 Paralympic Games - table tennis women's singles in handicap class 3.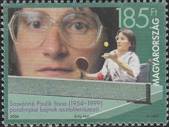 H - 5075
---
SAUNDERS Cicely 22.6.1918 - 14.7.2005

Njen portret na znamki GB-2428 je naslikala Catherine Goodman.

British physician and humanitarian founded St. Christopher's Hospice in London in 1967 and was responsible for establishing the modern hospice movement worldwide. Saunders became a Red Cross war nurse in 1944 and served as a medical social worker before graduating from medical school in 1957. Dame Cicely holds many honours including degrees and the Order of Merit and was made a Dame of the British Empire in 1980. In 2001 she received the Conrad N Hilton Humanitarian Prize - the world's largest humanitarian award.
Her portrait on stamp GB-2428 was painted by Catherine Goodman.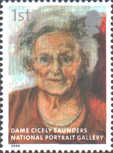 GB - 2428
---
SAvoIA Mafalda di 9.11.1092 - 28.8.1944

She is daughter of Italian king Vittorio Emanuele III. In 1943 was captured by the Nazis occupying Rome. She was sent to camp Buchenwald where she died of an infection following amputation of her arm.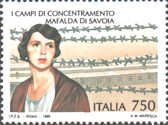 I - 2368
---
Savickaja Svetlana 8.8.1948 -
sovjetska pilotka in kozmonavtka. Leta 1975 postavila hitrostni letalski rekord 2683 km/h na letalu MIG. Službovala je kot testna pilotka sovjetskih letalskih sil. Trikrat je bila rekorderka v skupinskih padalskih skokih. Leta 1970 je osvojila prvo mesto na svetovnem prvenstvu v akrobatskem letenju. Od leta 1980 je kozmonavtka. V vesolje je poletela dvakrat in v vesolju preživela 20 dni. Prvič je kot druga ženska v vesolju poletela leta 1982 v Sojuzu T-7. V Sojuzu T-12 leta 1984 pa se je kot prva ženska sprehodila izven vesoljske ladje (3 ure, 35 minut).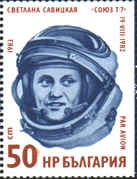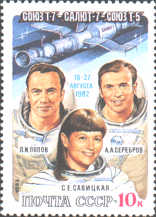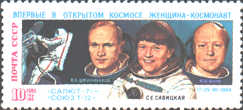 BG - 3192 SU - 5256 SU - 5534
---
SCALA Delia 25.9.1929 - 15.1.2004

She was an Italian ballerina and actress. As a young girl she studied ballet at La Scala Ballet School for seven years. She performed in numerous ballets until World War II, after which she began appearing in motion pictures using the stage name, Delia Scala. In 1956, she began a career in television. She starred in several variety shows during the 50s and 60s, and became one of her country's most beloved TV showgirls.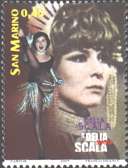 SM - 2217
---
Schaft Johanna-Jannetje 16.9.1920 - 17.4.1945

She was Dutch resistance fighter during World War II. During her law studies at the Universiteit van Amsterdam she became friends with the Jewish students Philine Polak and Sonja Frenk. This made her feel strongly about actions against Jews. She refused to sign the petition in support of the occupation forces. She could not continue her studies. She became more and more active in the resistance movement and helped people who were hiding from the Germans with stolen IDs and food-coupons. She joined the resistance movement. She was arrested by accident when she was distributing the illegal communist newspaper. Although at the end of the war there was an agreement between the occupier and the resistance movement not to execute women, she was shot dead three weeks before the end of the war.




GDR - 883
---
Schjerfbeck Helene 10.7.1862 - 23.1.1946
(izg. šjorfbek), je finska slikarka in jo uvrščamo med največja imena evropskega slikarstva dvajsetega stoletja. Že zelo zgodaj je pokazala risarsko nadarjenost, tako da so jo starši z enajstimi leti vpisali v risarsko šolo. Z osemnajstimi leti je dobila štipendijo in odšla študirat v Pariz. kasneje se je vrnila na Finsko in tam ustvarjala. Znana je po svojih avtoportretih (več kot 40) in motivih vsakdanjega življenja.
FI-1792: Doma
FI-1905: Učenka

She is Finish artist and is most commonly known for her realism and self-portraits, and lesser known for her landscapes, still-lifes and portraits. She showed talent at an early age. At eleven, she was enrolled at the Finnish Art Society drawing school. She continued her education at a private academy run by Adolf von Becker in the University of Helsinki drawing studio. In 1879 she won third prize in a competition put on by the Finnish Art Society. She also exhibited in an annual Finnish Art Society exhibition. She studied and worked in France and Britain.
FI-1792: At home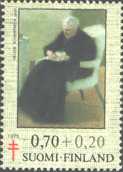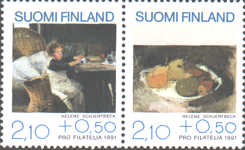 FI - 773 FI - 1132-1133
---
Schleimer-Kill Catherine 1884 - 1973
borka za ženske pravice

Catherine Schleimer-Kill was one of the first Luxembourg women to be bold enough to enter the political arena. The right to vote, secured in 1919, was, for her, only the first step towards a co-administration of women. Starting with the first general elections in 1919, she participated in several district and national elections and even introduced in 1928 her own purely feminine party, Action féminine . Thanks to this association that she had created, she undertook for almost 15 years important activities to raise awareness of women's and social issues. On the long path women have followed until today in their struggle for equal rights, her struggle for emancipation was a decisive first step : « It is the route within their own power, the path towards independence. United in their solidarity, women must carry out the work of women. »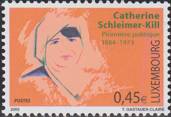 L - 1599
---
SCHLESINGER Cornelia 27.1.1955 -
avstrijska slikarka: Youngboy Vienna Austria 2005.

She is a self-taught artist who has established her position on the art scene by means of the staging of her own self. Her education, grammar school in Vienna and civil engineering technical college in Innsbruck, is in apparent contradiction to her artistic talents. She loves to present cycles of pictures. For the year 2000, as a symbol of the millennium, she created 99 drawings with "lucky piglets" (a symbol from Austrian tradition) in different poses, published in a picture book dedicated to her family. In 2005 she painted 55 pictures on the topic of "Happy Birthday Mister President" which were lined up next to each other for the opening of the architecturally spectacular Paradiso Pannonia Sandhöhe wine cellar in Mönchhof.

A - 2619
---
Schmit Christiane 27.12.1951 -

Christiane Schmit, is a member of the CAL (Cercle Artistique Luxembourg), studied art in Lausanne and Strasbourg before becoming a teacher of art education. Since 1975 she has participated in many exhibitions. Her preferred technique is pure or gouached watercolour.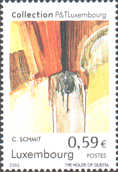 L - 1561
---
Schneider Romy 23.10.1938 - 29.5.1982
avstrijska filmska igralka.

A hugely popular Austrian star who emerged through a succession of kitsch romantic melodramas in German 50s cinema, Romy Schneider successfully reforged her image in the 1960s to become an actress of versatility and acclaim. Romy began her film career playing her mother's daughter in Wenn der weisse Flieder wieder blüht (1953). With the title role in Sissi (1955), a highly romanticised bio-pic of the Empress Elizabeth of Austro-Hungary and its two sequels established Romy as one of the leading stars of German cinema.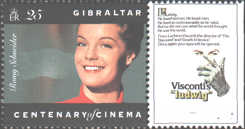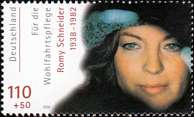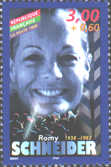 GI - 741 D - 2145 F - 3331
---
Scholl Sophie 9.5.1921 - 22.2.1943
in njen brat Hans sta na munchenski univerzi ustanovila odporniško skupino proti nacizmu Bela vrtnica. Skupina je delovala v letih 1941 - 42. Ko sta februarja 1943 trosila letake, kjer sta pozivala ljudi k uporu proti Hitlerju, ju je policija aretirala. Pet dni pozneje ju je ljudsko sodišče v Berlinu obsodilo na smrt in še isti dan sta bila obglavljena.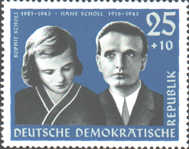 GDR - 852 D - 431 D -1497
---
Schroder Sophie 28.2.1781 - 25.2.1868

She was a German actress the daughter of an actor, Gottfried Burger. She made her first appearance in opera at St Petersburg, in 1793. On Kotzebue's recommendation she was engaged for the Vienna Court theatre in 1798, and here and in Munich and Hamburg she won great successes in tragic roles like Marie Stuart, Phčdre, Merope, Lady Macbeth, and Isabella in The Bride of Messina, which gave her the reputation of being "the German Siddons." She retired in 1840 and lived in Augsburg and Munich until her death in 1868. She had married, in 1795, an actor, Stollmers, from whom she separated in 1799. In 1804 she married the tenor Friedrich Schröder. Schröder's eldest daughter was the opera singer, Wilhelmine Schröder-Devrient.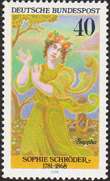 D -909
---
Schroeder Louise
---
Schroeder Binette
nemška slikarka, ilustracija iz "Žabji kralj"




CZ - 3093
---
Schroeder-Devrient Wilhelmine 6.12.1804 - 26.1.1860

nemška sopranistka, članica dresdenske opere, zaradi udeležbe v majski vstaji 1849 izgnana iz Dresdena.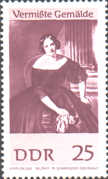 GDR - 1290
---
Schumann Clara 13.9.1819 - 20.5.1896
nemška pianistka in skladateljica, žena skladatelja Roberta Schumanna. Rodila se je kot Clara Josephine Wieck in se od petega leta učila igrati na klavir, do 1835 pa so jo že v vsej Evropi poznali kot čudežnega otroka. Leta 1838 je dobila odlikovanje avstrijskega dvora, izvolili pa so jo tudi v članstvo prestižnega dunajskega Društva prijateljev glasbe (Gesellschaft der Musikfreunde). Kljub očetovem nasprotovanju se je leta 1840 poročila z Robertom Schumannom in rodila osem otrok. Čeprav so družinske obveznosti precej ovirale njeno kariero, je še naprej poučevala na konservatoriju v Leipzigu, koncertirala in skladala. Pisala je dela za orkester, med drugim koncerte za klavir, komorno glasbo, samospeve in solistične klavirske skladbe. Leta 1853 sta se Schumannova profesionalno in osebno spoprijateljila s skladateljem Johannesom Brahmsom. Clara je nadaljevala to prijateljstvo tudi po moževi smrti 1856.

Clara Josephine Schumann, was a celebrated pianist and the wife of Robert Schumann. Trained by her father, Friedrich Wieck, who also taught Schumann, she made her debut in 1828 and undertook several tours in the following years. Her marriage to Schumann (1840) was bitterly opposed by her father. While married she largely abandoned touring, except for the last two years of Schumann's life, although she made trips to Hamburg (1842) and Russia (1844). After her husband's death, however, she concertized extensively on the continent and in England, and she was an influential teacher. Johannes Brahms was a close friend from 1853. Clara Schumann's playing was characterized by seriousness and restraint; her repertoire emphasized Schumann, Beethoven, Chopin, Bach, and Mozart. She composed many piano works and edited her husband's compositions.




D - 1305
---
Schurmann Anna Maria von 1607 - 1678

Anna Maria van Schurman, was a Flemish woman whose intellect and erudition were so remarkable that the leading European scholars of the day sought her advice. After learning Latin at the age of 7, she went on to master Dutch, German, Greek, French, English, Spanish, Italian, Arabic, Hebrew, Chaldean, Syriac, Ethiopian, Turkish, and Persian. She was knowledgeable about geography, astronomy, and other sciences but chose to graduate from Utrecht University with a law degree and to teach philosophy and history. Her artistic and literary abilities were equally profound. She was a miniaturist, etching portraits on glass with a diamond, and she sculpted, painted, carved in wood and ivory, and modeled in wax. She wrote poetry and began to publish it in 1636. In the last years of her life she endeavored to improve the lives of the poor and to spread the ideas of Jean de Labadie, a Jesuit-turned-Protestant who had established his own religious sect.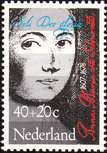 NL - 1115
---
Schwarz Liselotte 6.10.1930 - 12.6.2003
je bila nemška grafičarka in ilustratorka otroških knjig. Slikarstvo in grafiko je študirala na Visoki šoli za umetnost v Hamburgu. Leta 1973 je prejela Grand prix na Bratislavskem bienalu ilustracij za ilustracijo knjige Izdelovalec sanj.




CZ - 2268
---
Schwarzhaupt Elisabeth 1901 - 1986

German politician, Minister for Health and member of Parliament. She studied law , graduating in 1930. After WW II she joined to Evangelical church. From 1952-69 she was a delegate to German parliament.




D - 1955
---
SEACOLE Mary 1805 - 14.5.1881
jamajška bolniška sestra, prostovoljka v krimski vojni.

She was born in Jamaica in 1805. Her father was a Scottish soldier, and her mother a Jamaican. Mary learned her nursing skills from her mother. She was an inveterate traveller, visited other parts of the Caribbean, including Cuba, Haiti and the Bahamas, as well as Central America and Britain. On these trips she complemented her knowledge of traditional medicine with European medical ideas. In 1854 Seacole travelled to England again, and approached the War Office, asking to be sent as an army nurse to the Crimea where there was known to be poor medical facilities for wounded soldiers. She was refused. But she funded her own trip to the Crimea where she established the British Hotel near Balaclava to provide 'a mess-table and comfortable quarters for sick and convalescent officers'. She also visited the battlefield, sometimes under fire, to nurse the wounded, and became known as 'Mother Seacole'. Her reputation rivalled that of Florence Nightingale. After the war she returned to England destitute and in ill health. The press highlighted her plight and in July 1857 a benefit festival was organised to raise money for her, attracting thousands of people. Later that year, Seacole published her memoirs, The Wonderful Adventures of Mrs Seacole in Many Lands.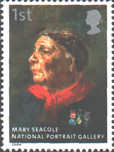 GB - 2426
---
---
Segelcke Tore

---
Segur Sophie de 1.7.1799 - 31.1.1874

She was a French writer of Russian birth. Her father was General Rostopchine who ordered the city of Moscow to be set on fire after the battle of Borodine (1812) and thus compelled Napoleon to begin his disastrous retreat from Russia. She married Eugčne Comte de Ségur, grandson of Louis Philippe de Ségur, and nephew of Philippe Paul de Ségur, one of the most brilliant officers in the imperial army and author of "Histoire de Napoléon et de la grande armée pendant l'année 1812" which had more than fifteen editions and was translated into most of the European languages. Mme. de Ségur was a woman of culture and uncommon literary talent. She contributed a number of stories to the "Bibliothčque Rose", a collection of short novels for young people; among them are Les Petites Filles modčles (on stamp F-3395), Pauvre Blaise, Le Général Dourakine, Un bon petit diable, Les vacances, Le mauvais génie.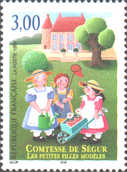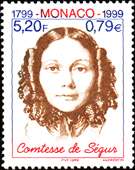 F - 3395 MC - 2462
---
Seikkula Irma 14.5.1914 - 8.7.2001
je bila finska filmska igralka.
Finish film actress, She worked also on television. On stamp FI-1337 is with Walle Saikko from film Juha (1937).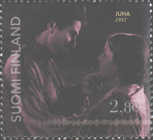 FI - 1337
---
Sekulić Isidora 18.2.1877 - 5.4.1958
Pisala je eseje, potopise in novele, najvažnejši pa so njeni eseji (Analitični trenutki in teme, Zapisi). v njih je obdelovala teme iz književnosti, probleme življenja in zgodovine. Močno je vplivala na razvoj moderne srbske kritike in esejistike 20. stoletja.

Serbian author. She worked as teacher, school prinicipal, nurse and travel writer. She wrote novels, travel stories, critical articles and short stories mainly describing life in Serbia.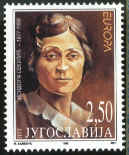 YU - 2777
---
Selbert Elisabeth 22.9.1896 - 9.6.1986
nemška pravnica




D -1338
---
Serao Matilde 7.3.1856 - 25.7.1927
Italijanska pisateljica.

She is Greek-born novelist and journalist. She studied and worked in Neaple and later in Rome. There she founded periodical Corriere di Roma. After returning Neaples in 1904 she founded the influential Il giorno. She wrote about 40 popular novels and short stories. Her best novel was probably Il paese di cuccagna (The Land of Cockayne), a lively story of the Neapolitan passion for the lottery. Her other notable novels are Il romanzo della fanciulla (A Girl's Romance) and Suor Giovanna della Croce.



I - 1613
---
Serebrjakova Zinaida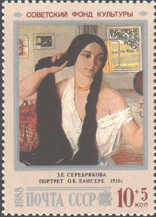 SU - 5861
---
Sevigne Marquise de 5.2.626 - 17.4.1696
Francoska pisateljica Marie de Rabutin-Chantal, markiza de Sevigne se je rodila v burgundski plemiški družini in pri šestih letih osirotela. Vzgajal jo je stric, ki je poskrbel, da je imela srečno otroštvo in da se je izobraževala pri najboljših pedagogih tistega časa. Leta 1644 se je poročila s pripadnikom bretonske plemiške družine Henrijem de Sevignejem in ta jo je uvedel na francoski dvor. Leta 1651 je bil ubit v dvoboju in jo zapustil z dvema otrokoma, še prej pa zapravil ves njen denar. Kljub temu se je markiza de Sevigne še naprej gibala v visoki pariški družbi in se veliko ukvarjala s svojima otrokoma. Leta 1669 se je njena hči Francoise Marguerite poročila in se odselila v Provanso. Gospa de Sevigne jo je močno pogrešala, zato ji je pogosto pisala. Ta pisma so njen največji literarni dosežek. Nastalo jih je kar 1700, večinoma v prvih sedmih letih po hčerinem odhodu. V njih markiza sporoča novice iz mondene družbe. opisuje pomembne osebnosti in ljudi, ki so jo obiskovali, komentira tekoče zadeve in piše o podrobnostih iz vsakdanjega življenja. Razpravljala je tudi o svojem literarnem okusu. V pismih so sicer podatki, ki jih je mogoče najti še drugje, vendar je njen način pripovedovanja nepozaben. Domišljija, ki se je prebudila po naključju, je v njej predramila čutnost in moč literarne umetnice in se sprostila v duhovitih in očarljivih pripovedih.
Marie de Rabutin Chantal, marquise de Sevigne became immortalized when her correspondence of more than 1,500 letters was published posthumously in 1725-26. Born into a distinguished family, she was orphaned early but given an excellent classical education by two uncles. She was married to Henri de Sevigne in 1644 and widowed in 1651. She had two children, one of whom was Francoise Marguerite. This daughter's marriage (1669) to the comte de Grignan separated her from her passionately devoted mother, and she became the recipient of most of her mother's correspondence. Delightfully anecdotal, sometimes containing serious reflection, the letters include portraits of Corneille, La Rochefoucauld, Racine, and Turenne, and they also afford an insight into Madame de Sevigne's own nature.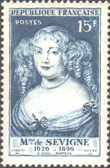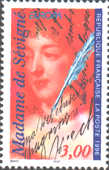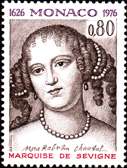 F - 892 F - 3148 MC - 1240
---
SEVKI Ismet 1884 - 1957
žena Ahmeta Sevkija, pionirja fotografa iz Cipra.

She was Cypriot photographer, wife of Ahmet Sevki, pioneer of photography in Cyper.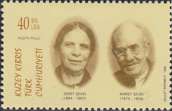 CY (tur) - 465
---
Shelley Mary 30.8.1797 - 1.2.1851
Mary Shelley je bila angleška romanopiska. Med popotovanjem po Evropi je ob Ženevskem jezeru napisala svojega znamenitega Frankensteina (1818). Do smrti svojega moža je živela v Italiji. Nato se je vrnila v Anglijo, kjer je nadaljevala s pisanjem romanov. Med drugim je napisala Valperga (1823), The Last Man (1826), Falkner (1837).

Daughter of political philosopher William Godwin and women's rights advocate Mary Wollstonecraft and second wife of the poet Percy Bysshe Shelley, Mary Wollstonecraft Shelley is famous as the author of Frankenstein (1818), a novel whose popularity as a horror tale has eclipsed its philosophical content. Having eloped (1814) with Shelley to Europe, she married him after the suicide (1816) of his first wife and bore him four children, of whom only one survived. The marriage brought Mary Shelley into contact with outstanding writers of the period, including Byron; during their conversation one evening, she conceived the idea that later developed into Frankenstein. Upon the death (1822) of her husband, Mary Shelley devoted herself to her child and to literary work. Returning (1823) to England, she edited Shelley's works and her own Journals and letters, which, with Shelley-related material in her other works, are an important source for later commentators. Often using views and characters derived from Shelley and his friends but uneven in quality, her works include History of a Six Weeks Tour (1817), The Last Man (1826), and the auto-biographical Lodore (1835).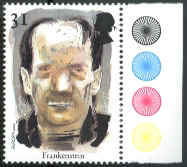 GB - 1693
---
Sieveking Amalie 25.7.1794 -1.4.1859
nemška ustanoviteljica društva za pomoč ubogim in ranjenim.

She was the daughter of a senator and a deaconess who displayed exemplary courage in caring for victims of the cholera epidemic which swept the country in 1831. She thereafter devoted herself to the health and social care of deprived families and, having founded in 1832 the 'Weiblicher Verein für Armen- und Krankenpflege', established with the help of its members a school for boys (Knabenhort) and girls (Flickschule) to prepare them for working life. Other activities were devoted to the relief of unemployment and to visits to hospitals and homes. In the 1840s she created temporary homes offering accommodation for a nominal rent or rent free. Her untiring practical commitment enhanced her reputation as a pioneer, whose fight for the greater involvement of women in social welfare work.




D - 222
---
Sigaldi Emma de 1912 -

She is German sculptor and lives and works in Monaco since 1954. Her works primarily in terracotta and marble. Numerous exhibitions of his work have been held in Paris, Peru, America and Hong Kong. De Sigaldi has Monegasque nationality and has been honoured by the Principality in a series of stamps depicting a selection of her works.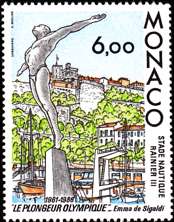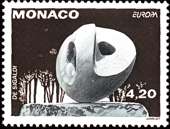 MC - 1775 MC - 2121
---
Sigmundsdottir Sesselja 5.6.1902 - 1974

Sesselja Hreindis Sigmundsdottir was a pioneer in matters concerning the mentally handicapped in Iceland, and established the first foster home for the mentally handicapped at Solheimar in Grimsnes. She studied padagogy and care of children and the handicapped in Denmark, Switzerland and Germany. She emphasized mixing the handicapped and non-handicapped long before these methods gained popularity abroad. Sesselja was ahead of her contemporaries and the first her views were met with suspicion and incomprehension by the authorities and the general public. Public authorities opposed allowing handicapped and non-handicapped children to live together at Solheimar "because the healthy children may suffer mental and physical damage from consorting with the handicapped ones". Sesselja was also a major proponent of organic farming and is often called the first Icelandic environmentalist.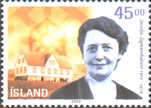 IS - 1011
---
Signore Simone 5.3.1921 - 30.9.1985
Rodila se je v Nemčiji francoskim staršem. Vzgajali so jo v Parizu, ob začetku druge svetovne vojne pa so se preselili v London. Bila je aktivna v svobodnih francoskih domoljubnih organizacijah. Začela je delati tudi v filmski britanski vojni produkciji. Po vojni ji je njen mož pomagal pri njeni filmski karieri. Leta 1952 je dobila britansko filmsko nagrado za vlogo v filmu Zlata čelada. Leta 1959 je dobila oskarja za vlogo nesrečne zavržene ljubice v filmu Soba na vrhu. V filmu je bila aktivna do 1982. Napisala je več knjig, najboljša je njena duhovita melanholična avtobiografija Nostalgija ni to kar bi morala biti.

Born in Gemany to French parents, Simone Signoret was raised in Paris, moving to England with her family at the outset of World War 2. While working with the Free French patriotic organization, she entered films as an extra in wartime British productions. Through the auspices of her first husband, director Yves Allegret, Simone eas given the "star buildup" in the postwar years. One of the best of her unlucky-in-love characterizations was in Casgues D`or 1952, for which she won British film Industry award. Simone went on to win an Oscar for her portayal of Laurence Harvey`s tragic castaway mistress in Room at the top 1959. Her second husband was Yves Montand, whose many extramrital affairs (including one with Marilyn Monroe) were regarded with patience and discretion by the ever-forgiving Signoret. Maturing into a plump but still bewitching sharacter actress, Simone continued appearing in choice film roles until 1982. Simone was the author of several books, foremost among tjhem the witty, melamcholy autobiobraphy Nostalgia Isn`t What It used to be.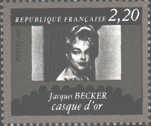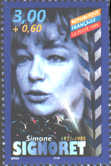 B - 3217 F - 2574 F - 3332
---
SiLlaNpaa Miina 4.6.1866 - 3.4.1952

She was Finland`s first female minister and a key figure in the workers' movement. She worked in cotton factory, nail factory, as a caretaker, later as inspector of eateries and cafés. Sillanpää did not have much of a school education - she had only gone to a visiting school (kiertokoulu) and factory school. She was active in social democratic association activity. She especially campaigned for the rights of working and lonely women. She served as a member of parliament for a total of 38 years: 5 times in years 1907 - 1947.




FI - 1184
---
Simonaityte Ieva 23.1.1897 -27.8.1978

Self educated, she earned her living as a secretary and translator, contributing poems and stories to periodicals of Lithuania Minor. She came to sudden prominence with her novel Aukstuju Simoniu likimas (The Fate of the Upper Simonys, 1935), awarded the first Lithuanian state literary prize. The novel earned her extraordinary critical and popular acclaim and appeared in numerous editions. A family chronicle, it traces the destinies of the Simonis clan between the 18th and 20th centuries, in a mosaic of colourful episodes. Similar in stature is her novel Vilius Karalius (Vilius the King), vol. 1 in 1939 and vol. 2 in 1956, awarded the 25,000-ruble Soviet state prize in 1958. Epic and monumental spanning the lives of several generations, the novel is also distinguished by its psychological insight and social observation.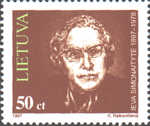 LT - 627
---
Sintenis Renee 20.3.1888 - 22.4.1965
nemška kiparka, grafičarka in ilustratorka
She began to study at the Berlin School for the Decorative and Applied Arts in 1908. By 1915 she was showing work with the Berlin Secession. She soon made influential friends and her work became popular. Sintenis' success grew during the 1920s, culminating in the 1926 bronze Der Läufer von Nurmi (The Runner from Nurmi), for which she was awarded the 1932 Olympia Prize. After the second world war Renée Sintenis was again permitted to teach art in 1947 at the Hochschule der Künste. Awarded the art prize of the city of Berlin a year later, she became a full professor at the Berlin Art Academy in 1955.
---
Sissi kr.

---
Sivkova Ljudmila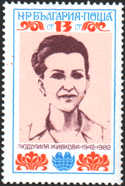 BG - 2112-2113
block 3109
---
SKARD GRUDA Aase 1905 - 1985
norveška otroška psihologinja

---
Skardi Sanna av 1876 - 1978

She was born on Faroe Islands and was the wife of Símun av Skarđi. She was together with him and his friend Rasmus Rasmussen and his wife Rasmussen Anna-Suffia (also on stamp Faroe-372) the first teacher at the Faroese Folk High School.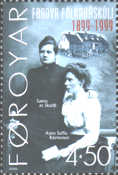 Faroe - 372
---
Skram Amalie 22.8.1846 - 15.3.1905
norveška pisateljica.

Norvegian autor. Her first work is Mme Hijer`s Tenants (1882). She is considered the first naturalistic writer in Norvay. Later she moved to Danmark. Her best work is The People of Hellmyr.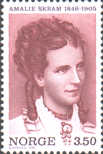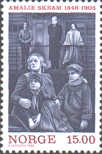 N - 1226/1227
---
Smith Ruth 5.4.1913 - 26.5.1958
Slikarka in grafičarka Faroerskih otokov.

Färöer painter and grafiker.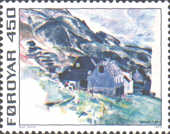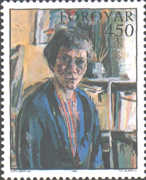 Faroe isl. - 19 Faroe isl. - 119
---
Smith Samantha 29.6.1972 - 25.8.1985
ameriška šolarka

She was an American schoolgirl from Manchester, Maine who became famous in the Cold War-era United States and Soviet Union. In 1982, Smith wrote a letter to the newly appointed Soviet Communist Party General Secretary Yuri Andropov, and received a personal reply which included a personal invitation to visit the Soviet Union, which she accepted.Smith attracted extensive media attention in both countries as a "Goodwill Ambassador", and became known as "America's Youngest Ambassador" participating in peacemaking activities in Japan. She wrote a book and co-starred in a television series, before her death at the age of 13 in the Bar Harbor Airlines Flight 1808 plane crash.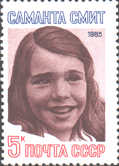 SU - 5564
---
Snežina Elena 1883 - 1944
bolgarska igralka.

Bulgarian actress.




BG - 622
---
painter


UA - 523-525
---
Sodergran Edith 4.4.1892 - 2.6.1923
Now credited with introducing modernism to Finland, the Swedish-language poet Edith Irene Sodergran, went virtually unrecognized during her lifetime. The extreme individualism and visionary aestheticism characteristic of her poetry reveal the influence of Nietzsche and Walt Whitman. Landet som icke ar (The Land That Is Not, 1925) contains some of her best work. She had little contact with other writers, but generations of Swedish and Finnish poets subsequently learned from her, and her fame has continued to grow.




FI - 1185
---
SOFRONOVA Antonia Fedorovna 1892 - 1966
ruska slikarka
Na znamki SU-6005 je njena slika: Portret igralke Bašrenove.

Born in the village of Droskovo in Orlov province and died in Moscow. From 1910 to 1917, Sofronova studied in Moscow at the art school of F.I. Rerberg and the studio of I.I. Mashkov. In 1914, she took part in "The Jack of Diamonds" exhibition. In 1920–1921, she taught at the State Art Shops in Tver, and at the same time became interested in Constructivism. Having returned to Moscow, she again began to create from life, at first graphic art, then paintings. Deserted city scenes were almost always her theme. Sofronova was one of "The Thirteen" group: she participated in its exhibitions, and after it was closed down in 1932, continued to work in the same style of dynamic pictorial pattern. The creative work of Sofronova became widely known only after her death.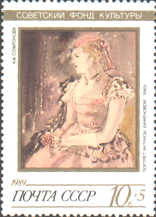 SU - 6005
---
Sokić Ljubica 9.12.1914 -
Umetniško šolo je končala 1936 v Beogradu. 1936-39 je živela v Parizu, kjer je prvič razstavljala 1937 v skupini jugoslovanskih umetnikov. Je eden od ustanoviteljev skupine DESETERICA (1940) s katero razstavlja v Beogradu in Zagrebu. Od 1962 je redni profesor na Akademiji za likovno umetnost v Beogradu. Že od samega začetka jo kot slikarko zanima intimna atmosfera interiera, slika pa tudi mestne pejsaže in portrete.

Serbian painter finished Art school in Belgrade 1936. In years 1936-39 she lived in Paris, where she exhibited for first time. From 1962 she is profesor on Academy of Fine Arts in Belgrade.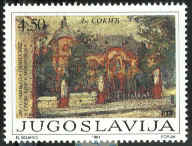 YU - 2502
---
Sokoli Qibra 1924 - 1944
albanska partizanka
Na znamki AL-2162 sta tudi Derri Qeriba in Bilibashi Ylbere.

Albanian partisan.
On stamp AL-2162 are also Derri Qeriba and Bilibashi Ylbere.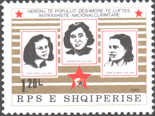 AL - 2162
---
Soler Inez 1910 - 1974

She is Maltese musician, write, painter and sculptor. She wrote plays, religious dramas, passion plays.

---
SORENSEN RIBER Riber 1967 -
danska slikarka

---
SÖrenstam Annika 9.10.1970 -

She is a Swedish professional golfer whose achievements rank her as one of the most successful golfers in history. She has won 72 official LPGA (Ladies Professional Golf Association), tournaments including ten majors and 18 other tournaments internationally, and she tops the LPGA's career money list with earnings of over $22 million -- over $8 million ahead of her nearest rival. Her 90 international tournament wins as a professional make her the female golf player with the most wins to her name. The winner of a record eight Player of the Year awards, and six Vare Trophies given to the LPGA player with the lowest seasonal scoring average, she is the only female golfer to have shot a 59 in competition. She holds various all-time scoring records including the lowest season scoring average.


S - 1963
---
SOubirous Bernadette 7.1.1844 - 16.4.1879


MC - 2876
---
Spyri Johanna 12.6.1827 - 7.7.1901
je švicarska pisateljica, ki je z zgodbami za otroke, v katerih nastopa deklica Heidi, zaslovela po vsem svetu. S psihološkim vpogledom v otroški um, humorjem in sposobnostjo vživljanja v radosti in tegobe otrok, je tem zgodbam dala trajno vrednost. Johanna je študirala jezike in klavir v Zurichu. Leta 1852 se je poročila. Leta 1871 je napisala svoj prvi roman List z Vronijevega groba. Leta 1880 je izdala prvi zvezek zgodb o Heidi, s katerim je zares zaslovela, čeprav je že preje objavila precej zgodb za otroke in odrasle. Leta 1884 je doživela osebno tragedijo - umrla sta ji mož in sin. Po tem se je ukvarjala z vzgojo nečakinje in dobrodelnostjo, napisala pa je tudi precej knjig, ki so jih sicer objavili, vendar niso nikoli dosegle priljubljenosti Heidi.

Heidi (1880), by Johanna Spyri, is a perennially popular children's classic centering on a young orphan girl named Heidi, who lives with her grandfather in the Swiss Alps. Originally written in German, the story has been translated into many languages, and has formed the basis of several motion pictures, the most notable of which (1937) starred Shirley Temple in the title role.






CH - 561 CH - 1284 D - 2192
---
St Helier Ivy 1886 - 1971

Was a British stage actress, composer and lyricist. On the stage, Ivy played Manon la Crevette in the original production of Noel Coward's operetta Bitter Sweet (1929), a role she reprised in the 1933 film version. As a lyricist, she wrote songs for The Street Singer to a score by Frederick Lonsdale, and wrote additional songs for The Blue Train, the London musical by Reginald Arkell, Dion Titheradge and Robert Stolz. She made just five films, including Laurence Olivier's Henry V (1944) and London Belongs to Me (1948).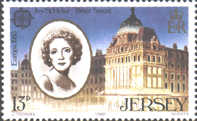 Jersey - 348
---
Stael Madame de 22.4.1766 - 14.7.1817

A Swiss-French writer famous for her literary criticism, novels, and flamboyant life, Madame de Stael, originally Anne Louise Germaine Necker,was one of the most important intellectuals of a changing Europe. The daughter of the politician Jacques Necker, she married the Swedish ambassador Baron de Stael-Holstein in 1786. She had numerous affairs, the most famous being with the novelist Benjamin Constant. Having grown up in the intellectual milieu of her mother's salon, she quickly established her own and made it a center of progressive discussion. Banned from Paris by Napoleon in 1803, she established a new salon at Coppet on Lake Geneva. Madame de Stael wrote voluminously De la litterature consideree dans ses rapports avec les institutions sociales (The Influence of Literature upon Society) was published in 1800 and established her reputation. Her two novels, Delphine (1802) and Corinne (1807), depict lonely and gifted women caught in a clash of cultures and codes. In 1810 she issued De l'Allemagne (On Germany), a major work that investigates German romantic literature and philosophy. Its praise of things German so incensed Napoleon, long her persecutor, that he destroyed the first edition and exiled its author. Madame de Stael played a primary role in the development of French romanticism and modern literary criticism. Her other literary works include a memoir of her father (1804), reflections on Rousseau (1788), and a discussion of the Revolution (1818).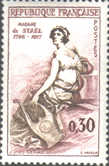 F -1322 CH - 910
---
STANESCU Carmen 25.7.1925 -
romunska igralka.

Romunian theatre and film actress.

RU - 6144

---
STANJOTA Stefania 13.5.1905 - 6.11.2000
beloruska gledališka igralka.

She is an outstanding actress, the legend of the Belarus stage and motion pictures. She had the honorary title of the People's Actress of the former BSSR (1957) and USSR (1988). She was the State prize laureate of the BSSR (1982) and also got different prizes at film festivals. Stephaniya Stanyuta began her actress career in 1918 and worked as a supernumerary, a chorister, and a dancer. In 1926 she graduated from the Drama Studio attached to the Moscow Academic Art Theatre. She was an actress of the 2nd Belarusian Drama Theatre in Vitebsk. From 1932 and till the end of her life Stanyuta worked in Minsk as an actress of the National Academic Theatre named after Yanka Kupala. She went on stage until the end of life at 95 years of age. Stanyuta was equally persuasive playing an exhausted peasant woman or an elegant woman of a high society. She had many interesting roles in theatre and cinema but real fame came to her at late age when she played parts of elderly women and grandmothers. Stanyuta became popular outside Belarus after the film Farewell directed by Elem Klimov (1982) where she played the role of the old woman Dariya.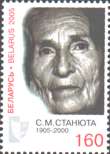 BY - 595
---
---
Stark Freya 31.1.1893 - 9.5.1993
je bila neukrotljiva angleška popotnica. O svojih potovanjih po srednjem vzhodu, včasih tudi na oslu, je pisala klasične potopise. Med prvo svetovno vojno je bila medicinska sestra v Italiji. Tam se je naučila arabščine. Odšla je v Irak in delala pri časopisu Bagdad Times. Ko je zapustila Bagdad, je potovala po poteh križarjev. V jugozahodni Perziji je obiskala Asasinsko trdnjavo in o tej avanturi napisala leta 1934 potopis Valley of the Assassins. Med drugo svetovno vojno je delal na ministrstvu za informiranje v Adnu in Egiptu. Napisala je več kot 30 živahnih in lahko razumljivih knjig, med drugimi: The Southern Gates of Arabia (1938) in Beyond Euphrates (1951). Leta 1972 dobila plemiški naziv dame.

Dame Freya Madeline Stark was an indomitable English traveler who wrote classic accounts of her journeys through the Middle East, some of them on a donkey. After serving as a nurse in Italy during World War I, Stark learned Arabic and went to Iraq, where she worked on the Baghdad Times. Leaving Baghdad, she traced the routes of the Crusaders and ventured into the Assassin stronghold in southwestern Persia, an adventure written about in Valley of the Assassins (1934). During World War II, Stark worked for the British Ministry of Information in Aden, (in present-day Yemen) and in Egypt. Among her more than 30 other books, all lively, lucid, and elegantly written, are The Southern Gates of Arabia (1938) and Beyond Euphrates (1951). She was made a dame in 1972.




GB - 2016
---
---
Stasova Helena 1873 - 1966
sovjetska političarka



SU - 4171
---
STEFANOVA Antoaneta 19.4.1979 -
šahovska svetovna prvakinja

She is a Bulgarian chess grandmaster, and a former Women's World Chess Champion. Her chess-bound passion was inflamed when she was just four years old and she received first classes on the black and white chessboard by her own father. With her elder sister, Liana, Antoaneta had made her best mating tandem. At the age of seven, Stefanova became a Sofia champion. In 1997 Stefanova's FIDE rating broke into the top ten of women worldwide. Also she earned the title of Grandmaster in June 2003, a title held by only ten other women. She has played for Bulgaria in five Chess Olympiads so far. Stefanova's FIDE rating of 2492 on the April 2007 list placed 9th in the world among active female players.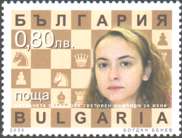 BG - 4725
---
STEIL Marie-Henriette 1898 - 1930
luksemburška pisateljica
Born in Luxembourg, Marie-Henriette Steil was one of the few Luxembourg women of her times to make a name for herself as a writer. Even though she has been virtually forgotten today, this remarkable and engaging young woman deserves an important place in the pantheon of great national authors. Although Marie-Henriette Steil wrote serials for newspapers, it was above all with her work Tier und Mensch, harmlose Geschichten von Marie-Henriette Steil illustrated by Auguste Trémont that made her famous. Well constructed, her stories, sometimes ironic, sometimes full of humour as Das Lachen des Herzen, were always inspired by reality and were characterised by real compassion for the most disadvantaged as in Der Schandfleck. Unfortunately, she died at the young age of 32 years, before knowing the blossoming of her art and writing career.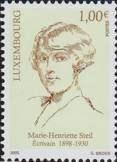 L - 1689
---
Stein Edith 12.10.1891 - 9.8.1942
Nemška filozofinja, Židinja, leta 1922 prestopila v katoliško vero, umorjena v koncentracijskem taborišču Auschwitz.
Pope John Paul II beatified Sister Teresa Benedicta of the Cross on 1 May 1987, and canonizes her on 11 October 1998.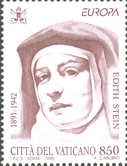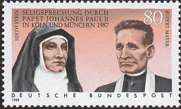 VA - 1180 D - 1162 D -1352
---
Stein Charlotte von 25.12.1742 - 6.1.1827
nemška dramatičarka, ljubezen Goetheja.




D - 1582
---
Sten-kNUDSEn Nina 2.12.1957 -
danska slikarka in grafičarka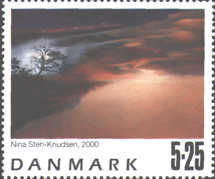 DK - 1262
---
STOCKUM Hilda van 9.8.1908- 1.11.2006

Born in Rotterdam, of Dutch-Irish parentage, Hilda van Stockum was one of the leading pupils of Patrick Tuohy and Seán Keating at the Dublin Metropolitan School of Art. She later emigrated to north America where she has since earned a reputation as a leading author and illustrator of children's books, whilst also maintaining a career as a painter. Her works can be found in many major collections including the National Gallery of Ireland.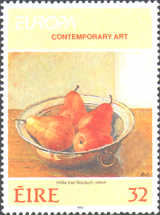 IE - 825
---
Stoddart Laura
---
Stojadinović Milica-Srpkinja 1830 -25.7.1878
je ena prvih srbskih pesnic. Prvo pesem je napisala že kot 13 letnica. Svoja dela je objavljala v številnih časopisih vse do svoje smrti. Zaradi stalnega samoizobraževanja je postala ena najbolj izobraženih osebnosti svojega časa in zelo cenjena v političnih in literarnih krogih. Slavna je postala s pesniškimi zbirkami Pesme, ki so izšle v letih 1850, 1855 in 1869. Njen lirični dnevnik U Fruškoj gori v treh delih (1861, 1862, 1866) prikazuje običaje, razumevanja in razmere njenega časa.




Srpska krajina - 59
---
Stokić Živana-Žanka 1887 - 20.8.1947
je bila srbska gledališka igralka, od 1911 članica "Narodnog pozorišta" v Beogradu. Tu je odigrala vse svoje vloge, zaradi katerih jo smatrajo za eno največjih igralk srbskega gledališča. Največji uspeh je dosegla z liki iz del Branislava Nušiča.




YU - 3122
---
STOPES Marie 15.10.1880 - 2.10.1958

She was a Scottish author, eugenicist, campaigner for women's rights and pioneer in the field of family planning. Stopes edited the journal Birth Control News which gave anatomically explicit advice, and in addition to her enthusiasm for protests at places of worship this provoked protest from both the Church of England and the Roman Catholic Church. Her sex manual Married Love, which was written while she was still a virgin, was controversial and influential.
---
Strickland Mabel 1899 - 1988
She is Maltese politician and journalist. She was elected to parliament in 1950s and 1960s as member of Constitutional Party and later as leader of Progressive Constutional party. She was editor to The Times of Malta and The Sunday Times of Malta.

---
STROBEL Kate 1907 - 1996




D -2150
---
---
Stupica Maria Lucija 13.12.1950 - 2002
slovenska slikarka in ilustratorka.

She graduated from the Academy of Fine Arts in Ljubljana. She began illustrating children's book already during her studies. Her first published work was Andersen's The Princess on The Pea in 1973. Over the last twenty-five years she has illustrated some thirty-five picture and story books. In 1998 and 2000 she was nominated for the Andersen Award. She won the Prešeren Prize (the national award for achievement in the area of Slovenian art), the Golden Apple BIB.




CZ - 2924
---
Stupica Marlenka 17.12.1927 -
Akademska slikarka Marlenka Stupica je leta 1950 diplomirala na Akademiji za likovno umetnost v Ljubljani. Znana je predvsem po ilustracijah knjig za otroke. S slikami jih je opremila že 80, predvsem pravljične vsebine. Za svoje delo je prejela dvajset visokih domačih in mednarodnih nagrad. Še posebej pomembna je nagrada IBBY, ki jo je leta 1994 prejela v Sevilli, kar pomeni, da je bila uvrščena na častni seznam najboljših svetovnih ustvarjalcev v mladinski literaturi. Motiv Zima na znamki SI-126 je bil leta 1985 uporabljen za Unicefovo voščilnico.

The academic painter Marlenka Stupica graduated from the Ljubljana Academy of Fine Arts in 1950. She is known above all for her illustrations of, mostly, fairy story books. She has received twenty local and international awards for her works. Especially valued is the IBBY (International board on books for young people), an award she received in 1994 in Seville. This meant that she was ranked on the list of the worlds' best artists in youth literature. Her picture Winter on the stamp SI-126 was used in 1985 as an illustration on a UNICEF greeting card.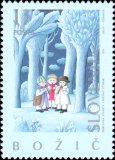 SI - 126
---
STURDZA-BULANDRA Lucia 25.8.1873 - 19.9.1961
romunska igralka
Rumanian actress
---
Sundal Heidi 1962 -
She is Norwegian handball top player. She won 2 Olympic silver medals in 1988 and 1992. In all she played 274 international matches for Norwegian handball team.




N - 1129
---
Sundstrom Fanny 1883 - 1944
pedagoginja, političarka.

She was a teacher, politican and women's right activist on the Aland Islands. After becoming a primary school teacher, she took an active part in the "Martha Movement" (sv. Marthaföreningen) and worked for social improvements. The Martha Movement was established in 1899 by a group of women who established the Martha Organization to advance Finland's economic and cultural life. In 1922 Fanny Sundström was the only woman to be elected to the first Parliament of Aland. In 1929 she was elected to the municipal council. She remained politically active until her death.




Aland - 114
---
Sunniva sv. (st.)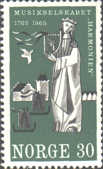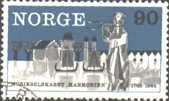 N - 534-535
---
Suttner Bertha von 9.6.1843 - 21.6.1914
Avstrijska pisateljica številnih protivojnih novel in neumorna borka za svetovni mir Berta von Suttner je vplivala na odločitev Alfreda Nobela, da ustanovi tudi nagrado za mir. To nagrado je leta 1905, kot prva ženska tudi sama dobila. Njeno glavno delo je Dol z orožjem (1889), isto ime pa je imel tudi njen pacifistični časopis (1892-99). Von Suttnerjeva je organizirala in vodila Avstrijsko društvo prijateljev miru.

An Austrian author of numerous antiwar novels and a tireless worker for world peace, Bertha von Suttner was influential in Alfred Nobel's decision to establish the celebrated Nobel Peace Prize, of which she was the first female recipient (1905). The title of her major work, Die Waffen nieder (1889, Lay Down Your Arms), also became the name of her celebrated pacifist journal (1892-99). Von Suttner organized and headed the Austrian Society of Peace Lovers.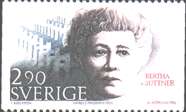 A -1199 GDR - 1050 D - 1498 S - 1413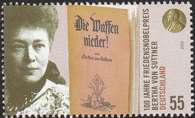 D - 2495
---
sv.Euphrasia Maria von der


---
Sveinsdottir Thorbjorg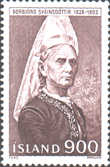 IS - 587
---
Svet Mateja 16.8.1968 -
Mateja Svet je pripeljala slovensko žensko alpsko smučanje do najvišjih svetovnih lovorik. Na svetovnem smučarskem prvenstvu leta 1987 v Crans Montani je kar trikrat stala na zmagovalnih stopničkah: kot 2. v veleslalomu in 3. v slalomu in super vele-slalomu. Sodelovala je na dveh olimpijskih igrah, leta 1988 je v Calgariju osvojila srebrno medaljo v slalomu. Osvojila je 11 naslovov državne prvakinje, bila je najboljša športnica Slovenije v letih 1984 - 1989.

Mateja Svet brought Slovene Women`s Alpine skiing the highest international awards. In World Ski Championship in 1987 in Crans Montana she stood on the winning podium three time: second in giant slalom, and third in slalom and super giant slalom. She participated in two Winter Olympics and in 1988 in Calgary achieved second place in slalom. She was eleven times national champion and also received the sports-person of the year award from 1984 to 1989.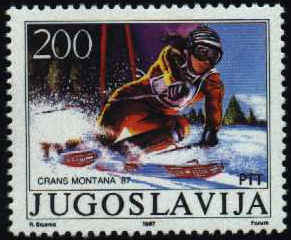 YU - 2215
---
Szabo Gabriele 14.11.1975 -

She is a Romanian track and field athlete, winner of the gold medal in the 2000 Summer Olympics in 5000 m and winner of bronze and silver medals in 1996 Summer Olympics and 2000 Summer Olympics in 1500 m, respectively. Szabo is also a three-time world champion. She always had a single coach, Zsolt Gyöngyössy, whom she eventually married. In May 2005 she announced her withdrawal from professional sport. She remains the European record holder over 3000m.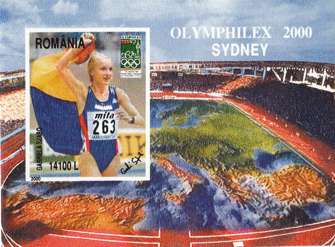 RO - 5518
---
SZAPOCNIKOW Alina 1926 - 1973
poljska kiparka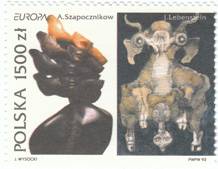 PL - 3445
---
---
Szilagyi Elizabeta ? - 1483
je bila žena madžarskega kralja Janosa Hunyadi, ki je v 15. stoletju vladal Madžarski.




H - 756
---
Szymborska Wislawa 2.7.1923 -
poljska pesnica, nobelova nagrajenka za literaturo 1996.

Polish poet studied Polish Literature and Sociology at the Jagiellonian University. Szymborska made her début in March 1945 with a poem Szukam slowa (I am Looking for a Word) in the daily "Dziennik Polski". Szymborska has published 16 collections of poetry: Dlatego zyjemy (1952), Pytania zadawane sobie (1954), Wolanie do Yeti (1957), Sól (1962), Wiersze wybrane (1964), Poezje wybrane (1967), Sto pociech (1967), Poezje (1970), Wszelki wypadek (1972), Wybór wierszy (1973), Tarsjusz i inne wiersze (1976), Wielka liczba (1976), Poezje wybrane II (1983), Ludzie na moscie (1986). Koniec i poczatek (1993, 1996), Widok z ziarnkiem piasku. 102 wiersze (1996). Her poems have been translated in many foreign landuages. She is the Goethe Prize winner (1991) and Herder Prize winner (1995). She has a degree of Honorary Doctor of Letters of Poznan University (1995). In 1996 she received the Polish PEN Club prize. She won The Nobel Prize for literature in 1996.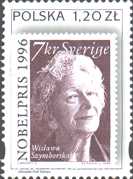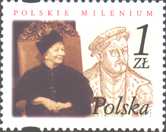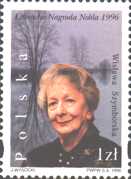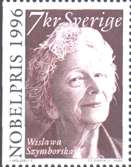 PL - 4078 PL - 3944 PL - 3633 S - 2200