Free Vinland Republic
Ministry of Foreign Affairs
NEWS
HOME l MORE NEWS l STAMP CATALOG l STOCK LIST l ALLIES l CONTACT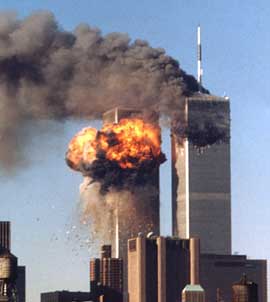 PRESS STATEMENT: Berenku, 12th September 2001 PX 591
Attack on Pentagon & World Trade Center, New York:
a call for calm amidst the anger and grief.
"The mysterious surprise attack on the Pentagon and the World Trade Center in New York yesterday, by airliners crashed by persons unknown, was a shocking and cruel act, but we must not be hasty in setting blame," said the President of the Free Vinland Republic, Miss Henrietta Vinsangh, at a press conference today.
Calling for calm, President Vinsangh said it was easy to make a knee-jerk reaction and bomb or blame another person or country, but this seems rather silly. "Clearly there is more than meets the eye here, and I am reminded of the Reichstag fire in the early 1930s," she explained. She urged President Bush not to seek a military solution, but rather to go for the diplomatic route.
President Vinsangh expressed the sympathies of herself and her government and people to the people of New York on the occasion of the disaster. "Our thoughts are with you in this distressing time," she declared, and added a call for Free Vinlanders to donate to a special Help New York people fund, which has been started by the government.
.
HOME l MORE NEWS l STAMP CATALOG l STOCK LIST l ALLIES l CONTACT