For the past three years, the two countries on the island of New Vinland, in the North Atlantic Ocean, the Free Vinland Republic (a former colony of Occussi-Ambeno) and the Republic of Liegerland (a former colony of Tyr), have collaborated in restoring the island-crossing railway, most of which was destroyed in the wars of the early 1990's.
The network, called Vinrail and jointly controlled by the two countries, is now almost completed, and is due for official opening on Monday 14th August 2000. On that day, both countries will issue a set of two multicolor stamps, depicting the steam trains used by Vinrail. Most countries of the western world have replaced steam trains by electric or diesel locomotives, so Vinrail was able to buy up unwanted steam engines and rolling stock at bargain prices from modern rail systems who were upgrading.
The two stamps for our country, Free Vinland, are 45¢ (locomotive going through a forest); and $1.35 (steam train crossing the huge stone and concrete viaduct at Moulins). In addition to the single stamps, the 45¢ stamp is also being issued in the form of a miniature sheet of six stamps (cost: $2.70), for the convenience of postal patrons. The miniature sheets have suitably inscribed margins. Click here to view the miniature sheet.
The stamps have been printed by KDPN on white mat paper and are perf 12.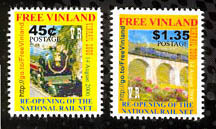 Collectors and dealers wishing to buy any of these stamps, or earlier Free Vinland stamps, should send order and payment to
Free Vinland Information Service,
P.O. Box 78-104,
Grey Lynn, New Zealand 1245.
e-mail: [email protected]
Please note that the Free Vinland dollar is tied to the Australian. Click here to convert your currency into Australian.
Please make checks and cheques payable to: LSCTC. Thank you.