Free Vinland Republic
Ministry of Commerce
PRODUCTS
HOME l NEWS l STAMP CATALOG l STOCK LIST l ALLIES l CONTACT
Confetti
For the past twelve years, the Hathor Paper Co-operative, in Moulins, has packaged confetti in small bags for export. Diameter of the circlets is 1 mm.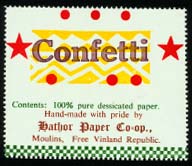 The label for the confetti bags.
Retail price is FVR$6 per bag. Clients wanting small quantities or wholesale should send order and payment to our agents:

Free Vinland Information Service,


P.O. Box 78-104,
Grey Lynn, New Zealand 1245.

Please note that the Free Vinland dollar is tied to the Australian. Click here to convert your currency into Australian.
Please make checks and cheques payable to: Free Vinland Information Service. Thank you.
HOME l NEWS l STAMP CATALOG l STOCK LIST l ALLIES l CONTACT