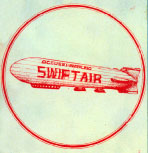 SWIFTAIR - Occussi-Ambeno's Airship Express Service.
HISTORY

Swiftair Corporation uses modern, safe, and fast high-tech airships filled with helium, an inert gas that will not ignite. It is 100% safe for airship travel. Swiftair's fleet of five zeppelins operates regularly within Occussi-Ambeno and also runs less frequent international links. Airships are ideally suited to delivering mail, passengers, and supplies to isolated outposts, where the ships can hover to transfer cargo.

Need more information? e-mail Swiftair at [email protected]
Inaugural Flight of the Dirigible Airship, LZ-184 Malatesta, to Sonné
A special flight is being made by the zeppelin LZ-184 "Malatesta", the flagship of the airship fleet operated by Swiftair Corporation, the airline of the Sultanate of Occussi-Ambeno. The flight will take place during July 1990, subject to weather conditions. Souvenir philatelic mails will be carried on the flight. The flight was intended to cement good relations between the Sonné Empire, in the North Atlantic, and Occussi-Ambeno, and begins a regular monthly service. The flights also visit and supply the Occussian colony of West Vinland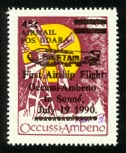 A special stamp was issued by Occussi-Ambeno on 19th July 1990 to mark the flight. Click here for details of this stamp. Click here to view a First Day Cover carried on the flight. Click here to view the reverse side of the envelope showing the Sonné arrival datestamp. Sonné also issued an overprinted stamp to celebrate the event. Click here to view a First Day Cover carried on the return flight from Rasten.
Persons wishing souvenir envelopes carried any of our flights should contact Swiftair or the Post Offices of the other countries that are being visited on the flight.
To see the report on the first round-the-world flight by a Swiftair zeppelin, click here. To read a report on zeppelin souvenir mail over past years, click here. To view the Occussi-Ambeno Stamp Catalog, click here. To learn more about our beautiful homeland, click here. To visit our state printers, click here.