Craig's Movie Club
The Newest Reviews

The Current Stack of Movie Reviews:
(This listing will rotate as newer ones are added.)
---
To arrange to have products considered for review, send an email to

[email protected]

.
---
---
Otto Preminger's Anatomy of a Murder
This story of a husband's retribution toward his wife's rapist doesn't get the recognition it deserves. With nonintrusive direction from Otto Preminger that puts you right in the courtroom; a jazzy piano- and trumpet-based score from Duke Ellington (who appears in a cameo as "Pie-Eye") that really takes the film to another level (especially those final notes at the conclusion); and compelling performances all around from James Stewart, Ben Gazzara, and George C. Scott to Lee Remick, Arthur O'Connell, and Eve Arden; Anatomy of a Murder is a classic in every sense: one of my all-time favorites.
It is a little-known fact that Anatomy of a Murder (both the film and the bestselling novel written by real-life judge John D. Voelker under the name Robert Traver) is based on the real-life case of a woman named Thalia Massie who was beaten and raped by a group of four local boys while her husband, Naval Lieutenant Thomas Massie, was stationed in Hawaii.
After the trial of the perpetrators resulted in a hung jury, Thalia's husband and mother killed the leader of the bunch, Joe Kahahawai, and were themselves put on trial for their murder. Famous attorney Clarence Darrow was called to Hawaii from Chicago to take up their defense. (For a fascinating look at the truer events of the case, see Max Allan Collins's Nathan Heller novel, Damned in Paradise, in which Heller is the only fictional character.)
Anatomy of a Murder veers a good deal from the specific details of the case, changing names and locations and only really retaining the skeleton of events. Here, in rural Michigan (Traver's home state), Laura Manion (Remick), beautiful wife of Army Lieutenant Frederick Manion (Gazzara), has been raped by local bartender Barney Quill, whereupon Lt. Manion, supposedly under the grip of an "irresistible impulse" coolly and deliberately walks to the bar and shoots Quill dead. Local attorney Paul Biegler (Stewart), just back from a fishing trip, is persuaded by his friend Parnell (O'Connell) to take the case, which puts him square up against the district attorney and his secret weapon, Claude Dancer (Scott), a notorious prosecutor from Lansing. Another real-life judge, Joseph Welch, presides over the case with a friendly demeanor but no nonsense accepted from either side.
Anatomy of a Murder was a truly adult drama made in a time when every film has to be acceptable for the whole family. These days, the terminology seems tame, since you can hear the same thing every night on any of the Law & Order spin-offs or read about it in your local newspaper, but in 1959, words like "rape," "bitch," "sperm," and even "panties" (used in this sexual context) were simply not dinner-table conversation, and the movie was the subject of controversy upon its release. Sadly, those people missed out on a wonderful portrait of characters and their relationships to one another.
I just finished watching Anatomy of a Murder again, due to my reading of the aforementioned Collins novel, and I highly recommend it to anyone looking for an involving drama that does not pander to the lowest common denominator. Be sure to set aside the evening, however, because it really should be viewed all at once but the running time is 2 hours and 41 minutes. You'll hardly notice it, though, because every second is utterly gripping.
---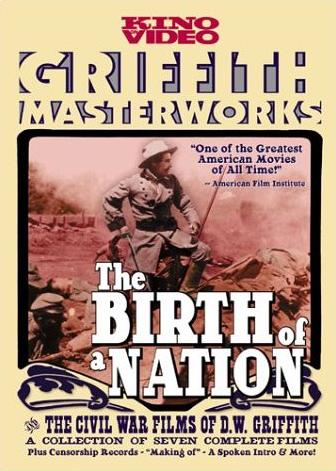 D.W. Griffith's The Birth of a Nation
In terms of both its filmic and political history, it is interesting to note that trailblazing independent director D.W. Griffith's landmark Civil War epic, The Birth of a Nation, is primarily an anti-war film. It opens with a title card proclaiming that "If in this work we have conveyed to the mind the ravages of war to the end that war may be held in abhorrence, this effort will not have been in vain." Pretty strong words from a man many consider a blatant racist and whose name and legacy and have been diminshed by those who refuse to see past the personal to the professional.
Griffith is credited with giving us "the language of cinema" and The Birth of a Nation was the first feature-length film of the silent era, and just like Citizen Kane in later years, every that came after (including Kane, of course) owes its existence to this film.
Griffith has a remarkable (if remarkably unsubtle) way of visualizing emotions through film -- like how a fight that breaks out between a kitten and a puppy belonging to the same family foreshadows later brother-against-brother "Hostilities." At the same time, having the major black characters played by white actors in blackface guarantees stereotypes will be perpetuated -- never mind the inclusion of an obvious "Mammy" character (the pro-Southern stance of The Birth of a Nation is pretty much given away by titles like "The Confederates to the Rescue").
Despite his prejudices, Griffith does aim for historical realism along with his drama. His Abraham Lincoln is a dead ringer, and the set for Lincoln's office was taken directly from descriptions found in a history text. And Griffith does a terrific job of illustrating the crescendo of tension as the possibility of war looms over the tranquil lives of his protagonists. And he is especially effective at dramatizing the immediacy of militiamen invading the homes of local residents. A young girl cannot hide her giddiness at all the excitement -- war on the steps, gunfire in the parlor -- while her sister is deathly afraid.
It is, of course, impossible to watch a film about which so much has been written with a naïve eye (I found myself looking for things to be offended by), but the importance of The Birth of a Nation to film history requires at least one full viewing -- more if you want to follow what's going on in the dense script (the titles cards are nearly always filled to brimming with relevant information). What you get out of it depends on what you bring to the experience. Your best bet is to come with an open mind and prepare to be educated about a time in history when things were simply different than they are now, and pay attention to a true maverick filmmaker who, whatever he had to say, was able to make the films that he wanted to make.
---
Ernst Lubitsch's Trouble in Paradise
This wonderful confection from Ernst Lubitsch is a marvelous pre-Hays Code example of what can be done to imply sex. Trouble in Paradise simply drips with it, but nothing but the slightest hint of cleavage is shown. The script (from Samson Raphaelson and Grover Jones, adapted from the play The Honest Finder by Lazslo Aladar) is literate and flows with banter, offering the most sophisticated of comic dialogue.
Herbert Marshall stars as the dapper Gaston Monescu, "the man who walked into the bank of Constantinople, and walked out with the bank of Constantinople." We first meet him in Venice, where he has completed a robbery of François Filiba (the inimitable Edward Everett Horton), just before having a romantic dinner with his love, Lily Vautier (Miriam Hopkins).
They are both career crooks (and she has another secret, unknown to him) and their light-hearted pickpocketing of each other is my image of the ideal romantic byplay. Ever so intimate (and quite racy, if you think about it), but with a sense of fun.
Gaston and Lily's relationship begins to suffer when he puts the moves on the exceptionally beautiful (and rich!) Mariette Colet (Kay Francis, whose difficulty pronouncing Rs had her nicknamed "the wavishing Kay Fwancis" on the Warner backlot), widow of a cosmetics king, for the 850,000 franc insurance payout that is soon to come. Gaston sets himself up as her personal secretary by laying on the charm (and discipline!), and Mariette simply glows when he is around. Lily, inserting herself as Gaston's own secretary, is a perfect delight, fussing and fuming at their relationship while trying to keep her hands from lifting little trinkets around the house.
Trouble in Paradise is ideal in many ways. It barely treads near reality -- or, at least, not a reality that most of us will ever see -- but that is part of its charm. This is cinema at its very best. It is funny, sexy, and seems fresh even today, far surpassing the modern idea of "romantic comedy." Fortunately, it is finally available to purchase on a spectacular Criterion DVD (my original VHS copy was recorded from American Movie Classics) with extras including an informative commentary from Lubitsch's biographer Scott Eyman and one of the director's early short films. One of the best motion pictures of all time can finally find a modern audience.
---
And if you liked that...
---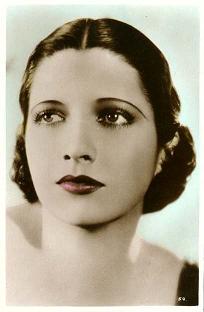 Alfred E. Green's The Goose and the Gander
Kay Francis (Mariette Colet in Trouble in Paradise) stars as Georgiana in The Goose and the Gander, a surprisingly racy (given that it was released during the enforcement of the Hays Code) bedroom farce from 1935. Georgiana runs into her ex-husband Ralph Summers (Ralph Forbes), whose current wife Betty (Genevieve Tobin) Georgiana has just seen making plans with her paramour, Bob (George Brent). In order to show Ralph the kind of woman he left her for, Georgiana schemes to get everyone together at her lodge under false pretenses, so Ralph can discover Betty with Bob. Ralph agrees because he wants to be alone with Georgiana -- remember, what's good for the goose is good for the gander -- but things get more complicated when a pair of jewel thieves (John Eldredge and Claire Dodd) steal Betty's car and are sent to the lodge by mistake, whereupon they pose as "Ralph and Betty Summers."
Confused yet? Well, eventually the police show up and get everything all mixed up. Georgiana figures things out pretty quickly, though, and deviously plays along to the hilarious discomfort (O, schadenfreude!) of the others. Meanwhile, she takes the opportunity to put the moves on Bob, to his reciprocal glee, but to Betty's chagrin. But it is a comedy, remember, so most everyone ends up happy in the end (even if it doesn't always quite fit with their characters' preceding actions).
The beautiful and charming Kay Francis, an actress with a vast filmography of which little is available on video, is truly the star here. She is in her element playing a member of polite society with amusingly intentions. She is so in control of all the actions on the screen that the other characters seem to be acting merely as her puppets. The acting is solid all around, with the simple direction of Alfred E. Green serving Charles Kenyon's script quite well. At just over an hour, The Goose and the Gander is the ideal length for an afternoon's diversion, and a fine example of the kind of sophisticated comedy in which Hollywood specialized in the 1930s. It's also only one of several films Francis made with Brent, so if this pairing was enjoyable, there are more to seek.
---
Max Allan Collins's Mommy
What if "the bad seed" grew up and had a daughter of her own? That's the question posed by this thriller written and directed by mystery novelist Max Allan Collins. Mommy stars Patty McCormack (Oscar-nominated as a young girl for her chilling role in the classic film The Bad Seed as a mother who will do anything for her daughter, Jessica Ann (Rachel Lemieux) ... including murder.
The acting is surprisingly good. Lemieux more than pulls her own weight with a subtlely layered performance (and narration) that truly carries the film. McCormack rightly plays it straight, even in the scenes of black humor, and it is obvious that her character truly loves her daughter, even if she shows it in unconventional ways. Also, keep an eye out for Sarah Jane Miller's scene-stealing performance as Miss Jones, the cocky, know-it-all janitor.
Parallels between Mommy and The Bad Seed are deliberate and fun for film fans, as are references to other horror films like The Shining and Halloween. Collins does well by his actors and crew with his reported one-million-dollar budget. He and director of photography / editor Philip W. Dingeldein know how to use colors, light, and darkness to set the mood and ratchet up the suspense, resulting in a fun little thriller with few pretentions.
To save money, Collins went the Dario Argento route by having his band Crusin' perform the rock songs on the soundtrack -- watch out for them during the dance scene with Collins on keyboards. Shot in and around Collins's hometown of Muscatine, Iowa, using locals as extras, the suspenseful script even offers a few twists and turns to keep it unpredictable.
Mommy also features a stellar cast, including Michael Cornelison (Lost in America), Jason Miller (The Exorcist), scream queen Brinke Stevens (Nightmare Sisters), Majel Barrett (just about every Star Trek manifestation), and even Mickey Spillane (creator of Mike Hammer) in a featured role.
The tenth anniversary DVD release (currently available only in the Max Allan Collins Black Box Collection: Shades of Neo-Noir) is digitally remastered and loaded with hours of extras, including a reading of the original short story that appeared in Fear Itself, edited by Jeff Gelb. Everything from the first DVD is here along with a brand new tenth-anniversary commentary with Collins and Dingeldein that discusses the parallels between Mommy and Road to Perdition, which was based on a graphic novel by Collins and Richard Piers Rayner.
---
Preston Sturges's The Palm Beach Story
This film featuring Joel McCrea and Claudette Colbert, as a couple seeking out new life partners for the sake of the other, came in the middle of the peak of writer/director Preston Sturges' career. (For the record, I consider that the peak began in 1940 with The Great McGinty, ended in 1944 with Hail the Conquering Hero, and includes The Lady Eve [1941], Sullivan's Travels [1941], and The Miracle of Morgan's Creek [1944]. That's quite a roll for anybody!) The Palm Beach Story doesn't quite match up to his best work, but it still has a lot more going for it than at first it seems.
McCrea (John Sullivan in Sullivan's Travels) stars as Tom Jeffers, an architect who doesn't make a lot of money, but has a big dream: to build his own airport. His wife, Gerry (Colbert), wants to support his dream ... by divorcing him so she can marry rich and give him money on the side. Her argument is that they don't love each other anymore, and all that is left is love and respect (their behavior towards each other says otherwise).
Then the first implausible thing happens: he goes along with her idea. Posing as her brother (they look alike because everyone marries his/her own face), he will have approval over who his wife marries. On her way to Palm Beach to meet a millionaire, she meets one on the train, John D. "Snoodles" Hackensacker, III (Rudy Vallee, The Bachelor and the Bobby-Soxer), who falls for her is his own milquetoasty way. (Being Vallee, he even serenades her in one scene.) Snoodles also has a sister, who has been married five times and "will marry anything." She is played by Mary Astor (the femme fatale in The Maltese Falcon), whose saucy reputation is thoroughly covered in Kenneth Anger's tinsel-town expose, Hollywood Babylon.
The Palm Beach Story doesn't come across as very original, but it has a lot of charm. McCrea and Colbert make an ideal couple, and you just know that they will end up together (just like in The Awful Truth, the original Mr. and Mrs. Smith [the only pure comedy directed by Alfred Hitchcock], Phffft!, and all the other loving-couple-tries-to-stay-apart-but-realizes-they-really-love-each-other films of that screwball subgenre). Astor plays her character as a mix of Angelica and Cornelia Bullock (Alice Brady and Gail Patrick, respectively) from My Man Godfrey, and her hanger-on, Toto (Sig Arno), resembles no one more than that film's Carlo (Mischa Auer). Of course, William Demarest, Franklin Pangborn, and Robert Greig show up in smaller roles to complete the full Sturges picture (the three were in a number of his films, always in memorable roles). My only real complaints with The Palm Beach Story are the slow pace and the fact that the happy ending requires such a ridiculous deus ex machina, but I can't help but admire Sturges for actually going through with it.
---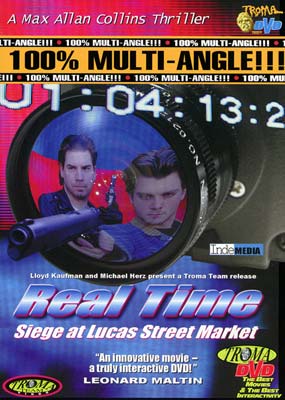 Max Allan Collins' Real Time: Siege at Lucas Street Market
Regular readers of this website will know that I've been on a huge Max Allan Collins kick lately, reading everything from his graphic novels to his historical mysteries to his CSI tie-in novels. But even I wouldn't have guessed that this would have carried me to buying a DVD of a movie directed by the man. But that's what Real Time: Siege at Lucas Street Market is, and that's not all.
Though distributed by the schlockmeisters at Troma (the studio behind the Toxic Avenger series of films), Real Time is anything but. Based on short fiction ("Inconvenience Store") starring Collins' Ms. Tree character, it is the story of a convenience store robbery gone awry. Former "scream queen" Brinke Stevens (Nightmare Sisters) stars as the pregnant woman with a secret who gets caught up in the fracas but manages to keep a cool head.
As a movie, it's quite good. The set is realistic (it was built from scratch!), the performances are solid (with only one actor going over the top), and director Collins often uses split-screen technologies to give us multiple views of the action. That the events were reported to have been filmed by surveillance cameras allows him to use grainy black and white and four-camera blocks to showcase the action from different perspectives simultaneously.
But it is as a DVD that Real Time really shines. You may or may not know that your DVD player has an option for multi-angle viewing because most DVDs do not take advantage of this. Even those that do only showcase it in a minor way (the only one I can even think of off the top of my head is the Beastie Boys DVD Video Anthology from the Criterion Collection). What this feature does is allow the viewer to switch views during playback, and Real Time takes true advantage of this feature, allowing an alternate view of every scene in the movie. At anytime during the movie, you can press the Angle button on your remote and get a different camera angle of the same scene you're watching. It allows you to be the director, in a limited sense; you could watch the movie over and over and never the same way twice.
But that's not all that awaits the savvy Real Time viewer. There are also several commentaries and interviews by the director and various cast and crew members as well as an audio version of the source story, an onscreen graphic novel of another story in the Ms. Tree canon (although you'll have to have a pretty big screen to be able to read the lettering), auditions, and deleted scenes. Also, unlike most DVDs, Collins has taken real care with the cast and crew bios, offering a look at the careers of most of the participants, not just the "stars." The creativity and imagination shown in the design and execution of Real Time: Siege at Lucas Street Market are sorely lacking in most DVD presentations of films by major studios. Buy a copy (it's relatively cheap for a disc this loaded) and support independent film innovators.
---
Click on the links above to purchase any of the books mentioned, or use the search box below to find what
you
like.
(Email me and let me know what you think.)