Craig's Music Club
The Newest Reviews

The Current Stack of Music Reviews:
(This listing will rotate as newer ones are added.)
---
---
COCO, Play Drums and Bass
COCO is two people: a bassist/singer (Olivia Ness) and a drummer (Chris Sutton, bassist with Dub Narcotic Sound System). There is no guitarist; Olivia's multi-faceted voice takes care of the melody. (The name of the band, from what I can deduce, stands for Chris and Olivia from the City of Olympia.)
Play Drums and Bass is COCO's first album since 2003's The COCO Sound. In the intervening years, their songwriting has matured, while their sound has remained essentially the same. Their specialties are still danceable tunes ("Good," "For You" — both with vocal punctuation from Sutton) and slow, easy grooves ("Crime," "Tamara Dobson," "High Low"). Ness seems to have downtuned her bass to terrific effect, especially on the irresistably sexy "Your Own Secret Way" (which features Sutton drumming only on the rims).
Ness's vocal stylings are so full of feeling (her voice would sound equally at home in a smoky nightclub singing torch songs accompanied by solo piano), and Sutton's beats so addictive, that COCO succeeds in spite of its seeming absence of instrumentation. Sutton takes over vocal duties on two songs on Play Drums and Bass: the offbeat love song, "Ess. Ay." and "I Gotta Right," a satirical look at teenage rebellion that is hilarious in its lack of subtlety and pervasive use of the F-word (something like once per line).
Creative skinwork and melodic bass lines make up a lot of the slack left by the absence of a third instrument. The surprising result is how well it works. It makes you realize just how unnecessary a guitar is to the creation of deep, soulful rock and roll when you have two imaginative people willing to give it their all. COCO are one of my favorite bands for a reason, and that reason is that they Play Drums and Bass better than anyone else.
---
Adrian Orange, Adrian Orange and Her Band
Adrian Orange has been recording and touring over the last several years, mostly under the moniker Thanksgiving. He is also the co-founder of Portland, Oregon's Marriage Records. During that time, he has gathered a considerable following among the indie-knowledgable, both amateur and professional. (This level of experience and appreciation is especially surprising when you find out he's only recently entered his twenties.)
Now some of the professionals (and presumably a few of the amateurs) have congregated to help Orange on his first album for K Records, humorously titled Adrian Orange and Her Band. The album was produced by Phil Elverum of The Microphones and Mount Eerie (Elverum is one of Orange's most vocal fans), along with Calvin Johnson and Nicholas Zwart.
With a total of seventeen guests — most of whom are multi-instrumentalists — this album is mainly about the music (which is a good thing, for a reason I will get to later). And there's a lot of music here. All told, there are six percussionists, five drummers, four organists, and at least one player for each of the following: piano, cornet, trumpet, trombone, alto and tenor saxes, clarinet, and of course bass and guitar (the latter duties taken up entirely by Orange himself).
The blending of all these sounds (not always in the most melodious ways, if always interesting) reminded me of Karl Blau's album Beneath Waves, one of the better albums of 2006 (though Blau managed to make those sounds mostly on his own). And if Adrian Orange and Her Band were an instrumental album, I would recommend it highly — if more to jazz aficionados than to pop fans.
Sadly, the major downfall of Adrian Orange and Her Band is Orange himself. Put bluntly, Orange can't sing. Worse still, he doesn't even seem to be trying. His vocalizations are all passion with little direction and, presumably, no training. Sadly, the lyrics are not a redeeming quality, either: the worst kind of high school literary magazine poetry. All these flaws come to a sharp point in "A Flower's Is Mine" — definitely the worst "song" I have heard in some time.
Experienced by himself, particularly on some of his other Thanksgiving albums, his shortcomings are tolerable — especially if you're used to the "lo-fi" stylings of this brand of modern singer-songwriters. But, given the very able support from Elverum, Johnson, and company on Adrian Orange and Her Band, Orange actually manages to detract from the proceedings, resulting in an album that would have been improved by his absence.
---
Calvin Johnson and the Sons of the Soil, Calvin Johnson and the Sons of the Soil
Calvin Johnson is one of the fathers of the current modern independent rock juggernaut — as the head of K Records, through his work producing or writing with several bands, and on his own. The unpolished nature of his work is one of its most recognizable aspects, but can occasionally turn off potential new listeners. So, a few years ago, some of the more instrumentally proficient K recording artists wondered what Calvin's songs would sound like with a little more musical dexterity added.
The unassuming Johnson thought it sounded like a great idea, and so Jason Anderson (formerly of Wolf Colonel) and Khaela Maricich (of The Blow) masterminded a project to get the newly formed group on the road together under a new name. Calvin Johnson and the Sons of the Soil is Kyle Field of Little Wings on bass, with Adam Forkner and Anderson sharing drums and electric guitar duties, leaving Johnson to focus on the vocals. After a short summer tour, they returned to Dub Narcotic Studios to record an album, with Maricich also contributing the evocative cover art.
Three of the tracks on Calvin Johnson and the Sons of the Soil were recorded live at The Shop in Spokane, WA, on July 2, 2003: two "Cattle Calls" of Johnson's engaging stage banter — which surprisingly stands up to multiple listens — and a version of "Tummy Hop" from The Go Team's series of 45rpm singles. ("Cattle Call No. 1" contains an entertaining explanation of the group's name.)
As for the differences between these songs and the originals, they are often subtle. Bookend tracks "Lies Goodbye" and "What Was Me," along with "Can We Kiss" (all from Johnson's first solo album, What Was Me), have merely added two more instruments to the originals' vocals-and-guitar renditions with few other changes. The album's songs are still very much Johnson's own, as can be seen by the continued focus on love (both emotional and physical) and death. "Booty Run" wears its intentions on its sleeve, with Calvin singing "I been needing something sweet and gettin' sick of ice cream. The flavor of the month has soured, if you know what I mean," while Field offers a smooth bass line guaranteed to get results.
On the other end of the spectrum, those who enjoy the moody beauty of "Love Travels Faster" may with to seek out the original (found on The Halo Benders' The Rebels Not In) for what I think is the better interpretation. Also, two more versions of "Banana Meltdown" can be found on the Sideways Soul EP that Dub Narcotic Sound System shared with the Jon Spencer Blues Explosion. Though the songs themselves are a mixed bag, the album is fairly consistent as a whole, a great example of how experimentation can lead to solid rock and roll. Calvin Johnson and the Sons of the Soil is highly recommended to fans of Johnson's work with Beat Happening and as a solo artist, and newcomers are urged to check out his terrific solo album Before the Dream Faded... to catch up with his more recent output.
---
The Blow, Paper Television
Previously, the "band" known as The Blow was merely one person and her friends. Khaela Maricich recorded two albums under that name (Bonus Album and The Concussive Caress). An earlier album under the name Get the Hell Out of the Way of the Volcano, Everyday Examples of Humans Facing Straight into the Blow, was recently rereleased under the Blow name. (I can understand why she would want to shorten that moniker — there's probably a law against shouting it in a crowded theatre.)
In 2004, Khaela added Jona Bechtolt (YACHT) to the band's permanent lineup. Paper Television is only their second recording together (following the limited edition EP Poor Aim: Love Songs) and they've already created a pop masterpiece.
The idea behind Paper Television is fascinating in itself, as stated by the album's liner notes: "In response to these dark times, nationally and internationally, we spent a good part of our time making a pop record." A noble effort, I'd say, from the looks (and definitely from the sound) of it.
Paper Television isn't your average mindless electronic pop album. The mind is in full effect here, which makes these songs hang out in your head long after the disc has stopped spinning. "Pile of Gold" (which is available for download on the K Records site) starts things off by using economics as a metaphor for the struggle between men and women over the latter's goods and services: "All the girls are sitting on a pile of gold, all the girls — and the boys, you know, they want it." Further advice is given on "fair trade" and avoiding high tariffs, all wrapped in a peppy beat that would certainly have me paying attention in class.
Did the bell ring? English class is next as, on "Parentheses," an embrace is compared to everyone's favorite rounded punctuation marks. From the first listen, this glossy song was my favorite — likely due to my working professionally as a proofreader — and while other highlights have introduced themselves throughout subsequent listens, "Parentheses" remains at the top of my list.
"The Big U" finds the singer "a little bit afraid of your relationship with the universe." That's some tough competition, but Khaela seems willing to compromise and be "let in on your threesome." The funky "The Long List of Girls" is a treat, especially for the guy who is the focus of the titular series of "girls who love the shit out of you." Marching drums enhance the strong feeling of one who is afraid to get involved with someone who, upon targeting someone's heart, "all you ever seem to do is break it." "Bonjour Jeune Fille" proves that you don't have to understand a foreign language to recognize juicy electropop goodness. Sung half in French and half in English, with approximately the same meaning across the board, it could even educate you in the process.
The songs on Paper Television follow a discernible trend, with just a few exceptions, from happier, peppier ditties to more melancholy, regretful songs. None could be called truly sad, but the later songs (on what once would have been called side two) offer more complex ranges of emotion. They're all eminently danceable, however, and if you don't feel like being affected by their lyrical content, you certainly don't have to.
The slow groove of "Babay (Eat A Critter, Feel Its Wrath)" — certainly the most inscrutably titled track on Paper Television — is a perfect musical accompaniment to the singer's trip through her love's gastrointestinal tract. (All the way through, too.) And then the next song is "Eat Your Heart Up" — looks like some retribution is on the menu.
"Pardon Me" has to be the sexiest song since The Concussive Caress's opener, "How Naked Are We Gonna Get?" — but it's more subtle this time around. Khaela, with her sweet, sexy, suede voice accompanied by a forceful beat, calls her lover on the carpet after a particularly steamy lovemaking session:
Pardon me, but wasn't that your heart
That I felt, on the bed, in the bed, in between the sheets?
I might have been confused
By all the sweat (there was a lot of sweat) and I could be mistaken.
Sounds like some deeper communication is in their future. In the meantime, "Fists Up" enriches its eminently danceable groove with a Star Wars reference and the surprising revelation that "I don't want to come to the point of this song because the point of this song would have to be so long."

The album's closer, "True Affection," is, at this writing, my second favorite song off Paper Television (it and "Pardon Me" tend to spar for runner-up status). It culminates everything that came before in a smoothly finger-snapping testament to a relationship that went sour despite the best efforts of its participants: "Just because it's real doesn't mean it's going to work." It ends with an eternal failed-relationship truth expressed in paradox (the form the most important truths often take), making it all the more regrettable:
True affection floats.
True affection sinks like a stone.
I never felt so close.
I never felt so all alone.
Leaving us to ponder the nature of love and all that surrounds it. If you're not interested in pondering at the current moment, however, just start the disc over again. It's only half an hour long, so listening through again won't take too much of your time — and look what you gain in return. I've listened to Paper Television at least a dozen times through (with selected repeats of favorite songs) and not only have I not even begun to tire of it, but I love it even more now than I did when I was first introduced to its highly accessible pop craftsmanship.

Paper Television belongs in the collection of every pop music fan. After all, how many pop musicians reference Jules Verne when talking about incompatibility ("I was out of your league, and you were 20,000 underneath the sea")? At a time when it didn't seem possible, The Blow have really outdone themselves this time around.
---
Mirah, Joyride: Remixes
Like most K Records artists, Mirah has never been afraid of collaboration. She's been on several other K Records artists' albums, and has never shied away from having guests on her own albums. (And, of course, the entire concept of Songs from the Black Mountain Music Project was about collaboration.) This work style culminated in her allowing several other artists to remix her songs, a project that resulted in the double-disc offering titled Joyride: Remixes.
Apparently some songs are just as popular with remixers as they are with her fans, as "The Light," "La Familia," "Make It Hot," "Don't Die in Me," "Apples in the Trees," and "Advisory Committee" are all given two different treatments. And some of the remixers weren't satisfied with just go-round, so Bryce Panic, YACHT, and Shawn Parke give their reimaginings of two songs each. Also, songs from Advisory Committee were chosen most often, with C'mon Miracle a close second and, surprisingly, You Think It's Like This, But Really It's Like This a distant third.
Of course, the level of tinkering differs from track to track, from adding just a little enhancement to completely rearranging or obscuring the song to the point where it's all but unrecognizable (Pash and screamclub, how could you do that to "Apples in the Trees" and "We're Both So Sorry," respectively?). From my perspective, the highlights tended to be the ones that rethought the original execution and came up with something new that changed the song without losing the essence of Mirah. Some good examples are the darker tone Ben Adorable added to "Sweepstakes Prize" (making it sound a bit like a Cure song) and how YACHT's Jona Bechtolt (also of The Blow) slowed down Mirah's vocals on "Jerusalem" (though in the end, I felt Bechtolt's take detracted from the meaning of the song).
Surprisingly, some remixes actually improved on the originals, like Electrosexual & Abberline's "Cold Cold Water," which not only changes the tone, but also enhances the lyrics, and Shawn Parke's "Nobody Has to Stay." DJ Beyonda also brings the lyrics of "The Light" to the fore, even more than the original version, by focusing on percussion and letting Mirah's voice take the melody all by itself (it's certainly powerful enough to do so).
Some other highlights are how Chris Baker takes the heart of "La Familia" straight to the dance floor, and Bryce Panic gives "Apples in the Trees" a taste of '80s new wave and adds a Singers–style recording of the chorus in Spanish. A lot of the remixes on Joyride, though, are simply misguided. The otherwise-brilliant Mount Eerie adds an interesting rhythm section to "Don't Die in Me" but also clogs it up with found sounds and reverse tracking. Krts' "The Dogs of B.A." tries for drama that already exists in the song, so adding to it feels overwrought. The "Make It Hot" remix by Tender Forever has a schizophrenic feel, as if there was no guiding concept. And Lucky Dragons' "Pollen" has a confusing rhythm that only occasionally matches the meter of the lyrics.
Remixes in general are hit or miss, and this music anthology is a perfect example of that. Several of the remixes make you wonder what the remixer was thinking, but many of them succeed at offering a new perspective of a time-tested song. Mirah fans will likely react in different ways to different songs, but that can only lead to interesting discussions about the merits of each piece. But what's better, Joyride: Remixes encourages a new appreciation of the source material, Mirah's original songs.
---
Kimya Dawson, Remember That I Love You
Kimya Dawson's second album for K Records continues the legacy displayed to such great effect on its critically acclaimed predecessor, Hidden Vagenda. Two of its songs were previously released on a self-titled EP with Matty Pop Chart. With some of the most engaging and genuinely emotional songwriting available, Remember That I Love You is the kind of album that you listen to with a group of friends, or with people who will soon become your friends. When you listen to it alone, it will simply remind you that you, indeed, are loved.
"Tire Swing" begins Remember That I Love You with the kind of light-hearted reminiscence at which Dawson excels. She has an amazing ability to assemble a string of seemingly stream-of-consciousness phrases into a memorable narrative with a catchy hook. Lines like "I never met a Tobey that I didn't like" (one of them, Matt Tobey — Matty Pop Chart himself — appears on several songs) simply cannot be found on any other artist's albums. Paul Baribeau's sparse supporting vocals lend something special.
"Loose Lips" is a ditty full of terrific (often rude) rat-a-tat wordplay (you can occasionally hear Dawson gasp a breath) with a fun protestational chorus, "We won't stop until somebody calls the cops, and even then, we'll start again, and just pretend that nothing ever happened," the title of the album, and a good deal of politics. "I Like Giants" was inspired by a conversation with Genevieve Elverum (Woelv), and its narrative style includes a good portion of that talk, along with Dawson's response to it. Lines like "I am just a speck of dust inside a giant's eye" and "I like giants, especially girl giants," accompanied by Matt Tobey on ukulele and Erin Tobey on bells, result in a fairy-tale sound that could be its own nursery rhyme.
"France" is "mostly about what a good friend, musician, and dancer [David-Ivar Herman Düne] is" and is based on his song "Sheer Wonder." It is a sweet reminiscence with a beautiful mandolin underline (again from Jake Kelly) and YouTube has a film of Kimya and David duetting on the original. Some parts of the melody are a little out of her range, but the genuine feeling comes through.
Darker themes rear their heads on Remember That I Love You, as well, but always in a form that makes them a little less scary. Some of the lyrics, like in "Better Weather," are really obscure on the surface, but they still manage to get their meaning across through the feeling. "My Mom" is an amazing melange of nightmares, Kimya's ill mother, and Sesame Street. Her initial frantic delivery softens later for effect, showing that it's not just the words and music that matter here, but how they're heard. (Similarly, Jake Kelly's violin provides a nice accompaniment to Dawson's gravelly singing on "Caving In.")
"The Competition" was written in response to a request by Esopus Magazine for songs about imaginary friends. Dawson's inspiration was a description sent in to the magazine by Mia Gomez ("Type A at the age of 5!") and the song first appeared on the CD enclosed with the Spring 2005 issue. The description was merely a springboard for her own ideas, though, and if you read the linked description (also called "The Competition"), you'll see how different the voices in Dawson's head are from Gomez's. "I Miss You" is thirty-seven seconds of longing. The shortest song by far, it practically requires a second listen, just to make sure you heard what you thought you heard.
M.J. Geier and Kimya wrote "12/26" in response to the 2004 tsunami disaster and, among other things, they compare it to America's own date-related tragedy. It's pretty intense lyrically ("everyone she's ever loved is gone, gone, gone"), though the Matt Tobey's ukulele lightens things up a bit, but only as far as making the subject a more tolerable listen. If the music were droning, the emotions would be unbearable.
Luckily, this is followed by "My Rollercoaster," an ode to touring, and the happiest, most upbeat song on Remember That I Love You, reminding us that actually "[gets] paid for being Kimya Dawson." Also included are several songs that Dawson lists as her favorite sing-alongs (like Willie Nelson's "On the Road Again," Metallica's "One," and Third Eye Blind's "Semi-Charmed Life") and the album ends with a big mixed chorus of "Life is a highway and I'm gonna ride it, and everyday's a winding road, yeah! My rollercoaster's got the biggest ups and downs. As long as it keep goin' round, it's unbelievable."
And, then, just when you're about to join in on the chorus yourself, the album is over, just like that, with no closing other than a final guitar strum. It seems short, anyway, at only thirty-five minutes, but the abrupt ending makes it moreso. Luckily, it's easy to start over from the beginning and enjoy Kimya Dawson's particular brand of folk-rock (and the art by Jeffrey Lewis) once again, as she states repeatedly to each and every listener, "Remember That I Love You."
---
Karl Blau, Beneath Waves
I was definitely surprised when I learned that singer-songwriter Karl Blau had never recorded a solo album for K Records prior to his latest release, Beneath Waves. This is because I have felt his presence on so many other artists' releases. Originally, I was introduced to his low-key bass playing with Bret Lunsford (a founding member of the highly influential Beat Happening on vocals and guitar) and Phil Elverum (drums, of course) in their band D+.
His influence has also been greatly felt on all of Elverum's work as The Microphones. Blau played on The Glow, Pt. 2 and there is even a song called "Karl Blau" on its predecessor, It Was Hot, We Stayed in the Water, an album that Blau himself recently rerecorded for his KELP! Monthly subscription series (showing that influence goes both ways). With those, and his guest appearances on albums from Little Wings (Wonderue) and Mirah (Advisory Committee), it just feels like he's been hanging around Dub Narcotic Studios forever.
However, research tells me that his previous solo albums (the last of which was 2001's Clothes Your I's) have all been released on D+ bandmate Lunsford's Knw-Yr-Own label out of Anacortes (the other thriving Washington music mecca). In any case, Blau's newest musical expression, Beneath Waves, is out now on K, and it's mostly brilliant. It seems to have taken Blau quite a long time to put together this album (four years, if my math is correct), but it has been more than worth the wait.
Beneath Waves begins audaciously with its two longest tracks, the seven-and-a-half-minute "Crashing Waves" and the nearly-six-minute "My Johnny." Both are impressive soundscapes involving many varied instruments and multiple melodies. Listening to them multiple times is not only suggested, but also rewarded by further insight into the depth contained within them.
My favorite, "Into the Nada," however, is a more lighthearted offering: a surprising amalgam of Jethro Tull, Van Morrison, and Jimmy Buffett that still manages to sound entirely original. This song goes right into "Notion," a pitch-perfect flashback to early 1990s grunge. Nirvana fans will love it.
Following are two odes. The beautiful "Ode to Ocean" ("There's a part of me that wants to be a part of you ... sandy skin, sandy skin") ends much too quickly. It is also, unfortunately, the last really good song on the album. Of course, this is convenient for the average listener, who can just stop the CD right there, but more passive listeners — those of us who just like to have the music wash over us while we do something else — are in for a downslide for the rest of the album.
Blau certainly has a way with a melody — he has a musical confidence that allows him to combine deliberate dissonance with transcendent melodies, always with a deep sense of rhythm ("Slow Down Joe" is a prime example). The best songs on Beneath Waves ("Crashing Waves," "My Johnny," "Into the Nada") are melodic and often fun, always with a sense that Blau is in complete control of how he wants to be perceived by the listener. They rank up with the best pop music being made today, even with the best coming from K Records.
Unfortunately, the last three tracks are something else entirely. They're uninteresting. "Ode to Lemons" sounds a bit too much like a Microphones retread to make much of an impression (although, as I said above, it's hard to tell who did this kind of "wall of sound accompanied by a light voice" kind of thing first). "Shadow" starts with a meaningless poem, further devolving into something sounding like treacly children's music. And "The Dark, Magical Sea" is a droning bore that should not have been chosen as the last impression of this CD, unless it was intended as a soporific in place of the listener's usual sleeping pill. Three drastic missteps that, while they do not dampen the effect of what came before, certainly bring what was a stratospheric experience back down to ground level. And that's just too bad, because otherwise Beneath Waves would be the first great album of the year.
---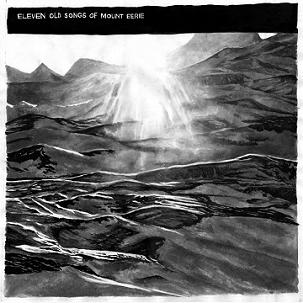 Mount Eerie, 11 Old Songs of Mount Eerie
Ever wonder what Phil Elverum did during his fabled Norway vacation of years past? You probably already knew that he changed the name of his band from "The Microphones" to "Mount Eerie" (Mount Eerie was then the current Microphones album) and altered the spelling of his surname (originally Elvrum) to coincide with the Norwegian town (and from which, one presumes, his family originates).
You also are probably aware that he wrote a lot of songs, many of which have appeared on various albums since, most notably Live in Japan February 19th, 21st, and 22nd, 2003, the transitional last album by "The Microphones" (which contains this album's "Great Ghosts" and "I Love (It) So Much") Eleven Old Songs of Mount Eerie collects some of the Norway tunes for posterity. It is Elverum's way of getting them down in a final state, of finishing with them so he can move on to newer music.
According to the promo sheet, the album is recorded in the style of such seminal albums as Ten New Songs by Leonard Cohen and Arise Therefore by Will Oldham (but not, interestingly enough, Elverum's own Seven New Songs of Mount Eerie, which offers fuller versions of a couple of these songs — which, of course brings up the question how can a song be both "new" and "old"? I guess it's all relative).
Eleven Old Songs of Mount Eerie presumably contains some of the first songs that were created under the "Mount Eerie" moniker, which makes them over three years old. Given Elverum's prolificity of songwriting (this is his third album in just over three months — see No Flashlight and Singers), it's no wonder he has lost interest in pursuing these songs further, not even bothering to add any of the usual embellishment that would make them sound like the usual Elverum product. He has merely chosen to sing them accompanied solely (for the most part) by an old Casio keyboard.
I, for one, found this to be a huge disappointment. This bare bones approach is not what I came to enjoy so much about the previous Microphones albums. Elverum's songwriting is stunning as always — he manages to say a lot in just a few simple, well chosen words — but it was his innovation in the studio that originally made me a fan of his work (both on his own albums and when producing the work of others — hear Mirah's "Cold Cold Water" for a peak example).
There is not even the wonderful percussion skill that he has shown since his earliest days on the Anacortes music scene as a founding member of D+; he has instead chosen to use the canned beats from the keyboard, making several of the songs sound as if they were recorded in the same room as a Sega tournament. But don't get me wrong, 11 old songs of Mount Eerie is better than any 40 songs off the radio — even satellite radio — plus, there's that nice little two-minute bit of wind at the end of track three, "The Boom."
Yes, I was disappointed by the execution of these songs for the most part, but only because I've been a witness to what Elverum can do when he puts forth his full effort. Under whatever name he decides to record, he is still putting out some of the best music available (even as it becomes increasingly less available to the general public), and I still intend on keeping up with whatever he does.
---
Tender Forever, The Soft and the Hardcore
Tender Forever is Melanie Valera, who has come from the south of France to the Pacific Northwest, unleashing her electronic sensitivity in ways that fans of The Blow (Khaela Maricich, who helps out on two tracks) will simply adore. The Soft and the Hardcore, her debut album for K Records, is a selection of short songs — all but one of them are less than three minutes long — that offer the kind of self-revelation that fans of Mirah yom tov Zeitlyn and The Microphones/Mount Eerie (Phil Elverum) have come to appreciate.
From the plaintive guitar that begins "Every Monday" to the shouting voices that end "The Magic of Crashing Stars," The Soft and the Hardcore covers a range of emotions, tempos, and styles. Valera slides from acoustic to electronic with ease and manages to make them both her own so much that, unless I was really paying attention, I didn't notice the change.
The short-and-to-the-point opener, "Every Monday," will ring true for anyone who has ever been through a relationship that consisted mostly of long-distance telephone calls. "Every Monday is just the same thing / I have to wait until next weekend / So we can talk and it won't cost you a cent," Valera seems to be complaining, wishing her beloved would shell out some dough, but understanding that "it will be better for your parents."
Hesitant sexuality takes the stage in "Take It Off," which opens with the sound of a shower curtain opening and the water being turned on. The lyrics cover an early stage of intimacy where a couple wants to shower together but doesn't yet want to be seen undressed in from of each other. Sure, it seems silly from the outside, but these things are very important while you're still involved in them.
The rest of The Soft and the Hardcore is just as much an amalgam of personalities that change, sometimes drastically — from multilayered ("The Feeling of Love") to minimalist ("This is Hardcore"), from potential summer anthem ("Hot," my single favorite track) to soft reminiscence ("Rad"), from wishing someone "Happy Birthday" to thinking about asking someone if she wants to "Marry Me" — in the space of one track.
The whole album jumps around lyrically and musically like this, but they somehow all blend into a single personality that is wholly Tender Forever (as she announces on the eponymous penultimate track). The only downside is that the CD is over much too quickly, with 12 songs speeding by in 26 minutes — which is admittedly a bit short for a full-length album. But it's not up to me to decide whether you pay full CD price for half an hour of music; just know that there is a full experience packed in there and that The Soft and the Hardcore will survive many replays as you get deeper and deeper into the mind, heart, and soul of Tender Forever's Melanie Valera.
---
Calvin Johnson, Before the Dream Faded...
Calvin Johnson has been a driving force behind affecting pop music for over two decades, whether in his position as leader of K Records or in any of his musical guises as producer, songwriter, and performer in bands like the Dub Narcotic Sound System, the Halo Benders, Beat Happening, or as a solo artist.
I was first introduced to the famous basso profundo via K Records' Invisible Shield compilation (it also introduced me to several other bands I would not have experienced until much later). "Angel Gone," the Beat Happening "comeback" single (available on Music to Climb the Apple Tree By), was there along with "Love Will Come Back Again" from his first solo album, What Was Me. In addition to offering yummy pop goodness to my (then-)indie-newbie ears, those two songs were also the only ones that I, with my own deep voice, could sing along with effectively — something that becomes more important as pop voices get loftier.
Appearing just three years after its predecessor (a pretty quick turnover if you stop to consider how many projects Calvin has his hands in), the follow-up, Before the Dream Faded... offers more of a collaborative feel. The ten new songs are produced with five different individuals, and several guest artists are along for this ride that showcase Calvin's famous bass voice — along with the various parts of his personality — to even better effect than before.
"When Hearts Turn Blue" begins it all with a minimalist offering about happiness: if the sky can turn from "deepest black" to "the pastel hues of dawn," then surely a sad heart can be happy again. Khaela Maricich (The Blow) and producer Mirah accompany on vocals and electric piano. "Rabbit Blood" follows about the two disparate sides of his personality. It contains some of his most inspired lyrics, making it an early highlight to a surprising cohesive album:
Two sides to every person: the tortoise and the hare.
I'm a turtle when I'm working, and the rabbit is a player.
A civilized man concerns himself with the problems of our time,
But these bunny ears keep showing through, and I can't deny
A certain preoccupation with my disposition towards making love.
I cultivate a staid exterior but this heart pumps rabbit blood.
"I'm Down" is destined to be added to your next Halloween mix CD, with its lyrics reminiscent of Calvin's darker work with Beat Happening (specifically their album Black Candy): "I'm your dapper cadaver making funeral plans for the us that was not meant to be / All trussed up, have your minions throw me on the heap." Producer Khaela Maricich adds a moody organ and surprise backing vocals, while Phil Elverum and Calvin share guitar duties. "Your Eyes" is reminiscent of the lighter side of the BH years (see Jamboree); so much so that I half-expected to hear Heather Lewis accompanying on vocals.
"Deliverance" is nostalgia combined with the dances of the day, with another great line: ("Pick up a pen, deliver me again") and an improvisatory ending. Producer Phil Elverum (Mount Eerie and The Microphones) also plays all the instruments and lends the song a heavy percussive feel — not surprising given Elverum's facility with the drums. Another easily danceable tune, "The Leaves of Tea," features the jazzy trumpet stylings of Adam Forkner of Yume Bitsu and [[VVRSSNN]].
Some songs don't reach the heights of the rest of the album, but even those are worth a listen or two. "Red Wing Black" seems like little more than a random selection of words (perhaps inspired by Calvin's time spent recording Beck's One Foot in the Grave?). And "When You Are Mine" takes a pleasant lyric and adds a droning melody (or often a lack thereof), bringing down the lofty feel of much of the rest of the album. Luckily, Before the Dream Faded... is like New England weather: if you don't like one song, just wait a few minutes. Calvin Johnson has taken the hip-hop tactic of using different styles and producers and has come up with an album that is as varied as it is fun.
(As a bonus, Before the Dream Faded... is enhanced with photos from the recording of this album and others, including Tender Forever's upcoming The Soft and the Hardcore and Old Time Relijun's recent 2012. Also included are two Quicktime movies with one of Khaela Maricich and Mirah rehearsing the piano part of "When Hearts Turn Blue," offering a view into the inner workings of the famous Dub Narcotic studio. For a fan, these additions are alone worth the price of the CD.)
---
Click on the links above to purchase any of the books mentioned, or use the search box below to find what
you
like.
(Email me and let me know what you think.)