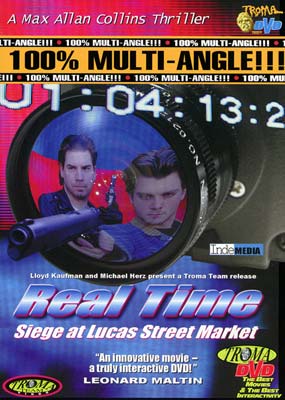 Max Allan Collins' Real Time: Siege at Lucas Street Market
Regular readers of this website will know that I've been on a huge Max Allan Collins kick lately, reading everything from his graphic novels to his historical mysteries to his CSI tie-in novels. But even I wouldn't have guessed that this would have carried me to buying a DVD of a movie directed by the man. But that's what Real Time: Siege at Lucas Street Market is, and that's not all.
Though distributed by the schlockmeisters at Troma (the studio behind the Toxic Avenger series of films), Real Time is anything but. Based on short fiction ("Inconvenience Store") starring Collins' Ms. Tree character, it is the story of a convenience store robbery gone awry. Former "scream queen" Brinke Stevens (Nightmare Sisters) stars as the pregnant woman with a secret who gets caught up in the fracas but manages to keep a cool head.
As a movie, it's quite good. The set is realistic (it was built from scratch!), the performances are solid (with only one actor going over the top), and director Collins often uses split-screen technologies to give us multiple views of the action. That the events were reported to have been filmed by surveillance cameras allows him to use grainy black and white and four-camera blocks to showcase the action from different perspectives simultaneously.
But it is as a DVD that Real Time really shines. You may or may not know that your DVD player has an option for multi-angle viewing because most DVDs do not take advantage of this. Even those that do only showcase it in a minor way (the only one I can even think of off the top of my head is the Beastie Boys DVD Video Anthology from the Criterion Collection). What this feature does is allow the viewer to switch views during playback, and Real Time takes true advantage of this feature, allowing an alternate view of every scene in the movie. At anytime during the movie, you can press the Angle button on your remote and get a different camera angle of the same scene you're watching. It allows you to be the director, in a limited sense; you could watch the movie over and over and never the same way twice.
But that's not all that awaits the savvy Real Time viewer. There are also several commentaries and interviews by the director and various cast and crew members as well as an audio version of the source story, an onscreen graphic novel of another story in the Ms. Tree canon (although you'll have to have a pretty big screen to be able to read the lettering), auditions, and deleted scenes. Also, unlike most DVDs, Collins has taken real care with the cast and crew bios, offering a look at the careers of most of the participants, not just the "stars." The creativity and imagination shown in the design and execution of Real Time: Siege at Lucas Street Market are sorely lacking in most DVD presentations of films by major studios. Buy a copy (it's relatively cheap for a disc this loaded) and support independent film innovators.
---
Click on the links above to purchase any of the films mentioned, or use the search boxes below to find what you like.



(Or just email me and let me know what you think.)