JWX 10 De Valk
A Review by Ulrich H. Rudofsky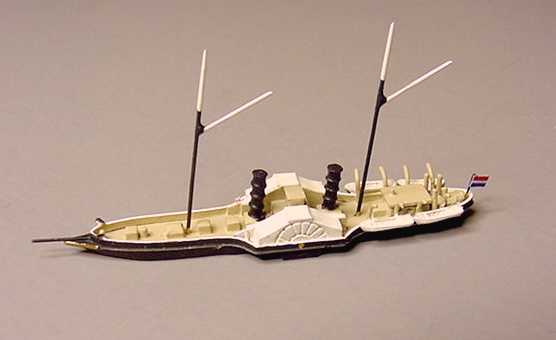 The Dutch Armed Yacht "De Valk"
This model is of the De Valk that was used as a royal yacht in the 1860ís. JW (Johann Wolkersdorfer) presents a very detailed paddle wheeler that is also ready to sail if the engine stalls (the sails are furled). These shallow-draft Dutch ships were able to navigate the waters of Holland, when others failed, but they did occasionally venture out to the deep sea. This model is a fine piece of JW workmanship in a series of ships of historical significance.
Translated from the flyer that comes with this model (thanks to East Coast Miniatures for a copy):
Built: 1863
LOA: 68 m (223 feet)
Beam: 15.52 m (51 feet)
References: Documents and photos are from the Prins Hendrik Museum, Rotterdam
Propulsion: 2-cylinder steam engine
Synopsis: The De Valkís keel was laid at the Royal Yard in Amsterdam in 1863. She had a crew of 120 men and was armed with six 12 cm (4.7 inch) cannons. Prince Hendrik and his royal spouse were in the De Valk during their Mediterranean Cruise in 1869 as well as during the grand opening celebration of the Suez-Canal.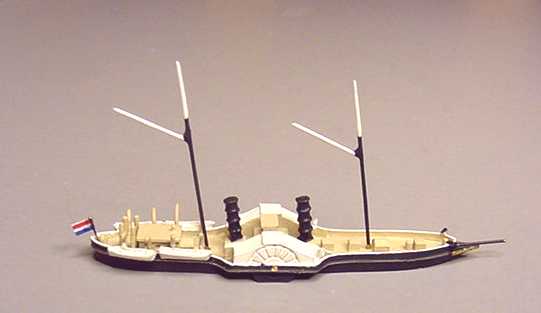 ---
Copyright © 2001 by Ulrich H. Rudofsky

---
[Home] [Links] [Lists] [Articles] [Reviews] [Unidentified] last update 20.11.2001